"It is well to remember that there are five reasons for drinking: the arrival of a friend; one's present or future thirst; the excellence of the wine; or any other reason." – Latin proverb
When we speak about wine, we enter a universe veiled in rich and long cultural history, human ingenuity and geographical serendipity. Whether you're an oenophile, a casual wine lover, or an intrigued beginner, there are certain wines that prompt a delightful sigh from those who've had the pleasure of tasting them. These are wines you should cross paths with at least once in your lifetime. Ready for an exhilarating journey through the world of viniculture?
Château Margaux: Start your journey in Bordeaux, France, where the grape vines have entwined themselves with history. Château Margaux is a wine that carries the prestige and sophistication of its place of origin. A blend of primarily Cabernet Sauvignon along with Merlot, Cabernet Franc, and Petit Verdot. This bold red echoes opulence, grace, and an intricate bouquet of vigorous fruits and velvety tannins. The average market price for a bottle of Château Margaux, particularly the extraordinary 2009 and 2015 vintages, hovers around $500-$2000.

Barolo: Transport yourself to the sun-kissed rolling hills of Piedmont, Italy. Barolo, rightly nicknamed as 'King of Wines' and the 'Wine of Kings, is produced from Nebbiolo grapes. Its assertive tannic profile is balanced by a symphony of cherries, roses, and truffles that dances on your palate. Prices range from $40 to $100, with top producers commanding higher. The 2010 and 2016 vintages are particularly memorable with some legendary wines like Giacomo Conterno Monfortino Barolo Riserva 2010 receiving multiple 100 points ratings (and priced well over $1000).


Cloudy Bay Sauvignon Blanc: A trip down under takes us to the marvelous vineyards of New Zealand, where Cloudy Bay's Sauvignon Blanc emerges as a compelling ambassador of the region's wine culture. This wine enchants you with its enrapturing mix of passionfruit, melon, and fresh citrus. Reasonably priced between $25-$35 a bottle, the harmonious 2015 and 2019 vintages are well worth seeking out… and at that price point, why not try a vertical wine tasting and see which vintage you like the best.


Penfolds Grange: Venturing into Australia, the Penfolds Grange presents itself as an embodiment of Australian winemaking. This robust Shiraz offers layers of ripe berries, exotic spices, and a peek into the essence of the land down under. It's priced between $500-$750 for a bottle, with exceptional vintages such as the 2008 and 2010 offering connoisseurs an unforgettable wine-drinking experience.


Château d'Yquem: For fans of dessert wine, the Château d'Yquem from Sauternes, Bordeaux, is certainly a touch of the divine. Each droplet is a cascade of tropical fruits, cloaked with honey and a zesty hint of spice. It typically retails for around $350-$500 a bottle, with standout vintages like 2001 and 2009 often fetching higher prices.


Domaine de la Romanée-Conti: Ending our journey in France's Burgundy region, with the legendary Domaine de la Romanée-Conti (DRC). It's intertwined with history and prestige, and made exclusively with Pinot Noir grapes, the DRC offers an alluring blend of red fruit, earthy undertones and freshness. It's one of the world's most expensive wines, with bottles ranging from $2,500 to $5,000. The 1990 and 2005 vintages are considered the crown jewels of this vineyard, with prices soaring much higher… but getting you hands on a bottle might be a journey in itself. If you are a Costco member though, you can snatch a 4 pack of the 2018 vintage for $29,999.99.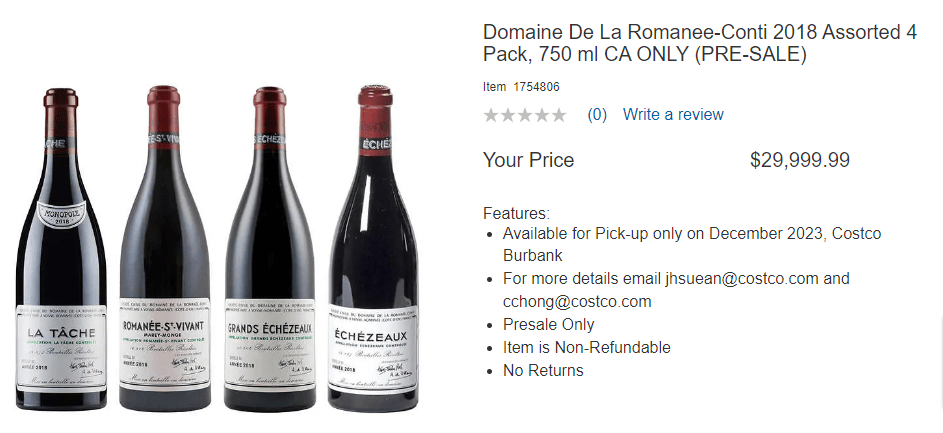 Wine is a testament to the region's tradition, capturing the essence of its soil, climate, and the passion of its winemakers. Each bottle narrates a unique story, and the exciting journey for wine lovers lies in discovering these narratives. As you uncork the bottles, observe the dance of liquid in your glass, breathe in the nuances, and savor the unparalleled taste adventures each one presents. In the world of wines, there's always a new story waiting to be discovered and cherished.
Did you like this content? If you did, let us know and share it with your friends.
This page contains affiliate links. We receive a small compensation when you purchase through affiliate links. While clicking these links won't cost you a cent, it will help us keep the lights on and buy more wine. To find out more, click here.