Wine is a passion for many of us. But it's also a business worth nearly half a trillion dollars in 2022. Yep, with a "T". Unfortunately, all that value doesn't go to the individuals who produce and bottle this liquid joy. There are layers of middlemen who take a cut before it ends up in your glass. Think distributors, wholesalers, retailers, marketers, and Uncle Sam. This is why a bottle that costs $15 to produce ends up costing you $65 at the local wine shop.
Various entrepreneurs have attempted to shrink that delta and one individual who is doing it rather successfully is Cameron Hughes of de Négoce. If his name sounds familiar, it should. Cameron is a pioneer of the négociant wine trade with 20+ years of experience sourcing and selling ultra-premium wines direct-to-consumer in the United States. Négociant is French for a "wine trader" and through the extensive network and relationships he has developed, Cameron has access to some unique and tasty juice direct from wineries worldwide.
The Business Model
De Négoce has two business models. The first is a traditional online storefront where you can purchase bottles ready for delivery, including wine sampler packs. The second is referred to as "en primeur" or "wine futures", and is a common method in France for purchasing wines shortly after they have been barreled, but well before bottling. The obvious value between the two is the earlier you purchase the better the deal.
De Négoce offers wine futures at 60%-80% off the same (or very similar) juice found at the winery. In-stock wines are slightly more to cover the cost of holding till purchase, though still a killer deal.
For example, at the time of publication, de Négoce was offering futures on a 95-point 2021 Barossa Valley Century Vines GSM 6-pack (Lot 349) for $66 versus the anticipated winery price of $270. That's a savings of 76%! At the same time, the storefront could immediately ship you an a la carte bottle of a 90-point, gold medal winning 2017 Minervois La Liviniere GSM (Lot 303) for $16 vs. $35 (a savings of 54%). More on Lot 303 a little later.
A Note On Shipping
This raises an important caveat on shipping with de Négoce; the storefront ships in increments of 6 bottles (which can be mixed and matched) and wine futures are sold in packs of 6 or 12 bottles (as noted on the offering). Also, and this is key, DO NOT mix futures and in-stock bottles in the same order. This will delay your entire shipment until the futures are available. If you want to check on updated estimates for futures shipping, they maintain a page that is revised weekly.
Let's Taste!
With pricing on point, we decided it was time to taste the goods. De Négoce graciously sent us over a few bottles from their very large selection. In typical fashion, we assembled a group of tasters with diverse palates to see how the wines faired. Some had mixed reviews (again, very diverse group of palates so it's to be expected), but some met the challenge and got thumbs up all around. These are the bottles we've highlighted below. If you're looking for a wine to bring to a party that is sure to please the masses, these are for you.
In short, if you don't mind white labels, de Négoce deserves your attention. Of course, if they could increase the font size of the wine/appellation on those labels, that would be terrific too. Some of us aren't spring chicken and distinguishing bottles required squinting at times.
But, in the end, what really matters is the juice and the wines below delivered it in spades. Insane Quality-Price Ratio ("QPR") and you get the added benefit of playing the Guessing Game with friends as you try to determine the source winery of the bottle in front of you. While we have our suspicions, we don't want to take away all the fun! Happy Guessing and, as always, Happy Hunting!
Lot 313 | 2021 IGP Gard Rosé Wine ($13 / $20 at winery)
100% organic Grenache (80%) and Syrah (20%) blend from Southern France. Crisp, juicy, and well-balanced. Pomelo and Snow Queen nectarine dance hand-in-hand with hints of minerality. A no brainer for a summer day at $13/bottle.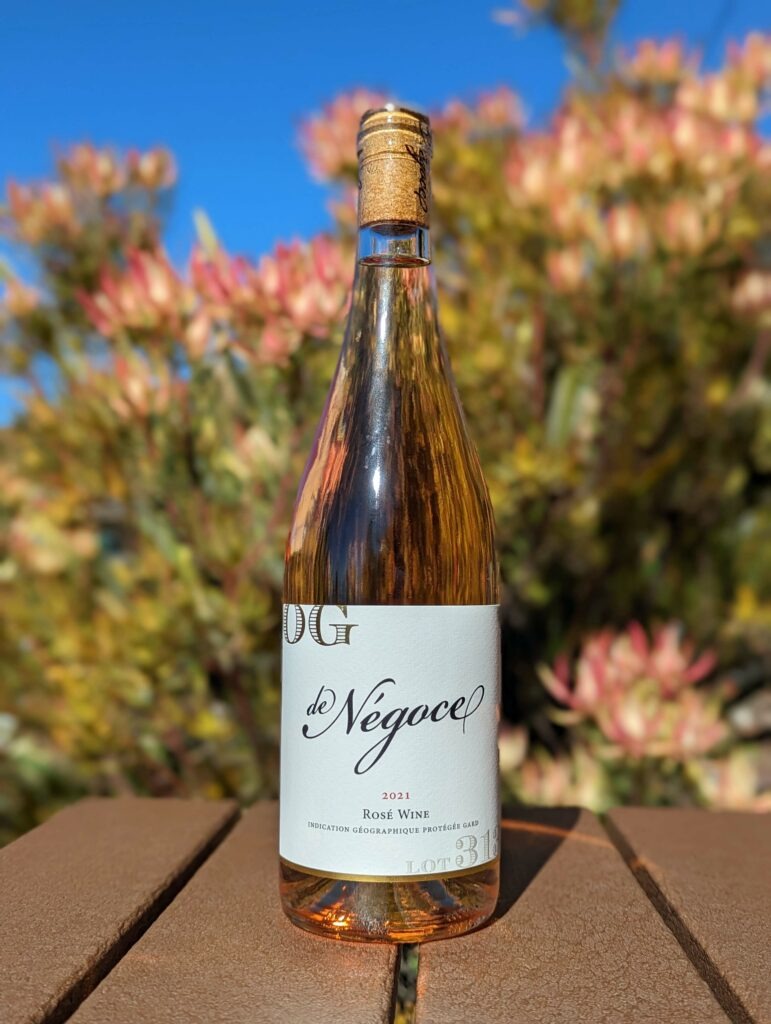 Lot 214 | 2020 Petaluma Gap Pinot Noir ($25 / $70 at winery)
The Northern California Petaluma Gap, with its unique fog and wind conditions, produces some awesome cool-climate Pinot Noirs. Whole cluster, co-fermented clones (Pommard and Dijon) in 60% new French oak. This was a personal favorite of mine, oozing with lush dark fruit, earthiness, and velvety tannins. A bottle that can please "big red" lovers just as much as Pinot aficionado. Complex and present, but not overpowering. At $25/bottle, the perfect red for any gathering.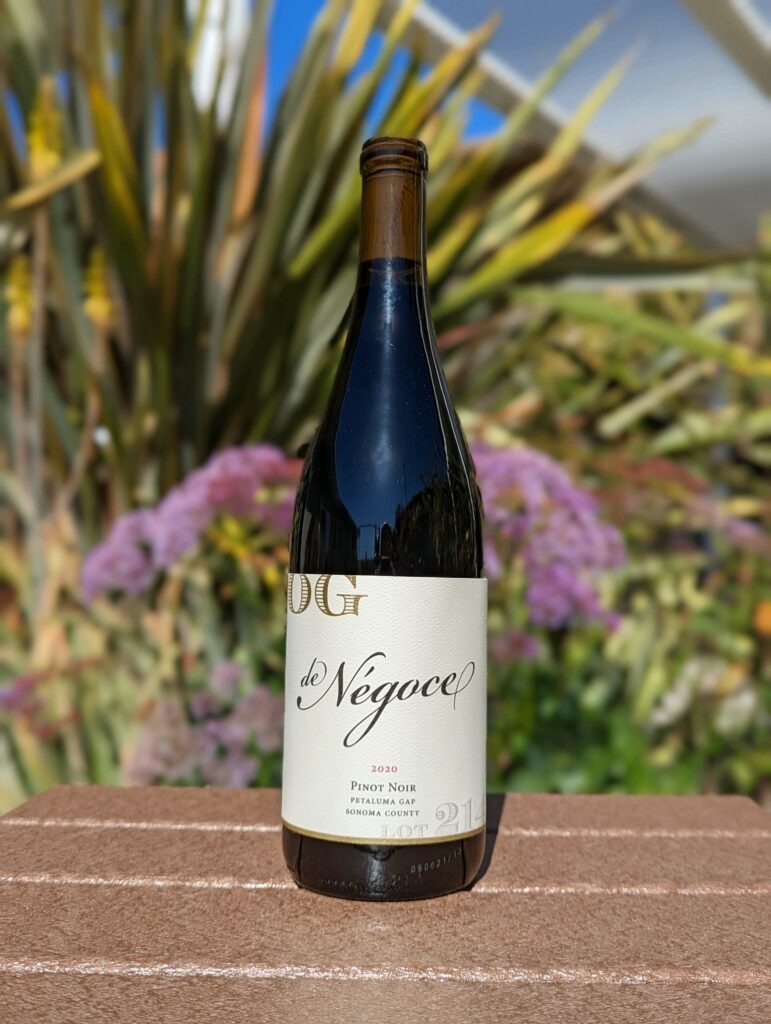 Lot 303 | 2017 Minervois-La Livinière GSM ($16 / $35 at winery)
The wine mentioned earlier. You won't find this wine anywhere else in the United States under any label. Lot 303 is a blend of 70% Syrah, 10% Carignan, 10% Grenache, and 10% Mourvedre. All grapes are hailing from Minervois-La Livinière, a six-village zone in western Languedoc that was disciplined enough to win cru status in 1999.
A deep ruby with floral notes (lavender and violets mostly) followed by a cornucopia of blackberries, blueberries, and raspberries bursting from the glass. Plush tannins in mid-palate and a slight minerality with a hint of black pepper. This was an extremely easy drinker at $16/bottle. In fact, the entire bottle was gone before I could revisit!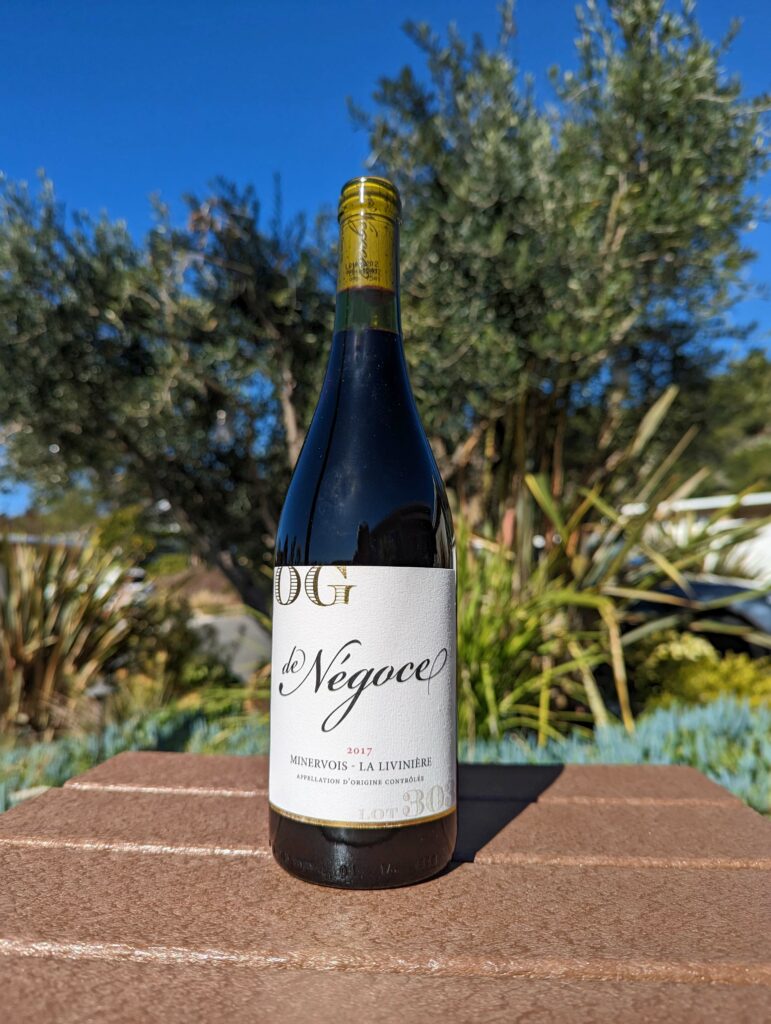 Did you like this content? If you did, let us know and share it with your friends.
This page contains affiliate links. We receive a small compensation when you purchase through affiliate links. While clicking these links won't cost you a cent, it will help us keep the lights on and buy more wine. To find out more, click here.