With a database of virtually every bottle offered from the top Flash Sale sites since January 2020, it's enough to make your head spin.  But don't worry, we're here to help!  Once you've found a bottle that piques your interest, here's a few tips to quickly determine if that great deal is THE BEST deal.
Has the Bottle Been Listed Before?
Wine Bounty keeps track of EACH time a bottle is listed AND relisted, including the date and the price point. Most of the time retailers will relist at the same price. For example, WTSO has listed the 2016 Ecantado Oakville Napa Valley Cabernet Sauvignon THREE TIMES since January 2020, all at the same price.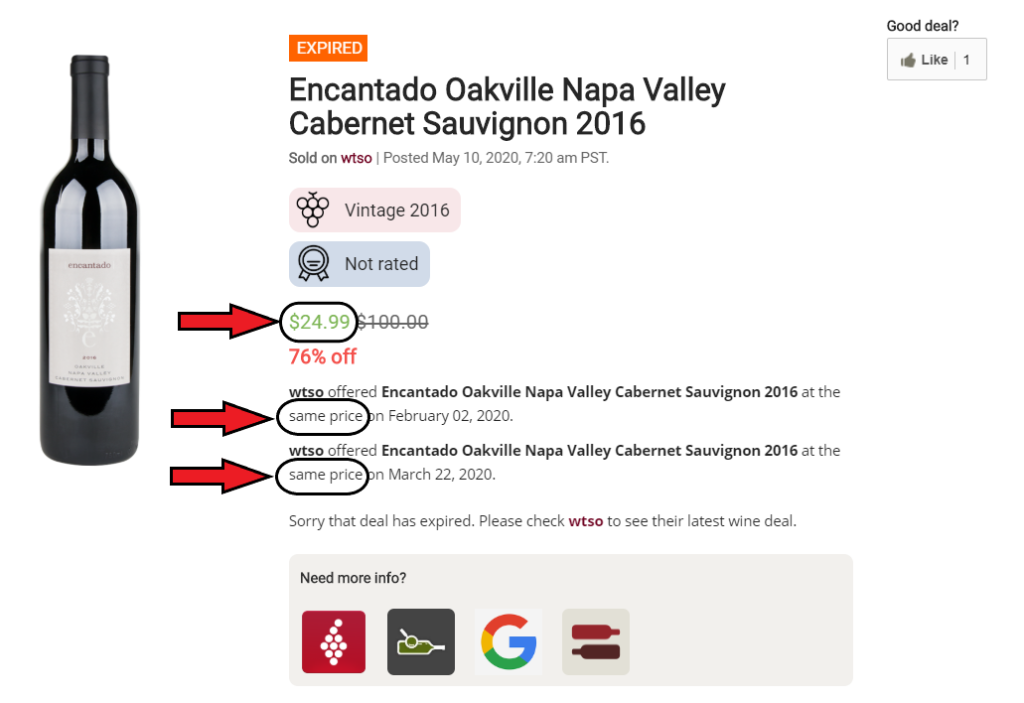 What does this tell you? First, it tells you that if WTSO posts the bottle again it will likely be at $24.99 and, given the span between postings, it may pop up every 1.5 months or so. Or until completely sold out!
While most retailers relist at the same price, that's not always the case. For example, Wine Library listed the 2016 Contiscaia Toscana Rosso Winemakers Selection THREE TIMES as follows:
$17.99 on January 2nd
$14.99 on March 20th
$17.99 on May 22nd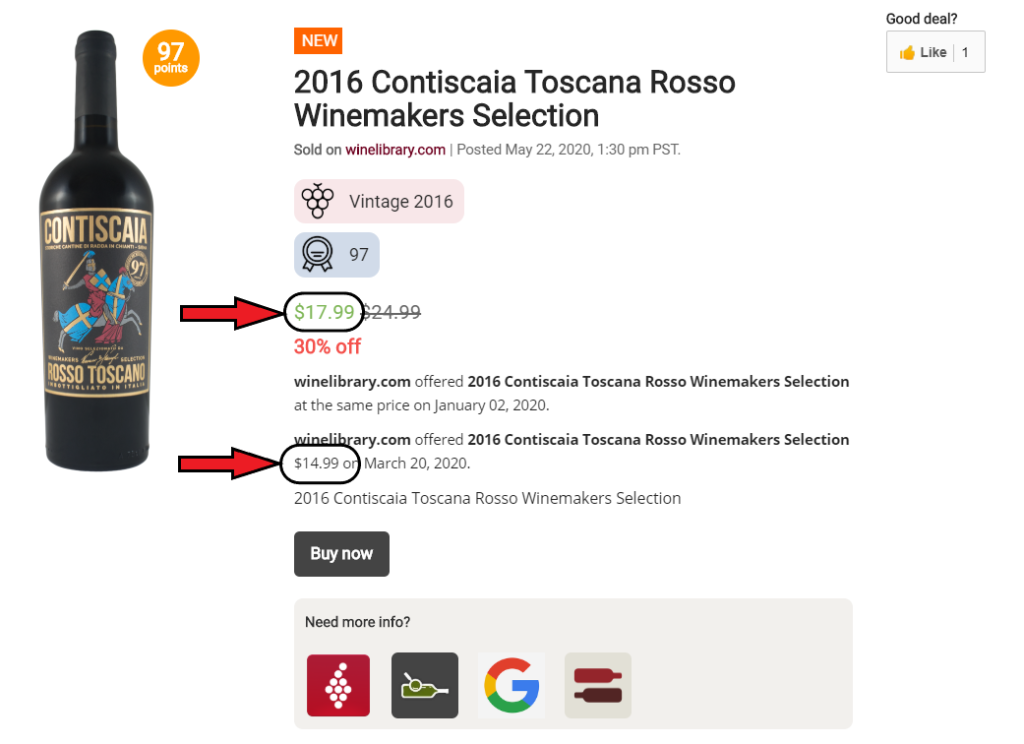 Wine Library had a massive one-day sale on March 20th which accounted for the drop, but this suggests that Wine Library has pricing flexibility on this bottle and a $14.99 price (or better) may come again in the future. Of course, this assumes supplies last!
Speaking of supplies lasting, this feature can also tell you when you need to jump on a bottle. Sticking with Wine Library, they deeply discounted the 2014 Maroon Reserve Estate Cabernet Sauvignon from $89.99 on March 17th to $39.99 on March 24th.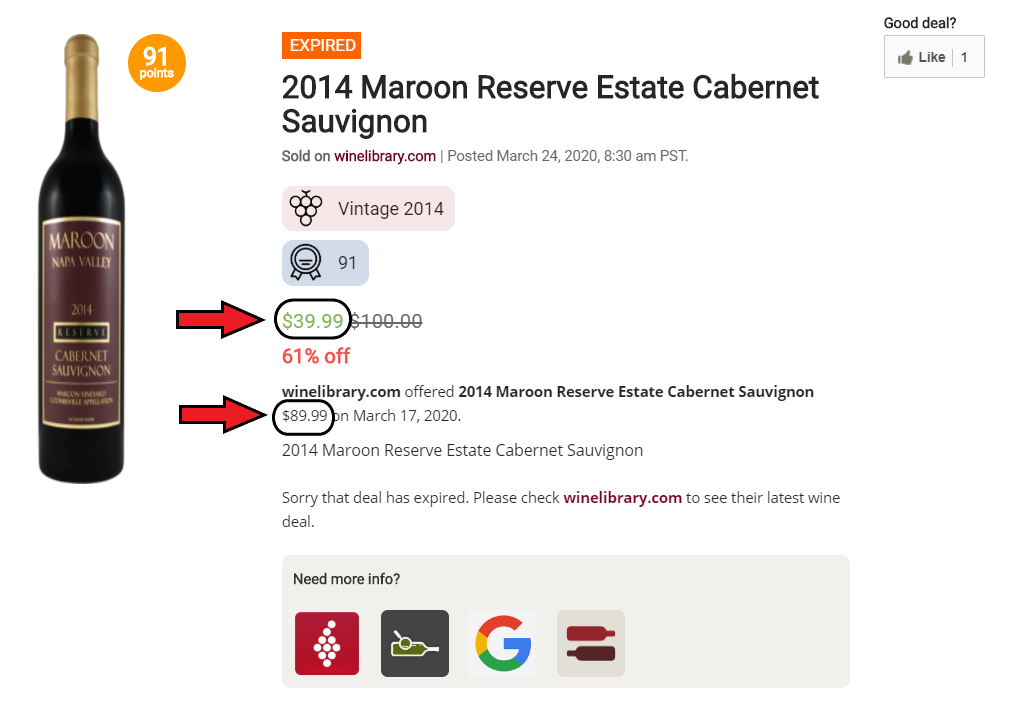 On a fantastic $100 Cab, that's a huge deal and, as of writing this blog, it's still available!
Need More Info?
Another great tool on Wine Bounty is our "Need more info?" section. Here we give you quick links to some of the most widely used sources for price checks on wine: Vivino, Wine Searcher, Google, and Cellar Tracker. This section can be particularly useful if the bottle that piqued your interest has not been listed before or if you're curious whether it's cheaper somewhere else. Last Bottle's post of the 2014 Evening Land Pinot Noir La Source Seven Springs Estates is the perfect use case.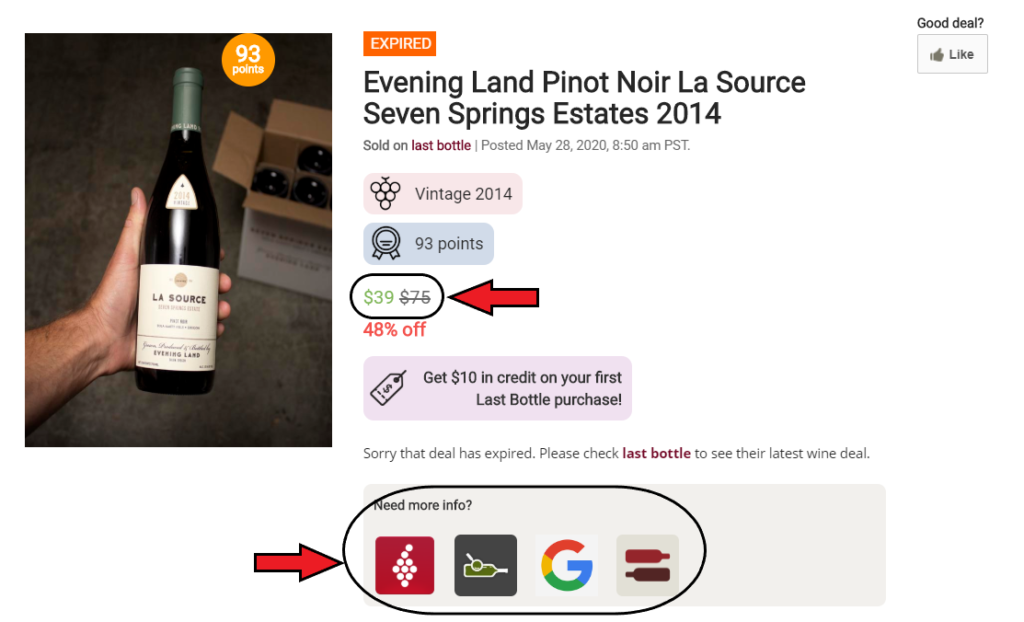 All resources in the "Need more info?" section confirm this is an outstanding deal. Here's the results from Google and Vivino alone: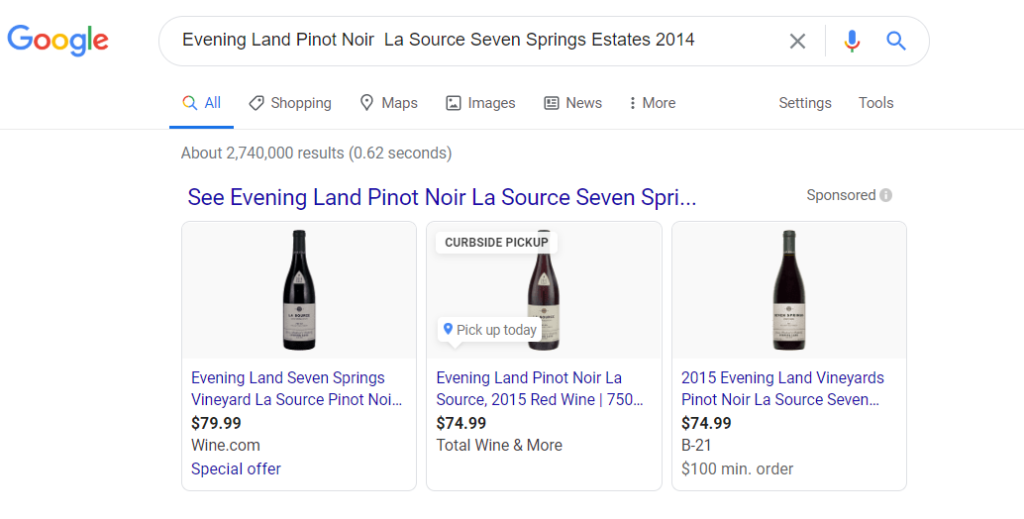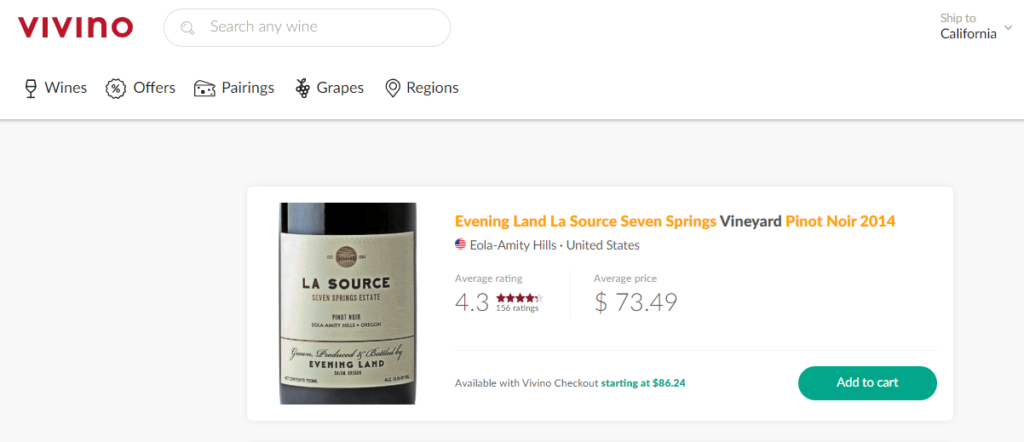 The Wine Bounty Search Tool
The Wine Bounty Search Tool is another tool perfect for looking up anything and everything. It literally scrapes all Wine Bounty offers (past and present). Besides being able to tell you which retailer(s) listed a bottle and when, it can help you explore a particular wine varietal, year, or producer. For example, let's say you found a deal on another site for Opus One and you want to see if Wine Bounty has ever listed it and at what price. Simply type "Opus One" into the search tool and (as of writing this blog), you'll get the following result.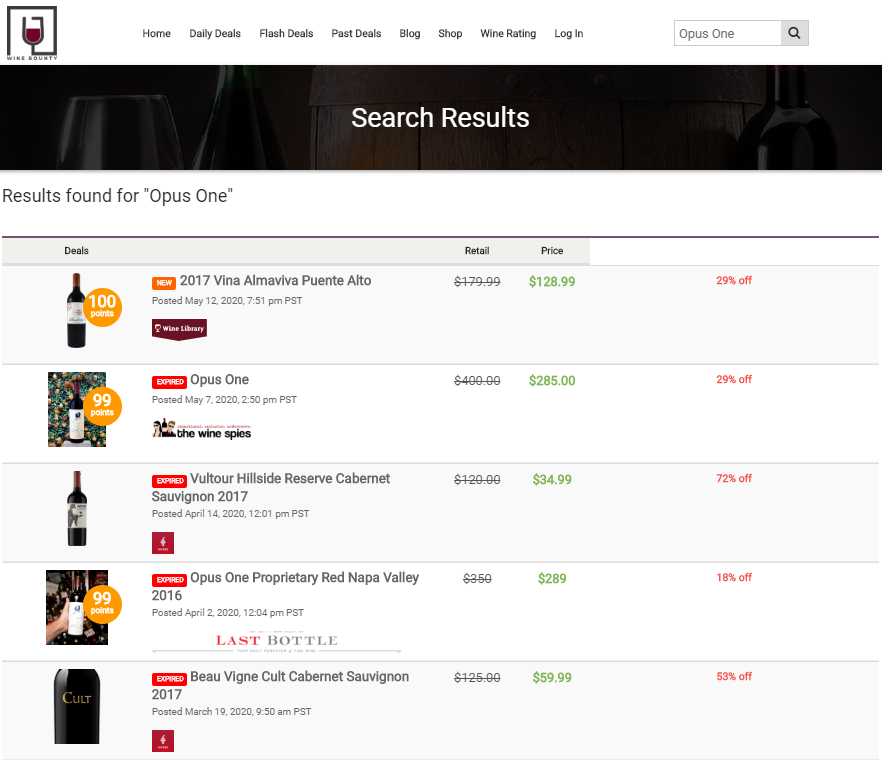 You'll see that the 2016 Opus One was carried by both The Wine Spies and Last Bottle at roughly the same price. Interestingly, each site listed a different retail price so this is something to consider when determining a great deal (Hint: Always go with the lowest retail for comparison!). But, what is more interesting than the price are the three bottles that are NOT Opus One but WAY CHEAPER. These are bottles from Wine Bounty's Picks – wine that we curate and highlight when we see a fantastic deal or unique find from ANY retailer on the Internet. We tend to provide more context for these bottles to help users understand why we think they're special. From the descriptions below, you can see why someone searching for Opus One might find them interesting and, who knows, maybe they'll find a new favorite wine (at a fraction of the cost).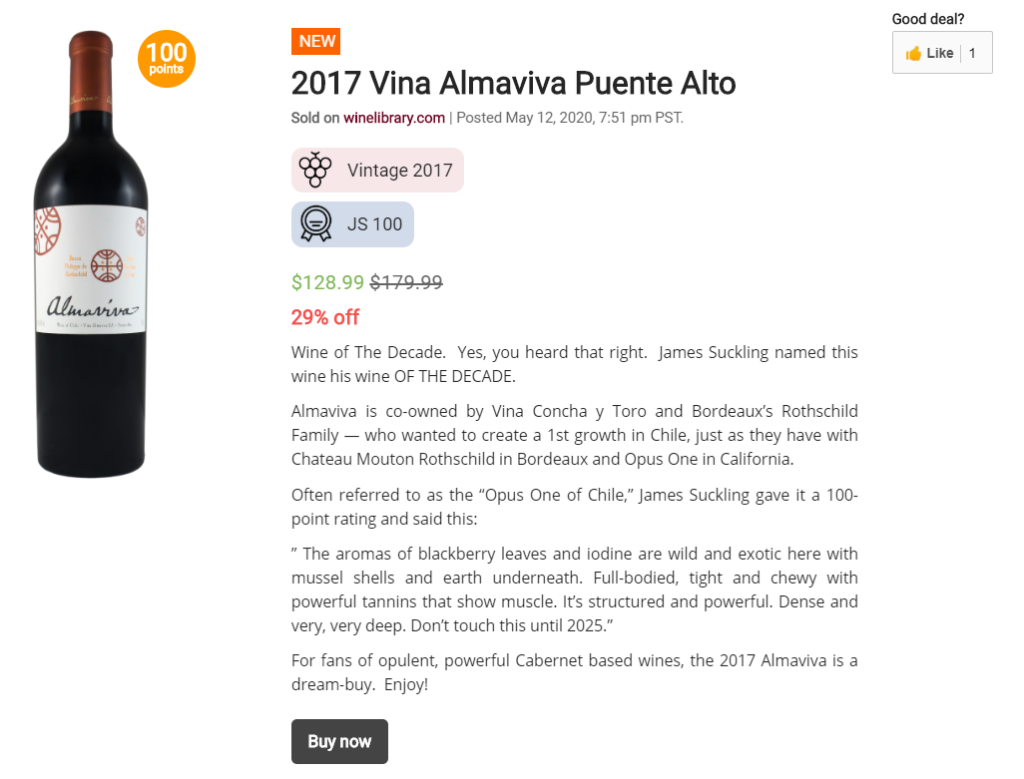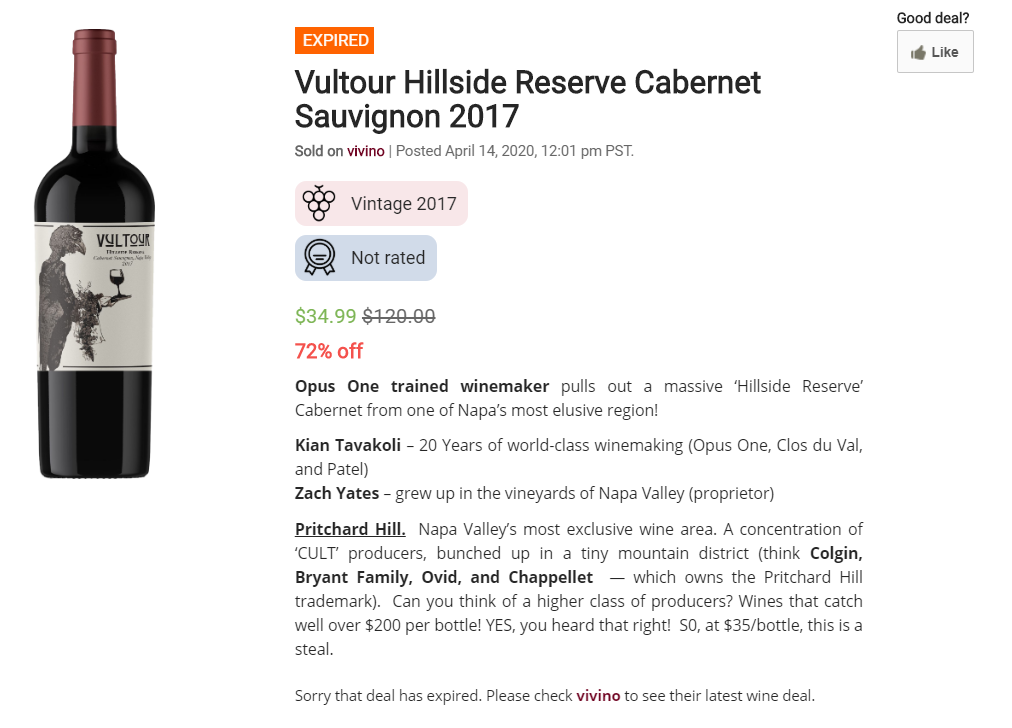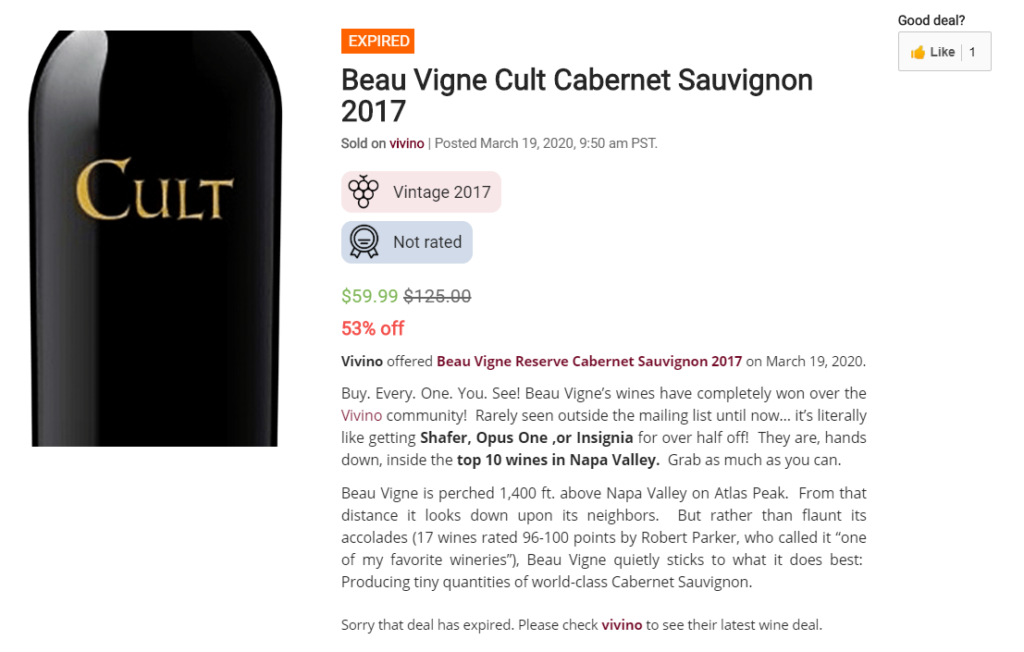 Good Deal?
While we've spent a decent chunk of time walking you through some of the deal finding tools on Wine Bounty, actually using the tools are MUCH FASTER. Our goal is to give you enough resources at your fingertips to make a quick decision on whether it's a bottle worth purchasing. If you decide it's a good deal, a great deal, or the best deal ever, why not help out your fellow Wine Bounty users and click the "Good Deal?" button.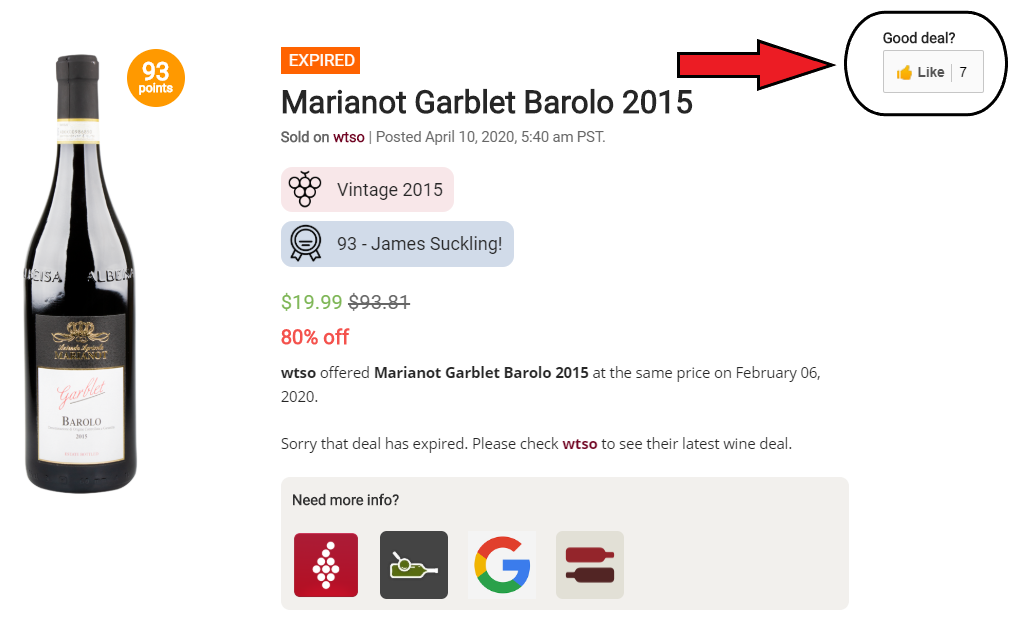 Crowd ratings will give your fellow deal hunters confidence in clicking the "Buy Now" button and will also let our amazing retailers know they're doing a great job! Happy Hunting!
Did you like this content? If you did, let us know and share it with your friends.
This page contains affiliate links. We receive a small compensation when you purchase through affiliate links. While clicking these links won't cost you a cent, it will help us keep the lights on and buy more wine. To find out more, click here.