What was once science fiction is now reality. Artificial Intelligence (AI) has paved the way for many innovations and the latest comes from an AI research and development company called OpenAI whose stated mission is "to ensure that artificial general intelligence benefits all of humanity." What is artificial general intelligence (AGI) you may ask? We'll according to OpenAI it means "highly autonomous systems that outperform humans at most economically valuable work." Grab hold of your seats folks, because the jobs sector may be in for a bumpy ride if OpenAI has its way.
OpenAI is currently in Beta and offers a few fantastic opportunities to kick-the-tires on their developments. I signed up to test two of their growing list of offerings, the DALL·E 2, which can create realistic images and art from a description in natural language and their ChatGPT offering that understands natural language inquiries and generates natural language responses.
DALLE·E 2: Let's create!
I started off simple asking the platform to create an image from the term "Wine Bounty." It returned the following result.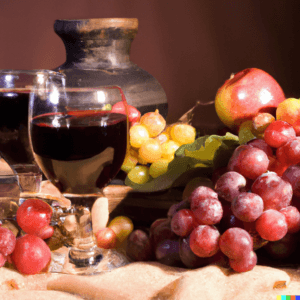 Not bad. I next kicked it up a notch and asked to create images of "Searching for Wine Deals" and got the following:
Okay, a few need some work, particularly this one around facial clarity, but overall not bad.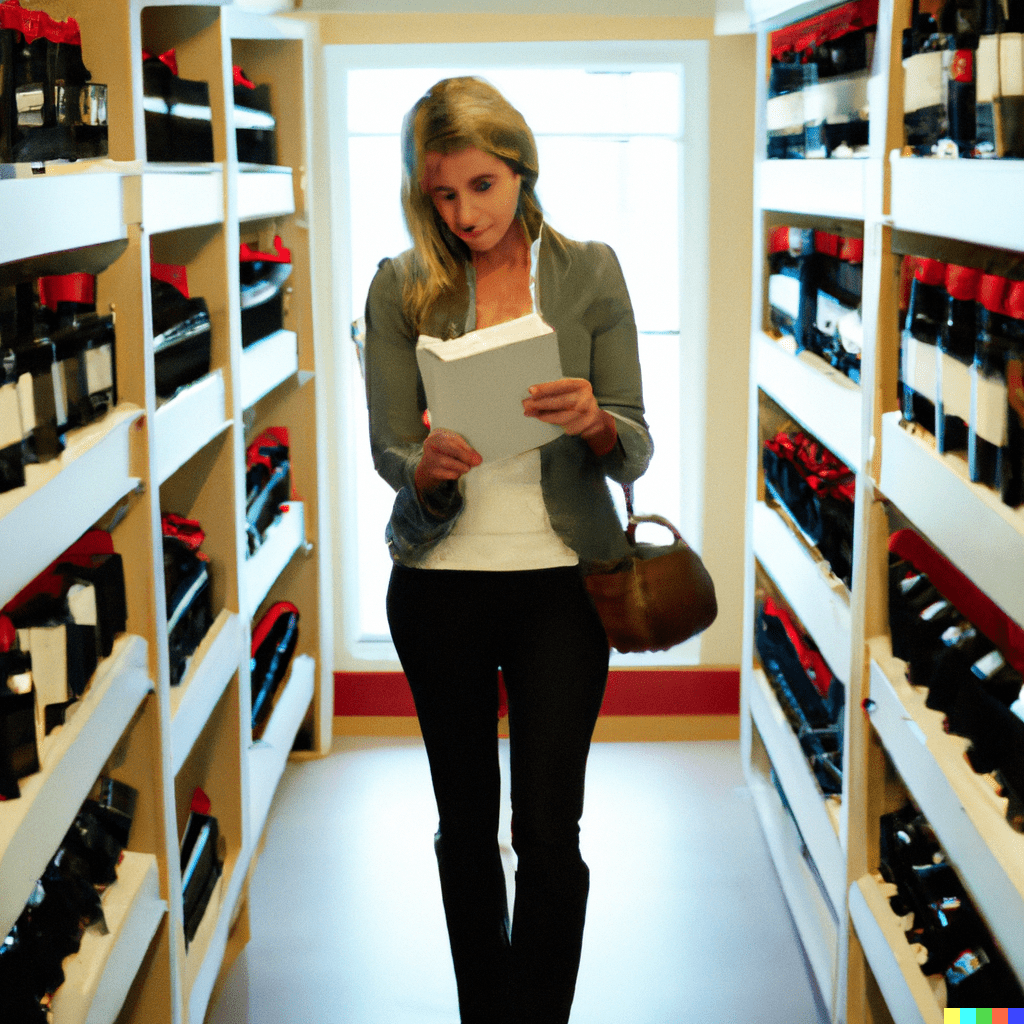 I thought this one was pretty good if you ignore the Skeletor hand gripping the phone.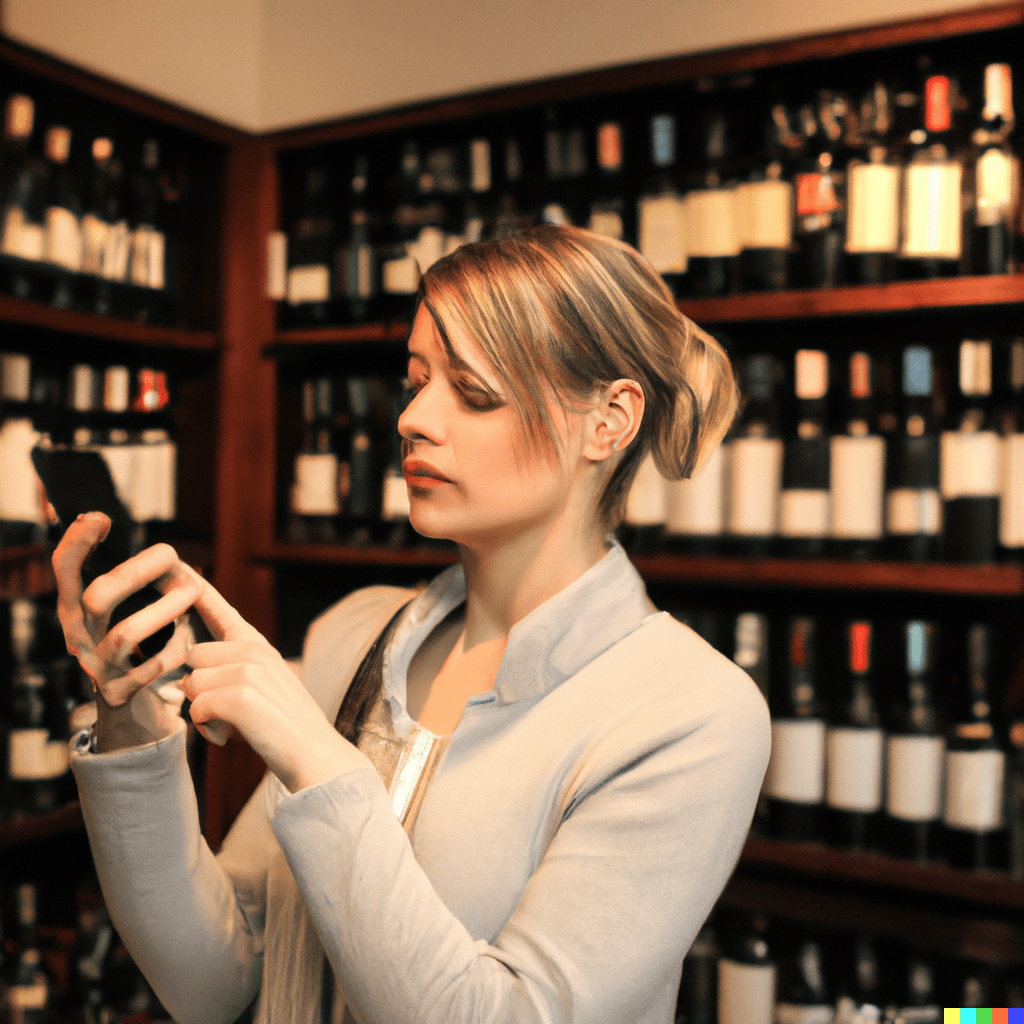 Curious how DALL·E 2 would perform with non-realistic images, I asked to create a "Painting of People Enjoying Wine"

A "Van Gogh Style Painting of Vineyards"

And, at the request of my 7-year-old daughter, a "Funny Painting of a Chihuahua Eating Macaroni and Cheese and Drinking Wine With A Sunset In The Background."

She particularly enjoyed this one because the Chihuahua was REALLY enjoying the Mac n' Cheese. I had my suspicions about the steaming white wine, though. But who knows, maybe AI knows something we don't?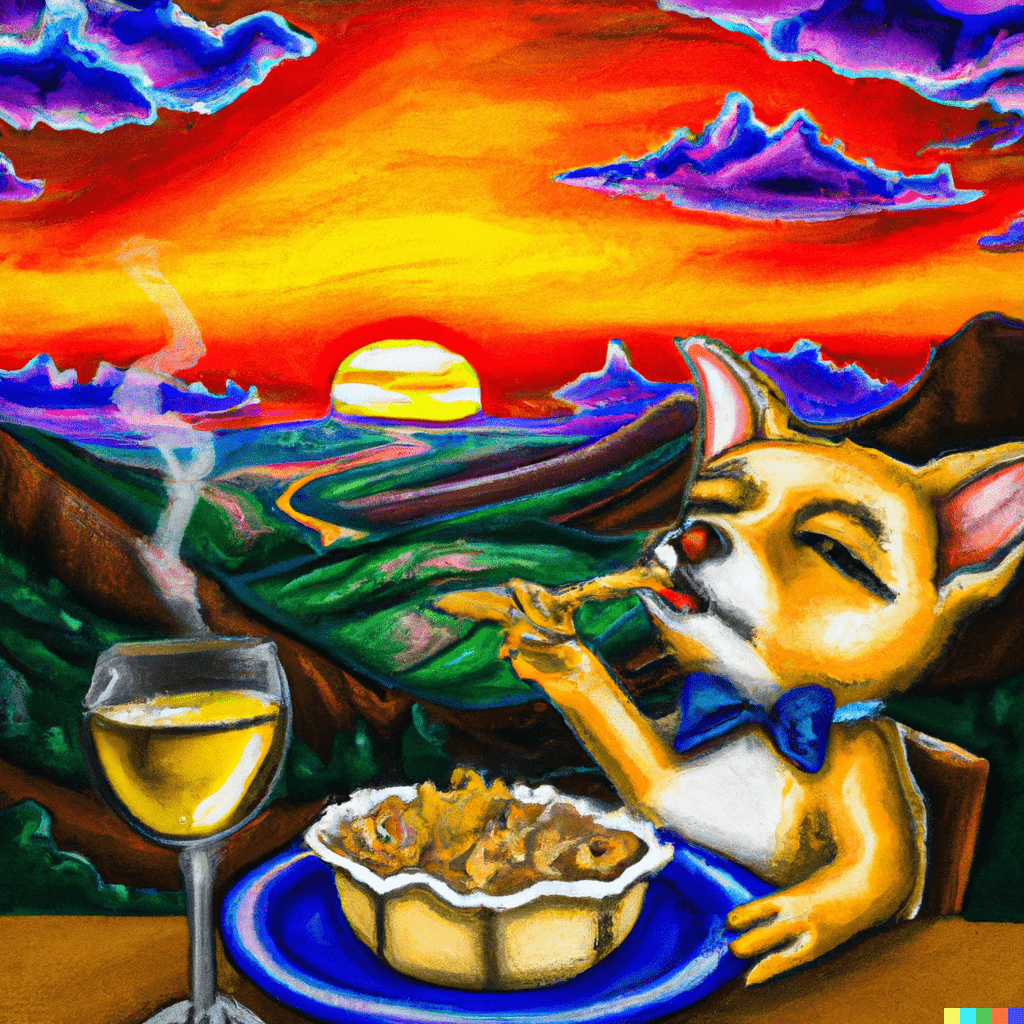 ChatGPT: Let's Write!
Next we moved to the ChatGPT function, which was both exciting and frightening at the same time. I picked a wine I recently had, the 2020 Château Beaucastel Châteauneuf-du-Pape, and provided the following input:
"Write a short article about 2020 Château Beaucastel Châteauneuf-du-Pape"
The output was as follows:
"The 2020 Château Beaucastel Châteauneuf-du-Pape is an exceptional vintage from the renowned French winery. This robust red blend consists of 13 different grape varieties, including Grenache, Mourvèdre, Syrah, Cinsault, Counoise, Vaccarèse, Muscardin, Picpoul, Terret Noir, Clairette, Bourboulenc, Roussanne, and Picardan.

The wine offers an intense bouquet of ripe dark berry, black currant, and cherry aromas, along with hints of licorice, rosemary, and thyme. On the palate, it reveals a silky texture and a long, complex finish. This full-bodied Châteauneuf-du-Pape has balanced acidity, soft tannins, and a lingering finish.

The 2020 Château Beaucastel Châteauneuf-du-Pape is a high-quality wine that will continue to evolve and improve with time. It is an excellent choice for special occasions and makes a great pairing with roasted meats, game, and mature cheeses."
Whoa! Okay, that blew me away. Gazing intensely at the flashing cursor of the ChatGPT oracle I next asked the following:
"Write an article about WineBounty.com"
Gulp. It outputed the following:
"Wine Bounty is the ultimate destination for wine lovers, wine investors, and anyone looking for the best deals on wines from around the world. Whether you're a connoisseur, novice, or investor, you can find what you're looking for on Wine Bounty.

The site brings together offers from multiple sources including winery websites, wine clubs, wine retailers, and other specialized sources. You can easily search for your favorite wineries, varietals, regions, and more.

The site also features an intuitive sorting system that allows you to sort deals by keyword, source, price, rating, and more. This makes finding the perfect deal for your palate or budget quick and easy.

The team at Wine Bounty is passionate about helping their customers find the best deals. They are constantly scouring the web for great deals and adding them to the site. This helps ensure that customers are always getting the best deals available.

In addition to finding great deals, Wine Bounty also provides customers with helpful resources such as ratings, reviews, and educational content. This provides customers with the knowledge they need to choose the perfect bottles for their tastes and budget.

Whether you're an experienced wine enthusiast, a novice, or an investor, Wine Bounty has something for everyone. With its comprehensive database of the best wine deals, helpful educational resources, and intuitive sorting system, Wine Bounty is the ultimate destination for finding the best deals on wine."
Now that's something I can cheers to! Lots of kinks to still work out, but OpenAI is definitely on to something. The possibilities are endless and I look forward to seeing where this "Sci-Fi" future takes us. Thanks OpenAI and as always, happy hunting!
Did you like this content? If you did, let us know and share it with your friends.
This page contains affiliate links. We receive a small compensation when you purchase through affiliate links. While clicking these links won't cost you a cent, it will help us keep the lights on and buy more wine. To find out more, click here.