Driving along the scenic Foxen Canyon Road in Santa Maria, California, is a voyage through rolling vineyards, sweeping vistas, and a tapestry of natural beauty. At the end of this picturesque route lies Riverbench Vineyard, a historic gem that has transformed from a dairy farm to a revered grower and now a celebrated winery. With its farmhouse-turned-tasting room and a focus on exceptional sparkling wines, Riverbench offers an unforgettable experience that combines rich history, breathtaking surroundings, and the expertise of the delightful Grant Harmsen, its knowledgeable tasting room manager.
A Journey Back in Time: The Transformation of Riverbench Vineyard
Riverbench Vineyard is located in the Santa Maria Valley AVA, known for its diverse microclimates and ideal conditions for growing Burgundian varieties. The east-to-west valleys, unique to this region, channel cool ocean breezes inland, creating a mild climate where Pinot Noir and Chardonnay thrive.
Riverbench Vineyard's remarkable journey is a testament to the indomitable spirit of transformation. What began as a dairy farm in the early 1970s underwent a remarkable metamorphosis under the visionary guidance of vineyard pioneers. In 1973, Riverbench Vineyard was established when its first Chardonnay and Pinot Noir grapes were planted on the property, in the fertile alluvial Santa Maria Bench soils. The vineyard has long been a coveted source for some of the region's finest Burgundian varieties.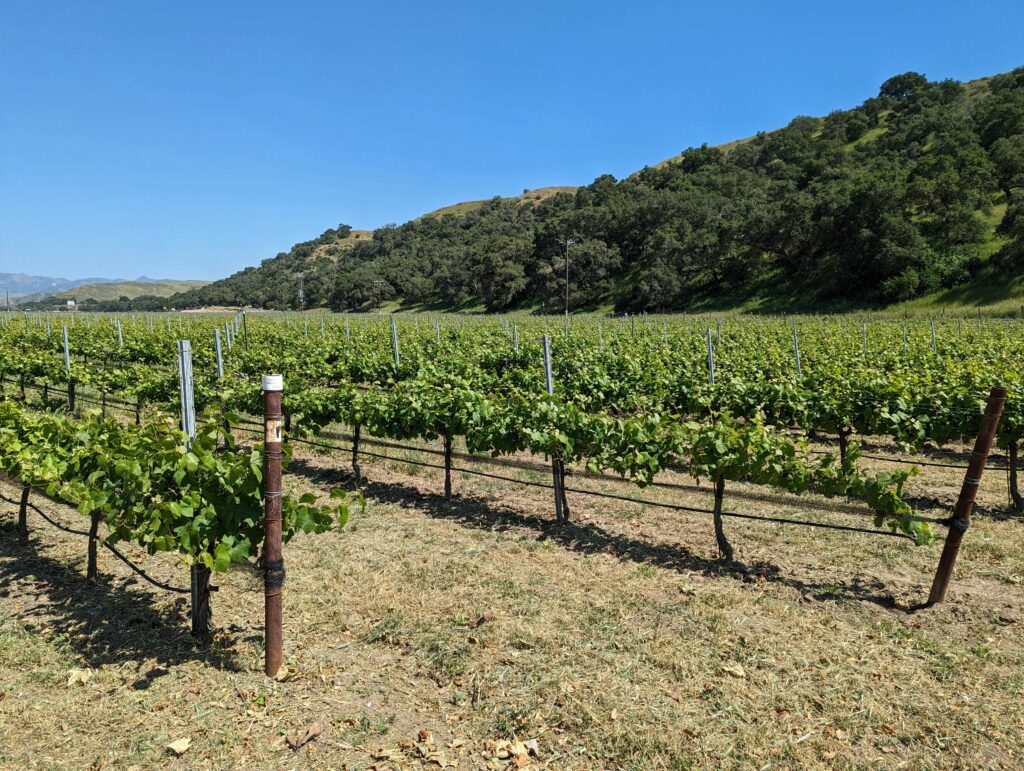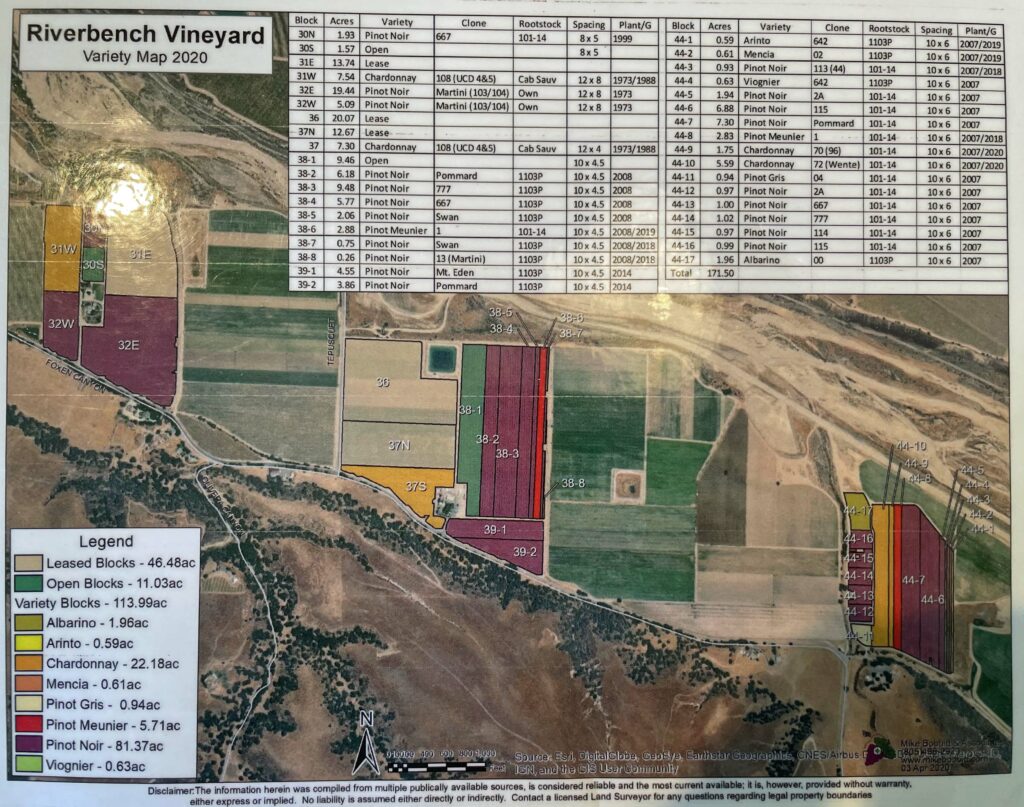 At the heart of Riverbench Vineyard lies its crown jewel, a rustic yet elegant farmhouse dating back to the 1920s. Lovingly restored and repurposed into a charming tasting room, this farmhouse emanates an inviting warmth. Its wooden accents, cozy seating areas, and panoramic views of the surrounding vineyards create a captivating ambiance. Stepping into this space feels like immersing oneself in a piece of living history, where the harmonious integration of the old and the new is palpable.
Just outside the restored farmhouse, guests can also enjoy a picnic on the inviting outdoor patio. There, the bocce court and horseshoe pit create a convivial atmosphere, perfect for making new friends and entertaining old ones.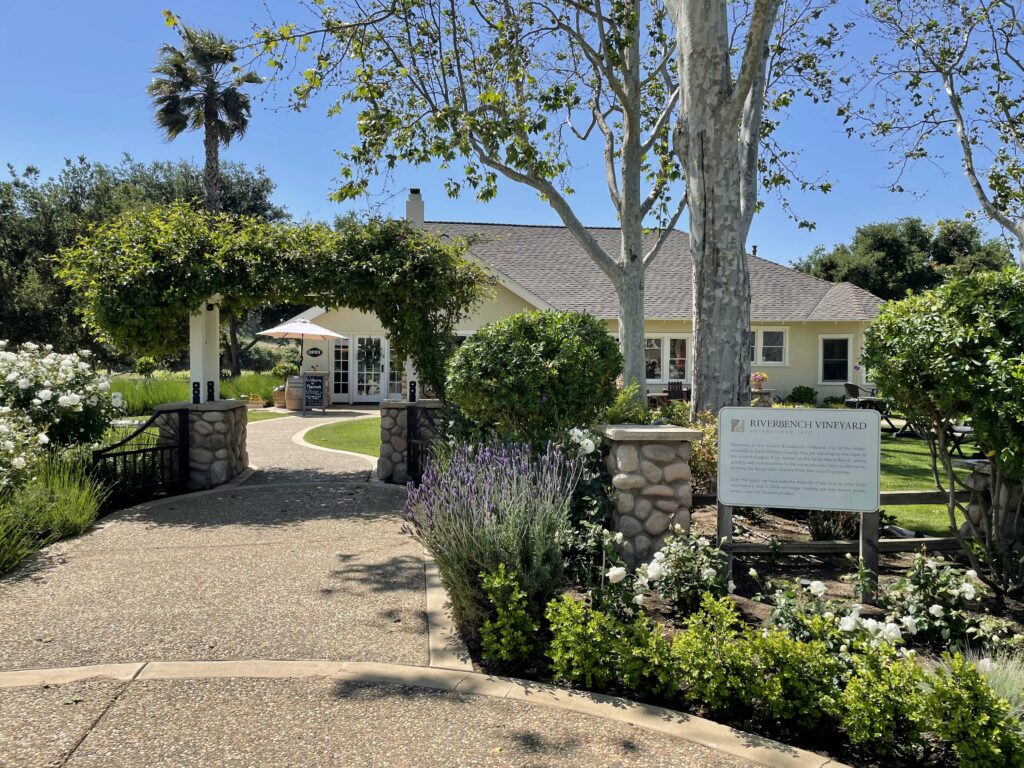 The Sparkling Magic of Riverbench Vineyard
One of the highlights of Riverbench Vineyard is their dedication to crafting exceptional sparkling wines. The decision to produce sparkling wines came after a remarkable discovery: the properties of their harvested grapes mirrored those found in the renowned Champagne region of France. This realization sparked a passion for sparkling wine production that has become a signature of the winery.
Riverbench Vineyard's sparkling wines captivate the senses with their finesse and elegance. From the crisp and refreshing Blanc de Blancs to the vibrant and fruit-forward Brut Rosé, each sparkling wine is a testament to the winery's commitment to excellence. With delicate bubbles dancing on the palate and a harmonious balance of flavors, these effervescent delights offer a taste of the sublime.
A standout is the Sparkling Pinot Meunier, a unique wine that offers a delightful combination of flavors. The winemaker's notes proudly state that this wine stands as a testament to their boldness and innovation, and explain, "[t]his rare grape is famous in Champagne, France, but has yet to make itself known in California; we are, in fact, the first to grow it for sparkling wine here in Santa Barbara County. We jumped in with both feet and took a chance, and this Pinot Meunier sparkling wine is lighting up our world."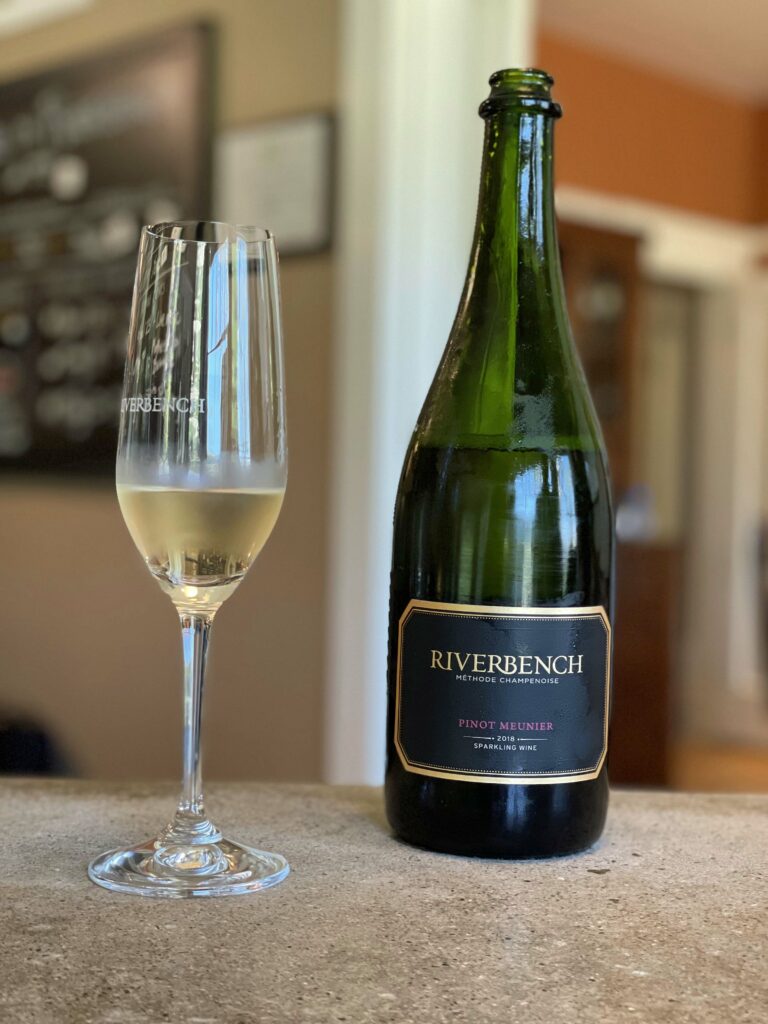 Captivating Conversations: Unveiling the World of Wine with Grant Harmsen
The tasting room experience is elevated by the presence of Grant Harmsen, the affable and knowledgeable tasting room manager. Grant fell in love with wine while studying abroad in Burgundy, France, in 2012. His passion for wine and the region is contagious, as he effortlessly weaves together the story of Riverbench, the winemaking process, and the Santa Maria Valley wine scene.
Grant's genuine enthusiasm and deep understanding of Riverbench's wines make each tasting a journey of discovery. With his wealth of knowledge, he guides guests through the nuances of each pour, painting a vivid picture of the winemaking craft and the unique characteristics that define the Santa Maria Valley. Grant's passion for wine and the culinary arts infuses every aspect of his life, and visitors to Riverbench are fortunate to experience his expertise firsthand.
Unexpected Bliss
"At times something comes along that disrupts the routine and brings a feeling of unexpected bliss." This sentiment was expressed by Riverbench's winemaker, Clarissa Nagy, and beautifully encapsulates the remarkable wine experience that we had and the delight we found at Riverbench. As we bid farewell, the experience lingered in our hearts and on our palates, a testament to the harmonious fusion of history, natural beauty, and exceptional wines at Riverbench Vineyard.
Did you like this content? If you did, let us know and share it with your friends.
This page contains affiliate links. We receive a small compensation when you purchase through affiliate links. While clicking these links won't cost you a cent, it will help us keep the lights on and buy more wine. To find out more, click here.