If you're like me, you LOVE your kids and you LOVE wine. Sometimes in the opposite order, but that's a different article. And sometimes the two can be in conflict, like a family vacation in wine country. Not all wine tasting establishments are kid friendly and those that market themselves as such can be tricky at times. What might be great for the kids, could mean subpar wine for adults.
We decided to head up to wine country for a recent holiday weekend. Santa Ynez Valley to be exact, which is about 120 miles from Los Angeles. After doing some research, I nailed down three wineries that I was hoping would bridge this gap for the entire family and also ensure a diversity of experiences across the entire Santa Ynez Valley. We're on vacation, right? We need to see it all!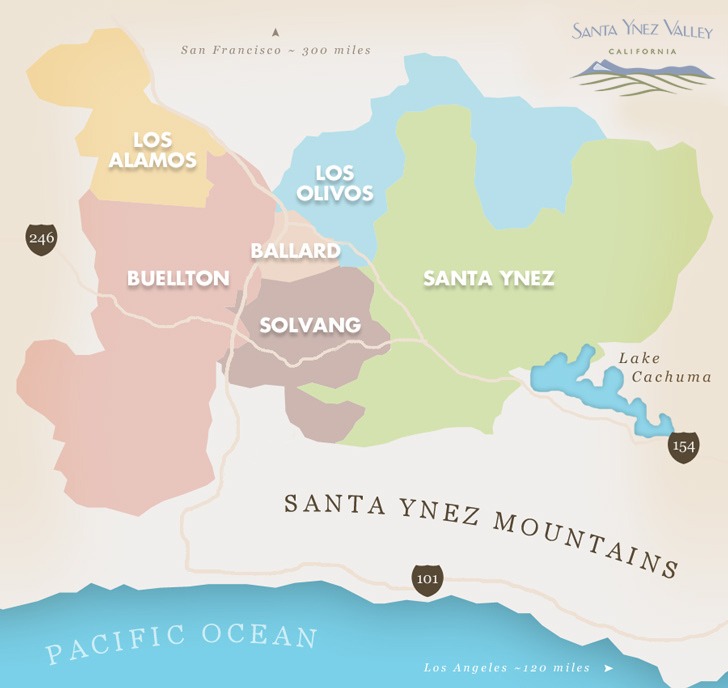 I decided on Demetria Estate in Los Olivos, Vega Vineyard & Farm in Buellton, and Grassini Family Vineyards in Santa Ynez. Was I successful in accomplishing my mission? Let's find out.
Demetria Estate (Los Olivos, CA)
Demetria Estate is tucked away in the hills of Los Olivos just off scenic Foxen Canyon Road. As you enter the property, you transverse 1.7 miles of private road till you reach the hilltop estate. Along the path, kids see active farmlands (more than grapes are grown here!) and experience vehicles performing a balancing act on the narrow road that causes both laughter and screams in unity. And who can forget the endless vistas — magical.
Demetria was our first tasting at 11 a.m., right when they opened. We were seated outdoors at a long wooden table overlooking the sprawling lawn below where the kids immediately took flight, leaving us in to enjoy our wine in peace. Can you sense the stress leaving my body?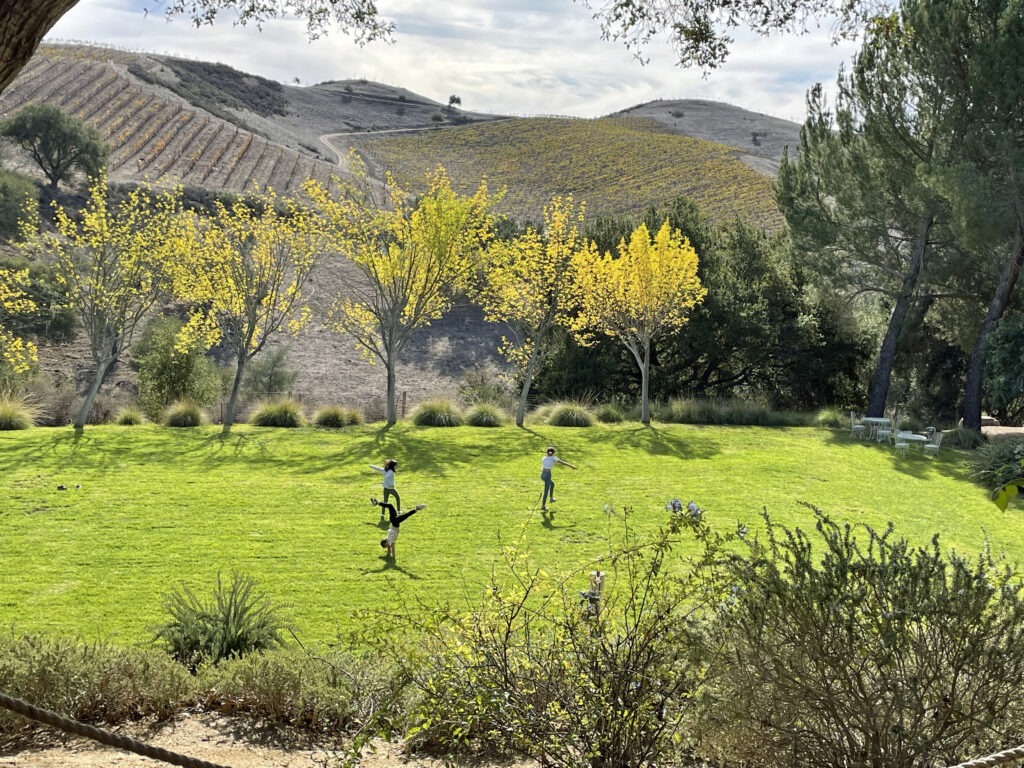 The children stopped by every now and again to use the restroom, grab a snack, or pet the cats lazily that roamed the property. But for the most part, peace.
And the wine? At that point, you could have given us Two Buck Chuck and we would have been content, but thankfully the tasting experience was well beyond that. We enjoyed five wines ranging from a Chenin Blanc with notes of yellow and green apples with a hint of fresh ginger, to a 100% Mourvèdre (called Agno) that was bold, spicy, and filled with black pepper and dark fruit. I enjoyed the Agno so much that I picked up a few bottles.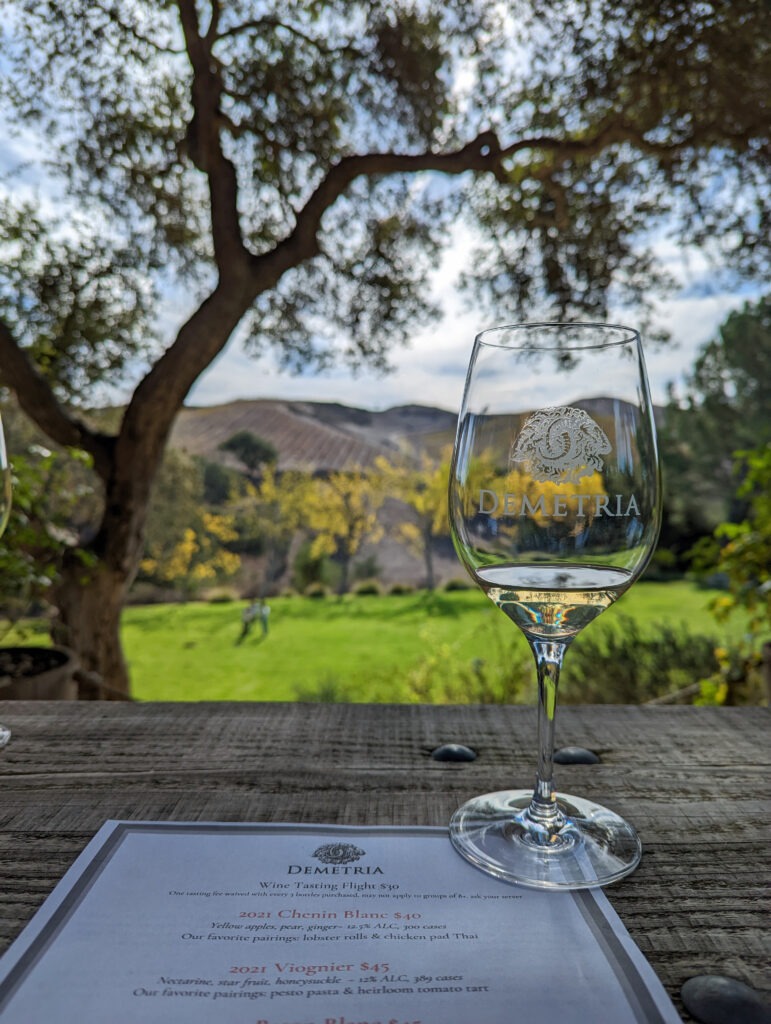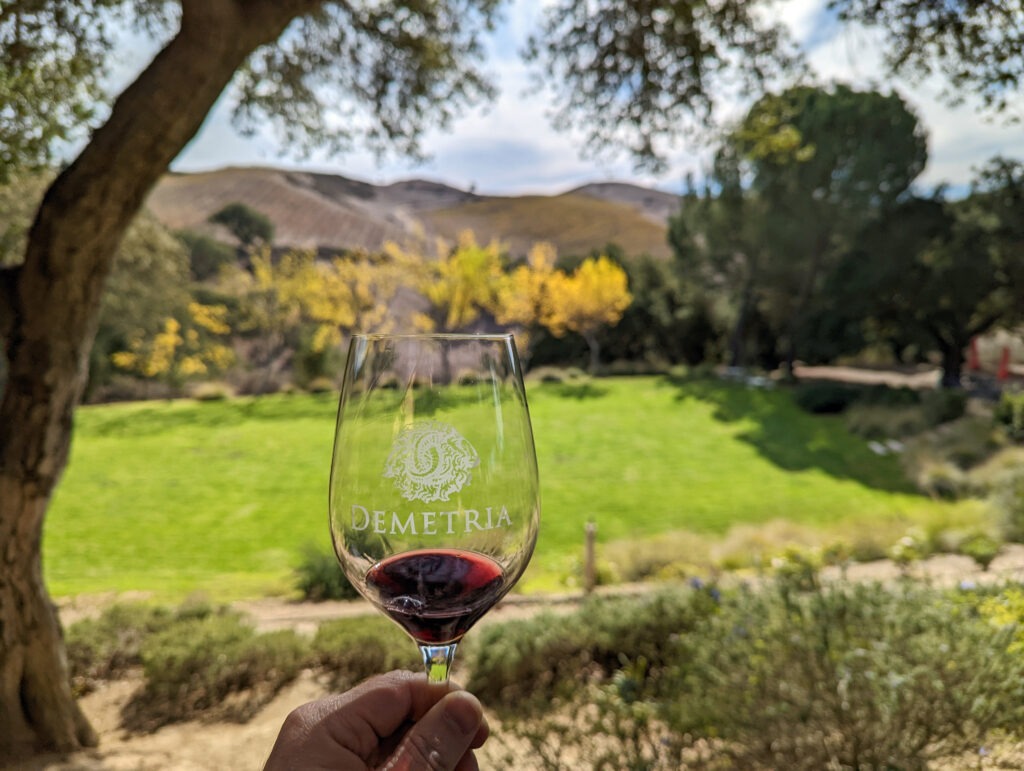 Demetria Estate sits on 200 acres of chaparral covered hills, with roughly 45 acres planted with grapes. Their specialty is Rhone varietals (from Viognier to Syrah) but they dabble in a few others to keep things exciting. For example, Assyrtiko, a white grape indigenous to Santorini, Greece which pays homage to their family roots. Demetria is entirely biodynamic in its farming practices. Not sure what that is? Check out our discussion here.
We were enjoying the views, the wine, and each other so much that we lost track of time. We were scheduled for lunch at 12:45 p.m. and had to make our way across the Valley to Buellton. Mental note: Take the full two hours to taste next time.
We thanked our host, pulled the kids away from a game of hide-and-seek, and piled in the minivan. Vega Vineyard & Farm, here we come!
Vega Vineyard & Farm (Buellton, CA)
Formerly known as Mosby Vineyards, local restaurateurs Karen and Jimmy Loizides recently acquired the property and reopened it under the name Vega Vineyard & Farm. The name pays homage to the original 1853 settlers of the land, Dr. Roman de la Cuesta of Spain and Micaela Cota, daughter of Francesca Cota of neighboring Rancho Santa Rosa. The couple was gifted Rancho de Vega (Spanish for "the meadow") as a dowry.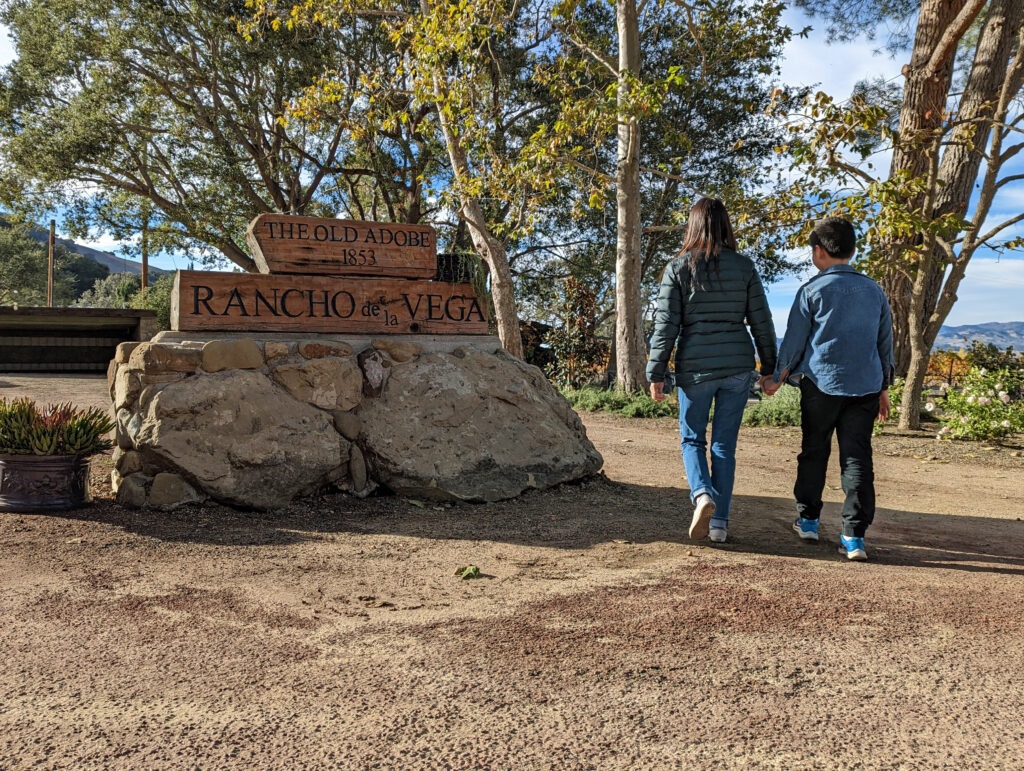 Vega Vineyards & Farm is the definition of farm to table. It's only been open a month, yet the freshness of their locally sourced ingredients (and by local, I mean THEIR farm), the precision of their plating, and the expediency of service, made it appear as if they've been open for years.
Our table of four hungry adults and four hangry kids ordered the following: (1) the Charcuterie and Cheese Boards; (2) a dip platter of hummus, olive tapenade, feta mint tzantziki, and grilled pita; (3) Deviled Farm Eggs & Blue Crab with smoked trout roe and scallions; (4) Cavatelli Cacio e Pepe with housemade pasta, pecorino Romano, and parmesan; (5) a Margherita Flatbread with hand torn basil, fresh tomato sauce, and mozzarella; (6) Lamb Meatballs with chickpea tomato sauce and feta mint tzantziki; and (7) a Roasted Golden & Red Beets Salad with goat cheese, toasted salty pistachios, and aged sherry vinaigrette. We finished it all.
But even with all this yummy goodness, the wine still shined through. As it should with Steve Clifton as your winemaker. Clifton is no newbie to winemaking. He started his career in 1991 and has taken his winemaking awesomeness to such wineries as Rancho Sisquoc Winery, Beckmen, Brander, and Domaine Santa Barbara, before hanging up his own shingle under the brand Palmina and his partnership with Greg Brewer at famed Brewer-Clifton.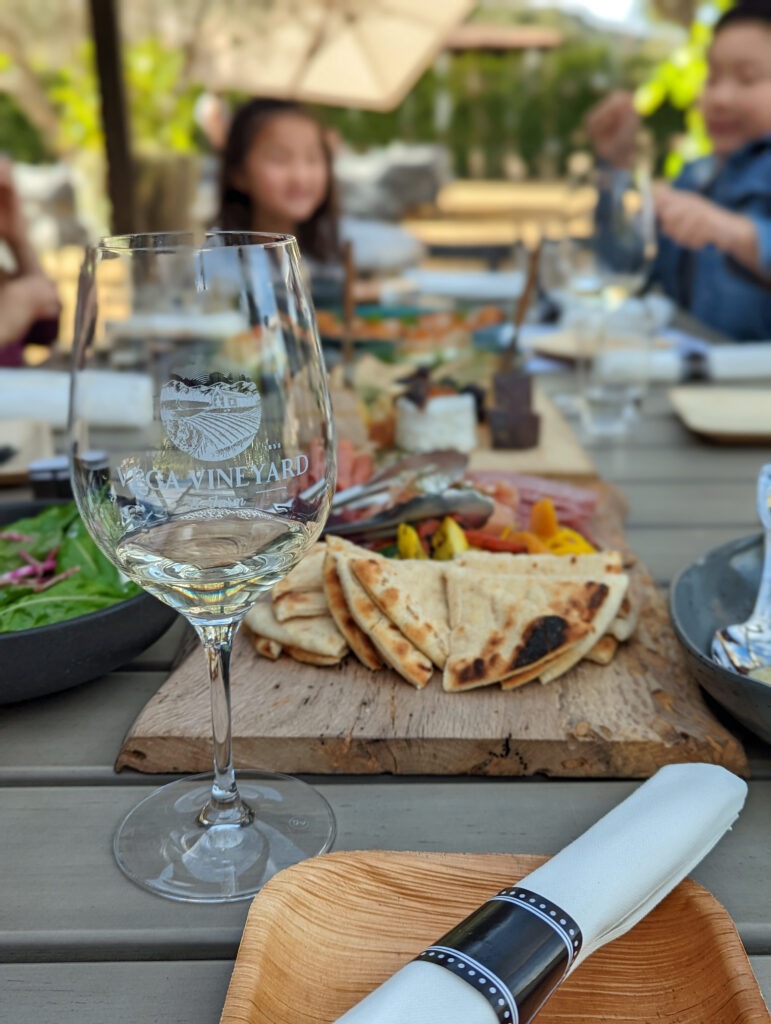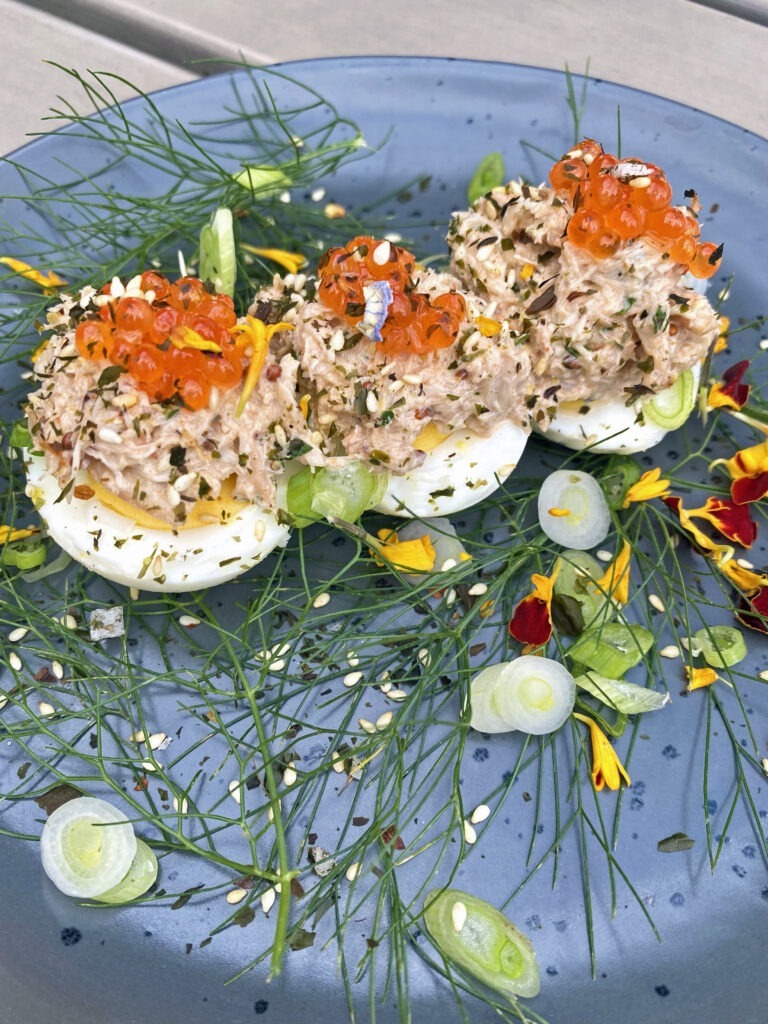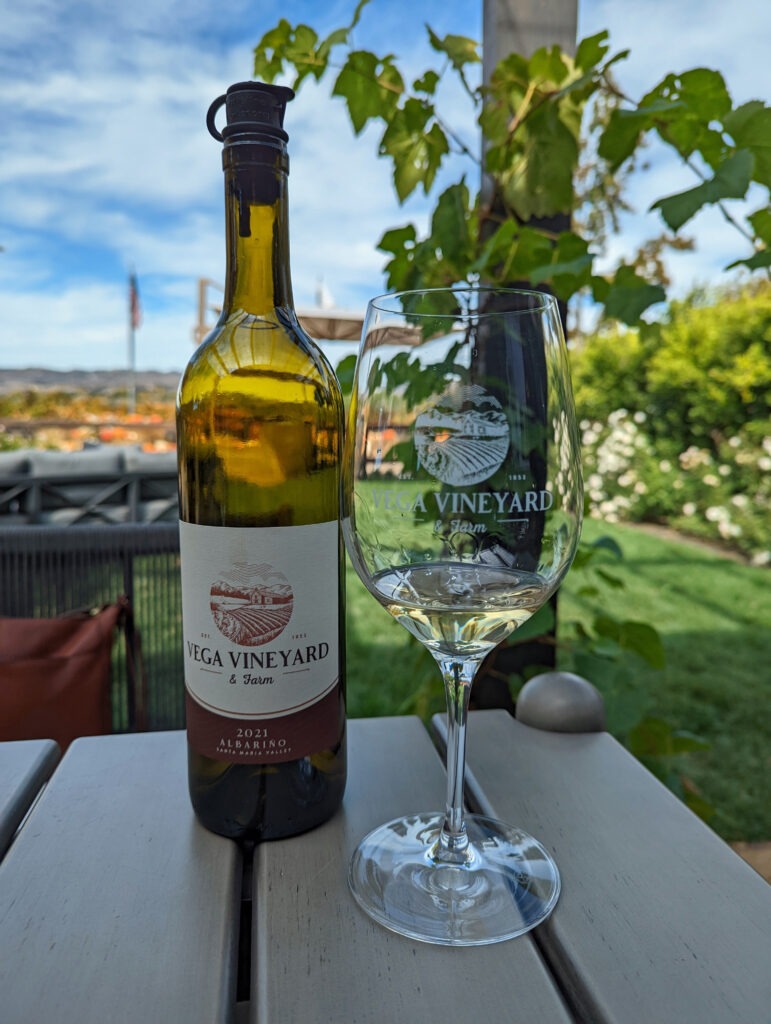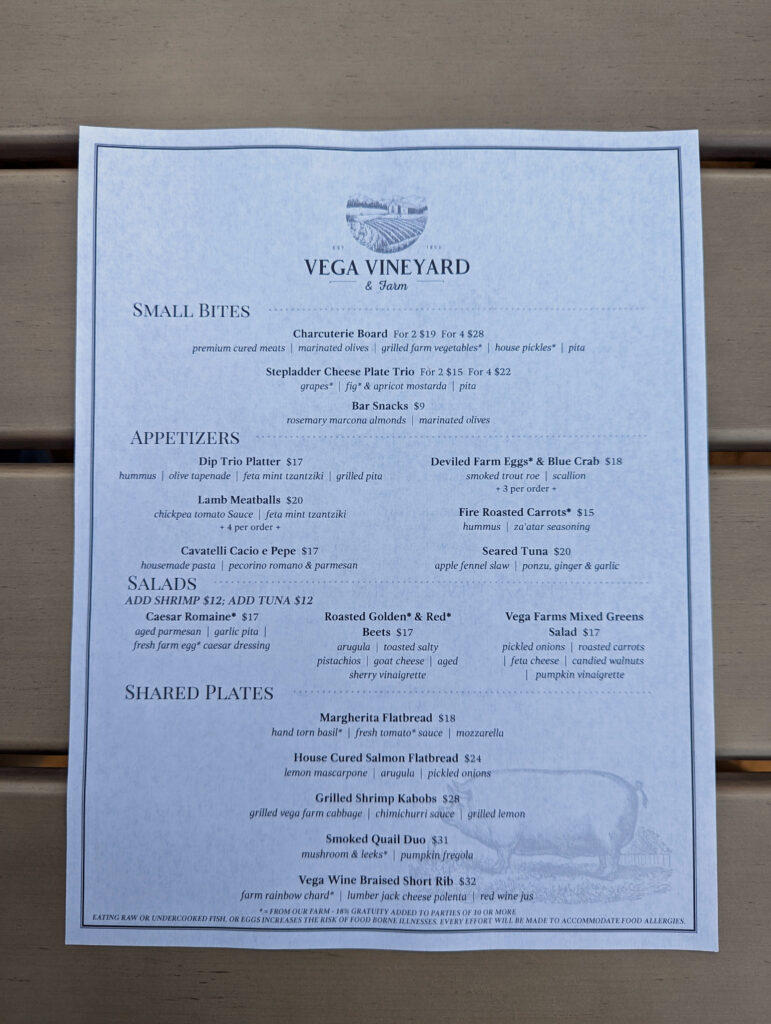 Of the many, many wines tasted (I think we had 5 on menu and 3 off menu), the white that stole the show for me was the 2021 Albariño. Crisp and refreshing with fresh citrus (lemon, grapefruit, and mandarin orange) on the nose. The flavors continued to the palate along with sweet and juicy pear.
Of the reds I was immediately intrigued by the 2021 Barbera. It was velvety smooth with all that I love in a red but without the tannins. Tobacco, pepper, and dark stone fruit on the palate and an earthy, grassiness mixed with dark plum on the nose. The kiss of sweetness on the palate through me for a loop. Not what I was expecting, but absolutely welcomed. I LOVE being surprised by wine and this did it.
The 2019 Nebbiolo and 2020 Syrah were also fantastic and true to form. Indeed, our party picked up a few bottles of those too. We thoroughly enjoyed the tasting, but the kids would argue they enjoyed the grounds even more. Maybe not as much as the kids enjoyed the grounds.
After lunch, the children were gone. At one point we forgot we had kids until they strolled back from visiting the numerous farm animals at the petting zoo. In our short time at Vega, they also played a game of taller-than-life Jenga and then tore down the blocks to build a tower. They pretended to be Instagram influencers, stealing our mobile devices and snapping pictures of each other on the beautifully landscape tractor surrounded by pumpkins. Noticeably, this was a popular spot for photos since "real" influencers (ahem, a party of 20+ young adults in western wear celebrating a birthday) were also snapping selfies in perfect form.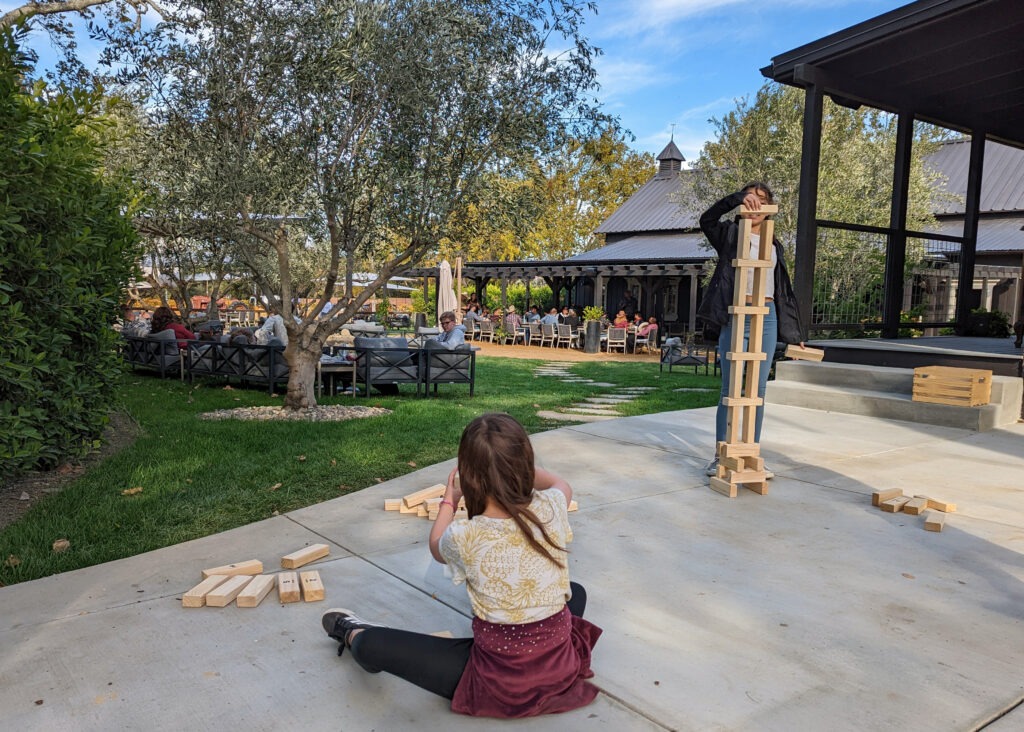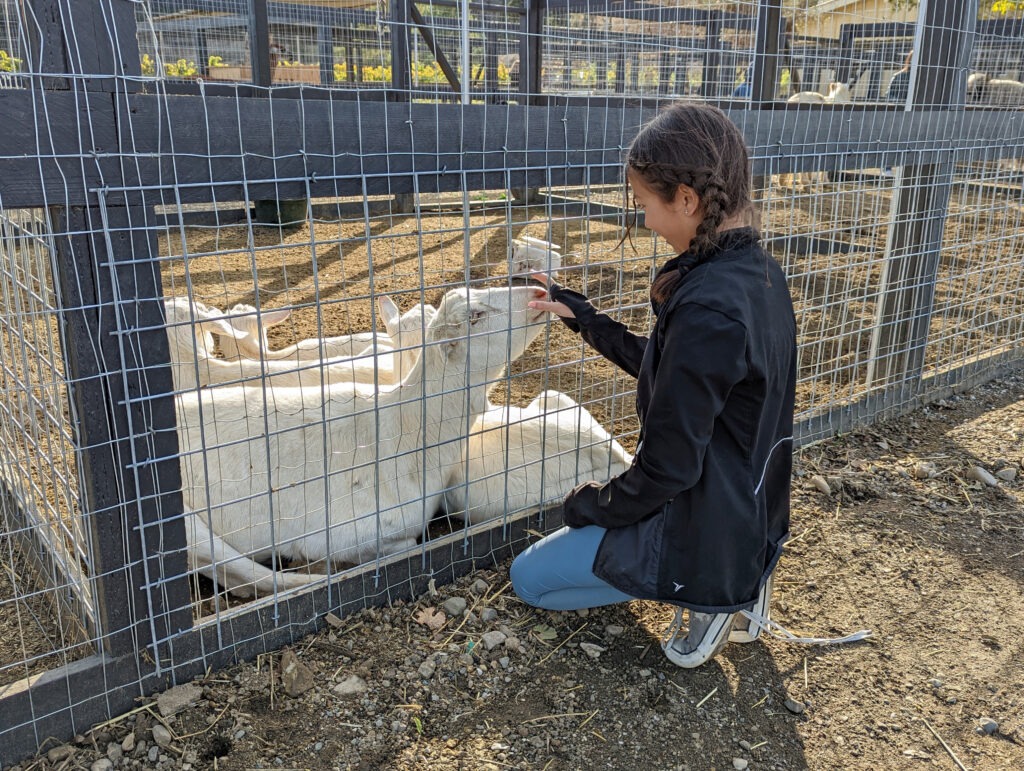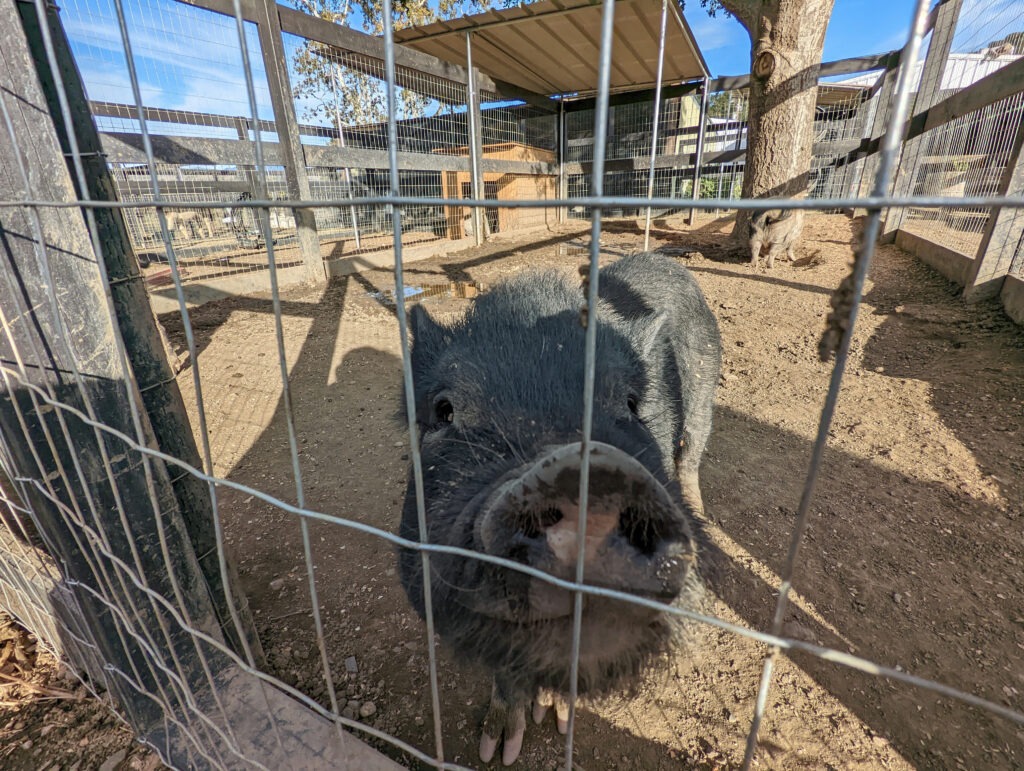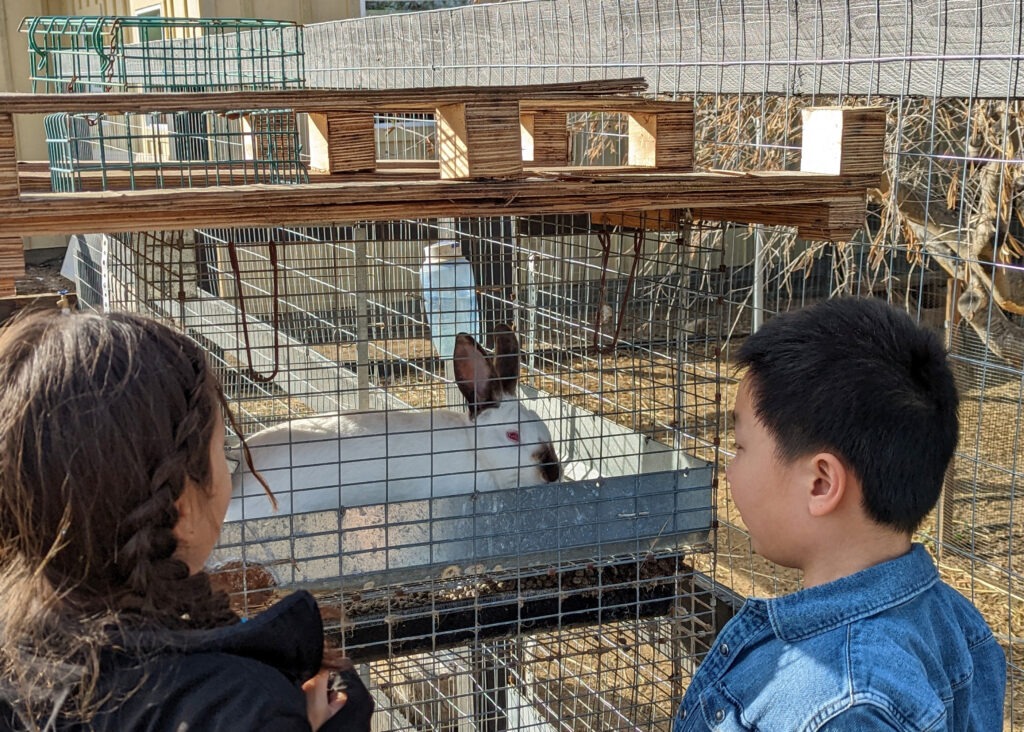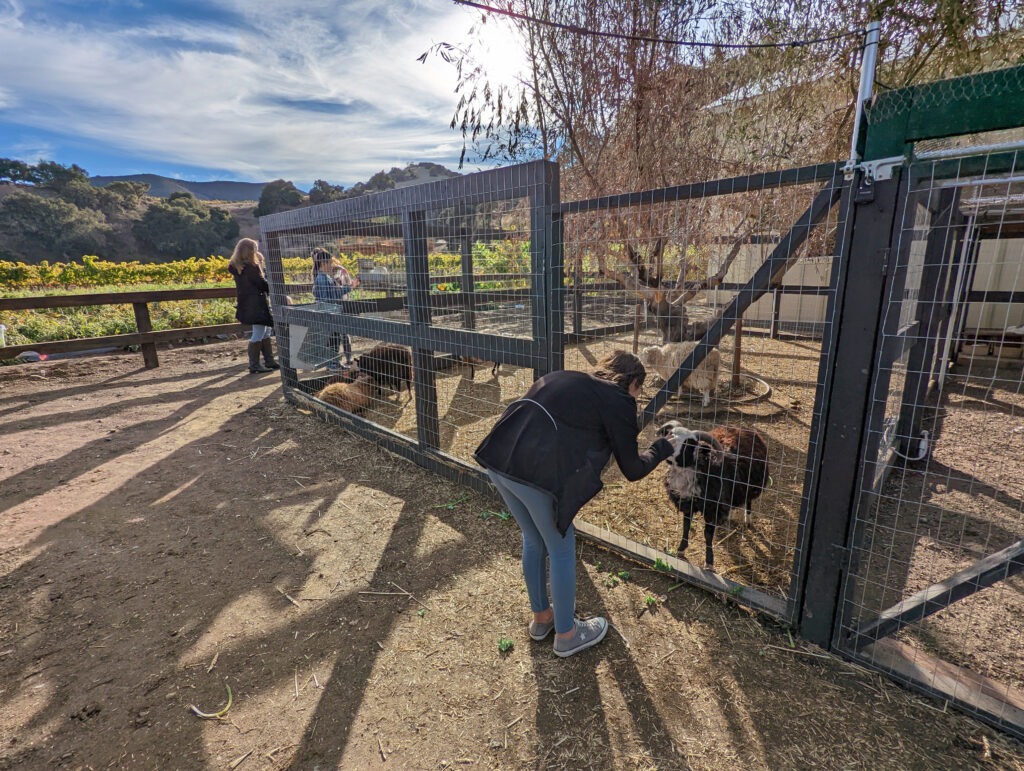 Between food, wine, and kid activities, this is the perfect stop for anyone passing by Solvang on the 101 Freeway and needing a break. Vega Vineyard & Farm is literally off the freeway and while you can hear the cars in the distance, the laughter from family and friends easily distracts you and drown it out.
Once again time escaped us and our next appointment awaited at 3:30 p.m. We thanked our host and hurried the children into the van to reach our last destination. This time we were heading back across the Valley to Santa Ynez for a tasting (by the pond!) at Grassini Family Vineyards.
Grassini Family Vineyards (Santa Ynez, CA)
Tucked off a dead-end road in the heart of Happy Canyon is Grassini Family Vineyards. The tasting experience is pond side under a magnificent oak tree whose canopy seemed endless from underneath. It was quiet, very quiet. You could hear the breeze blowing through the tall grass, the ducks playing in the water, and the occasional fish splash.
Any tension left in your body leaves. It was time to relax.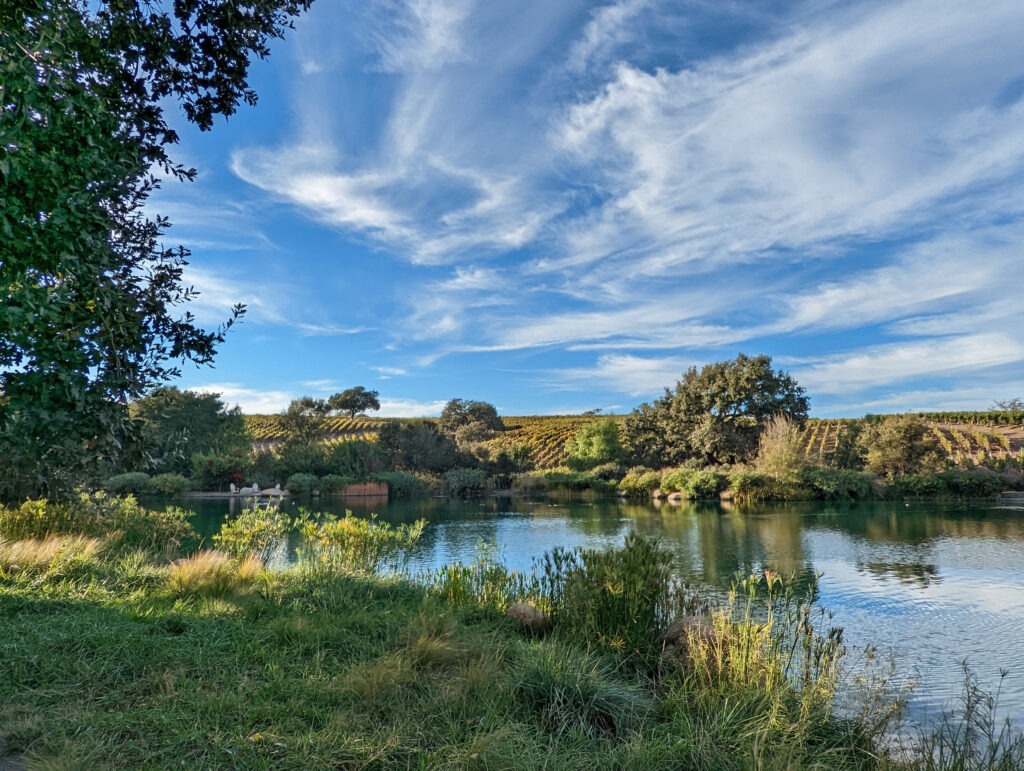 For everyone to relax.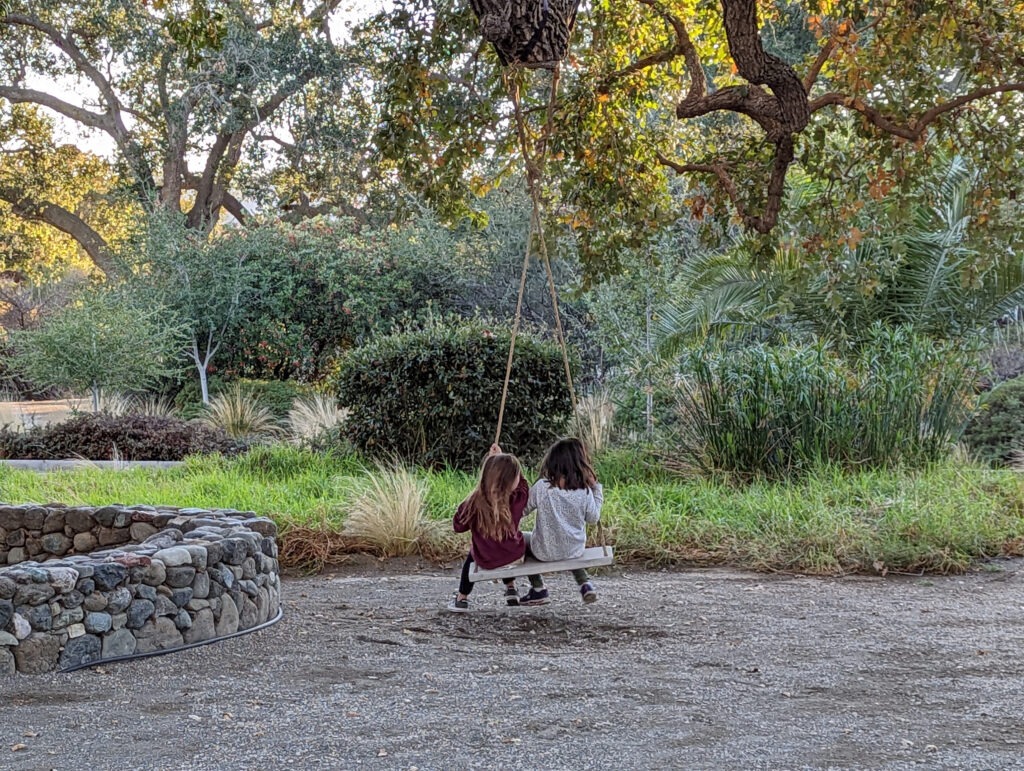 And of course, drink! The big reds stole the show. Not surprising given that Happy Canyon presents the perfect terroir and climate for big reds with hot days and cool nights. First up was the 2019 Equipo Red Blend, which is 85% Cabernet Sauvignon, 8% Merlot, and 7% Petit Verdot. Juicy red fruit fills your mouth with a slight earthiness and pepper. "Equipo" is Spanish for "team" and Grassini dedicates a portion of the profits from this cuvée to crew bonuses and an emergency fund for team members facing unexpected costs during serious illness. Community sustainability speaks loudly in Equipo. I'm a sucker for paying it forward so I of course picked up a bottle.
The other big red that got multiple thumbs up was the 2019 Estate Cabernet Sauvignon. This elegant (yet still powerful) full-bodied Cab opens with tobacco, dark cherry, and hints of dark chocolate. Traces of blackberry are also present. The finish is long with balanced acidity and velvety tannins. Yum. Someone in our party wanted a case but settled on a few bottles.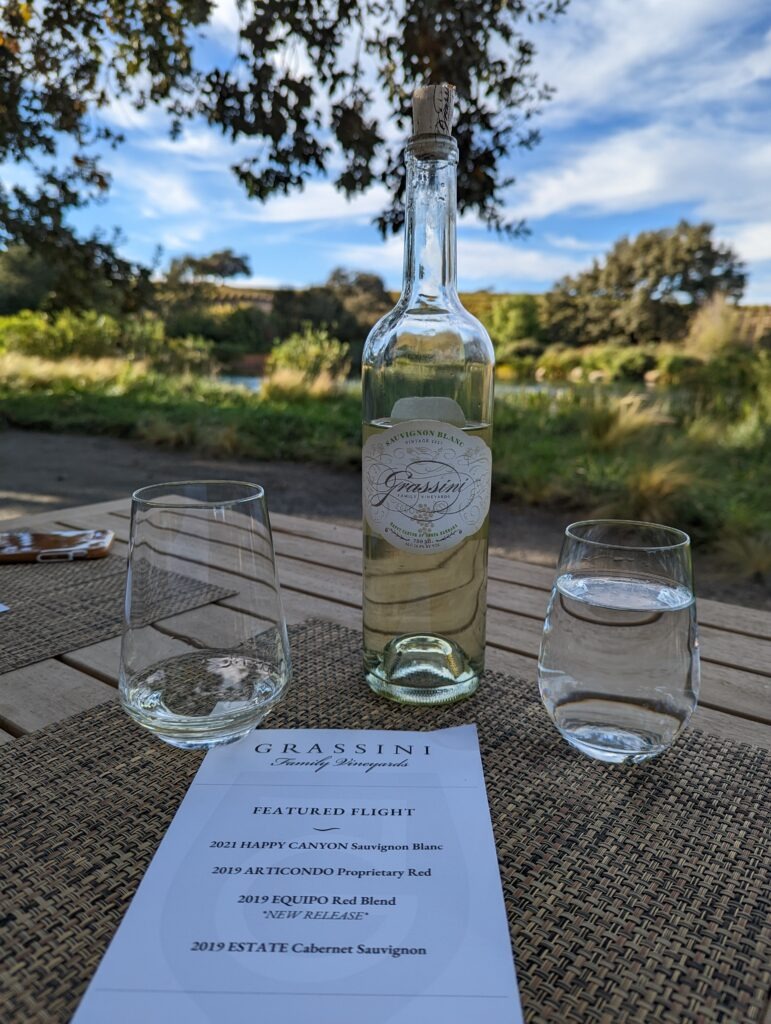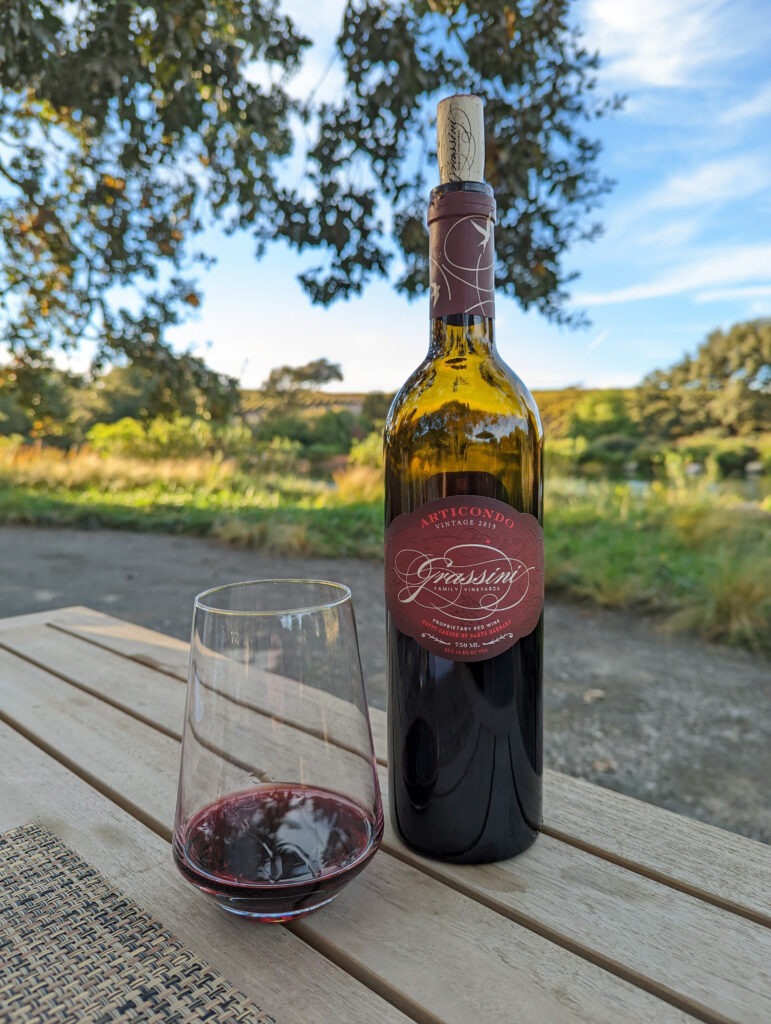 As the late afternoon strolled into the early evening, the kids played on the swing, threw a ball with the local dog, Bodhi, and spent countless moments meandering along the path around the pond. They even used the time to make a movie! Again, aspiring Instagram influencers, remember?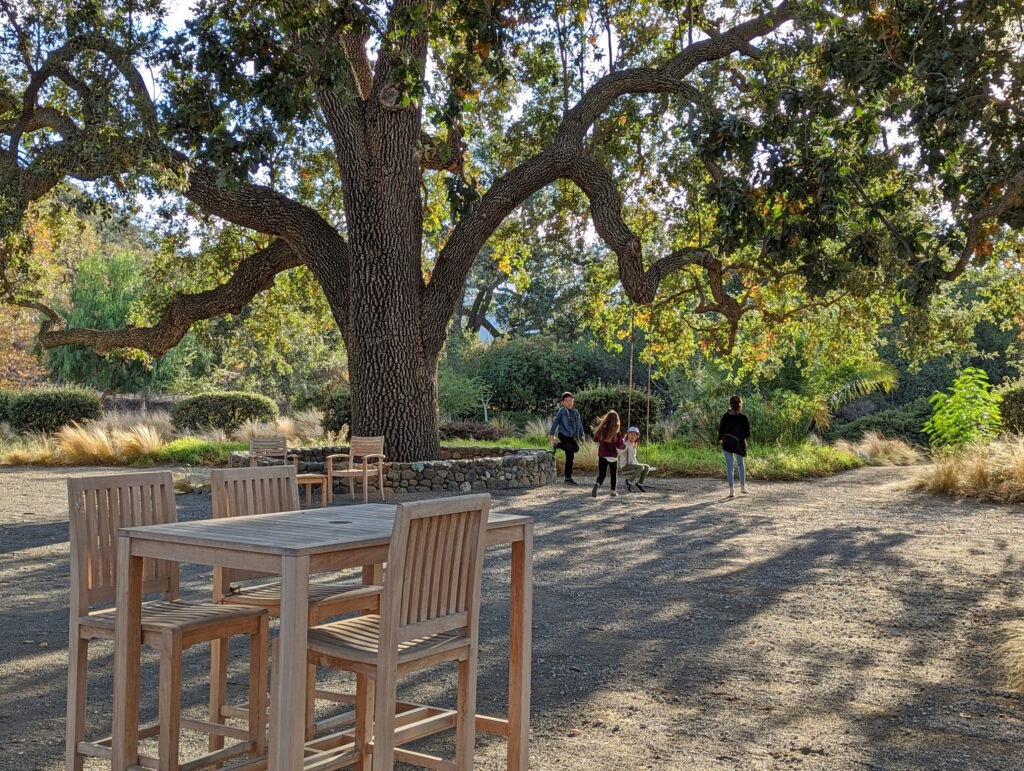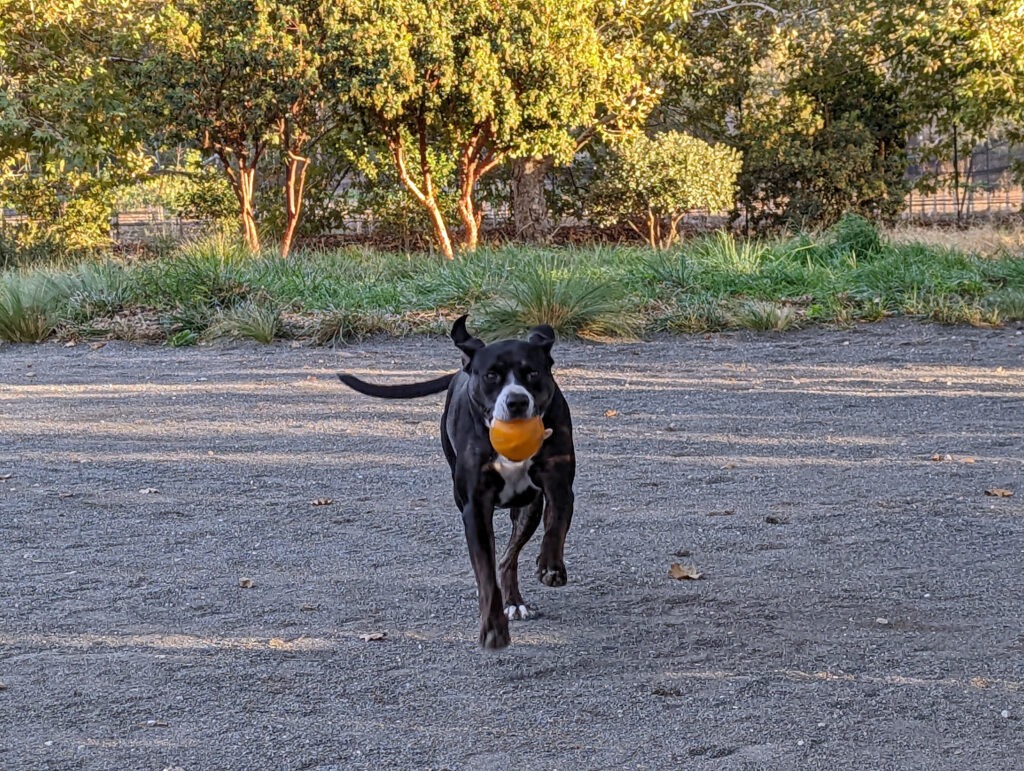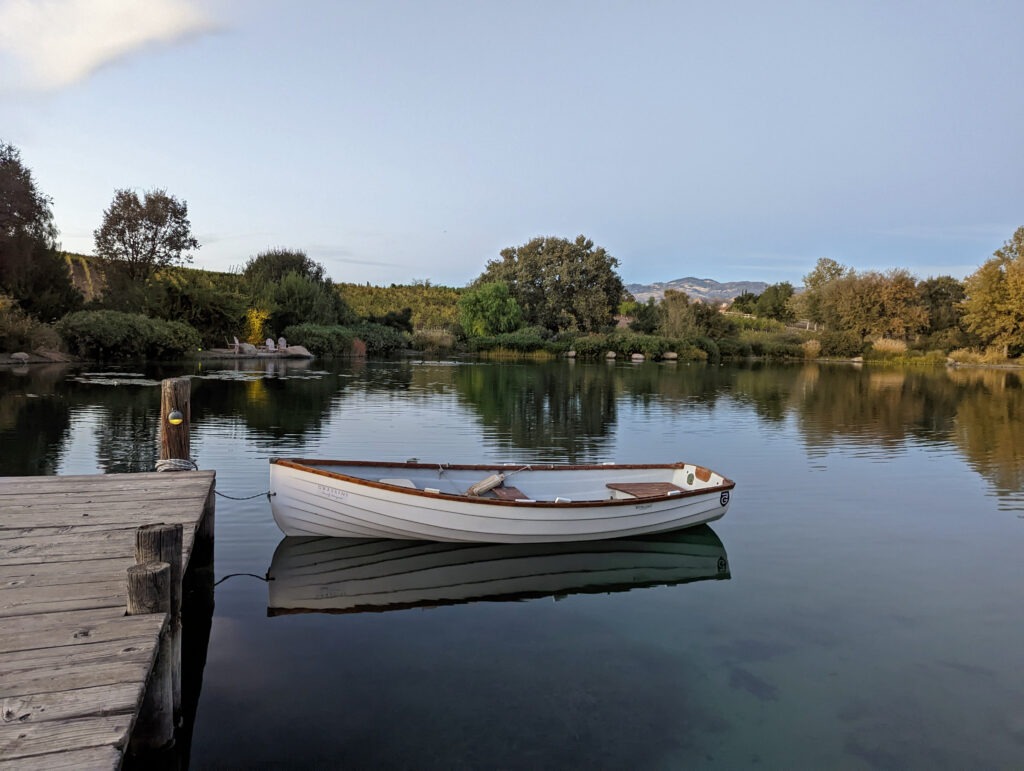 By 5:30 p.m., the kids were starting to yawn, stomachs were growling, and we had clearly over-stayed our welcome. It was time to call it a day. We thanked our host and loaded the kids back in the van for one last time. It WAS the perfect day and we're hoping to make many more in the future. As always, from our family to yours, "Happy Hunting" for wine, for moments, for memories.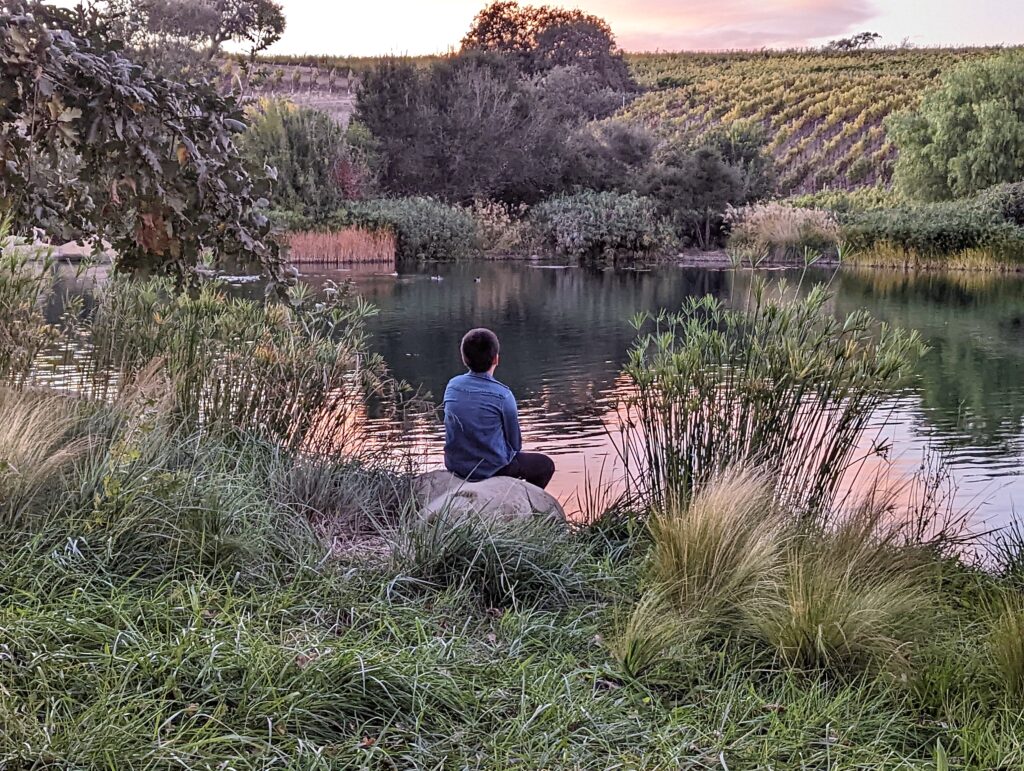 Did you like this content? If you did, let us know and share it with your friends.
This page contains affiliate links. We receive a small compensation when you purchase through affiliate links. While clicking these links won't cost you a cent, it will help us keep the lights on and buy more wine. To find out more, click here.