For the last 20 years, I've been making an annual pilgrimage to Santa Ynez Valley. After university, it's where I cut my teeth on wine, so it holds a special place for me. For most of those years, my palate gravitated to the warm climate varietals (Sauvignon Blanc, Zinfandels, and Rhône and Bordeaux blends) which dominate the landscape around the towns of Los Olivos and Santa Ynez.
I decided this year was going to be different. Rather than hang a right off the 101N, I went left destined for the cooler climate wines of Sta. Rita Hills. Sta. Rita Hills is located between the towns of Buellton and Lompoc and is flanked by the Purisima and Santa Rosa Hills. Since the hills run east to west they act as a corridor for the nearby Pacific Ocean to fill the valley with its cool breeze and create the perfect micro-climate for Pinot Noir, Chardonnay, and Syrah.
It is here that I fell in love with Melville Winery. What was to be a one hour tasting, turned into three. Beautiful relaxing grounds, an informative and friendly tasting room staff, and the juice . . . simply, "wow". Wine after wine, there was a consistent elegance to Melville's offerings that made me want to learn more. Here are the highlights:
100% Family Owned – Family-owned and operated with its roots in Sonoma County's Knights Valley, where the Melvilles started with a focus on growing high-quality grapes before making the leap to producing wine.
100% Estate Winery – All grapes come from land they own and tend directly. Which comes as no surprise given Melville's history in farming.
100% Control – The Head of Winegrowing is a Melville (Chad, to be exact) and he is very purposeful in his craft. The Melvilles believe in growing wine, not making it. For Chad, Mother Nature is in charge. To help preserve and honor this perspective, all blocks are fermented in small lots and isolated through their entire period of elevage. This allows Melville to fine tune vineyard practices to achieve the purist, site-specific wines possible. Whole cluster fermentation is featured since Melville believes stems add unique flavor and complexity. Melville chooses longer maceration periods. Nature produced the whole grape – not just the juice – and so they seek unity and balance, which helps produce age-worthy wines with depth. Finally, only "neutral" French oak barrels are used (approx. 15-20 years old). This means no flavor is imparted from the wood and that's how Melville likes it; they want you to taste and smell what the land, vines, and fruit give you in its purest sense and nothing more. Besides winegrowing, Melville also controls all aspects of their distribution channels. No middlemen here.
100% Affordable – The lack of middlemen, use of natural oak barrels (which are way cheaper than new barrels), and growing from their own land, allow Melville significant control over costs and margins. As such, Melville wine is extremely affordable . . . particularly when you consider what you're getting.
100% Addictive – And what you're getting is some amazing juice. But you don't need to take my word for it. With numerous 90+ ratings and a cult-like following by their members, it's easy to see how one sip can hook you. I know, I'm now one of them!
Given this amazing experience, I had to recreate the tasting in a controlled environment to ensure my palate wasn't overwhelmed by my visit. In a very scientific fashion (i.e., my backyard with a corkscrew and friends) I set out to taste each wine again – Melville's three signature estate wines and a small lot offering. Through very precise polling (i.e., thumbs up or down as you voiced your opinion) we reached an overwhelming consensus that Melville is the real deal.
The 2019 Estate Chardonnay was crisp and refreshing with a nose of ripe apricot and an underlying minerality with vibrant acidity. This would be a perfect poolside substitute for any fan of Sauvignon Blanc or Pinot Gris and Chablis-lovers will swoon over it (especially at $38/bottle).
The 2019 Estate Pinot Noir (WE 95, Editor's Choice) is Melville's signature wine and for good reason. The nose provides a perfect balance of cherry, violets, and notes of herbs and pepper on the tail. The palate danced with soft, silky tannins, a sea of earthiness, and a wave of cherry that is not overpowering and far from the "cough syrup" accents that can be found in some other cool-climate Pinots. If you don't know what wine to bring to an event, this is it: Versatile enough to bridge virtually all preferences and sure to produce some raging fans (particularly at $40/bottle).
The 2018 Estate Syrah (WE 95; JD 94, Top 100 Wines of 2020) gives Syrah enthusiasts everything we know and love about Syrah (notes of plum, dark fruit, and black and green peppercorns) while purposefully holding back the "POW!" common to warmer-climate Syrahs surrounding the valley. This is the perfect bridge wine – completely satisfying for "big red" lovers, while measured enough for those who lean lighter. And, again, at $38/bottle no one can go wrong.
The final wine in the lineup was the 2019 "Terraces" Pinot Noir. This small lot Pinot is located on the westside of Melville's property making up a mere 5-terraced acres – all facing the ocean breeze and completely exposed to the harsh elements nature throws at it: severe wind, full sun exposure, and challenging drainage. The block is divided into three sections wrapping 120 degrees around Melville's famed "Block M" Pinot Noir. This is a Pinot that will be engrained in my memory. Elegant and smooth but pronounced in texture. This is a wine that you "feel" with hints of ripe strawberries and some dried sage. But the nose is what captivated me with its hint of cinnamon bark. When I closed my eyes and breathed in all that Pinot goodness it brought me back to my childhood. It was as if I had just walked into my home after a long, cold, winter day at school and could smell my mother preparing ingredients to bake cinnamon bread. That joyful anticipation of what was to come later in the evening . . . a very fond memory of mine and a fabulous wine to take me there.
If I were to sum up Melville's wines in a word, it would be "elegant." They are not big and bold, but they do not shy from attention. They are balanced and refined despite their young age. A wine that slowly draws you in and comforts you, like an old friend. A wine that is not afraid to stand on its own with good conversation or share the spotlight with a meal. A wine that puts Mother Nature center stage and at a price point that anyone can buy a ticket. These are wines that we seek out at Wine Bounty – raw and beautiful – and we are honored to call them part of our winery direct family.
If you are reading this article anytime near posting, be sure to use promo code "winebounty" for your first purchase at Melville Winery. You will get 10% off and if you order 6+ bottles, temperature-controlled shipping will be thrown in for $1. Happy Hunting!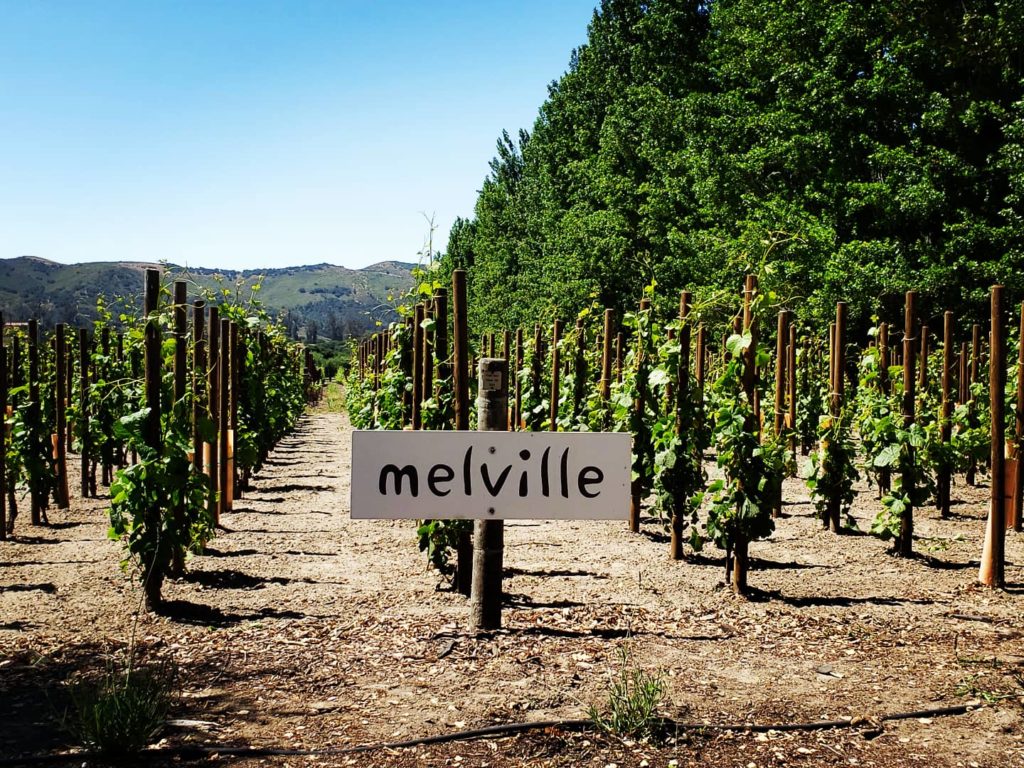 ---
Did you like this content? If you did, let us know and share it with your friends.
This page contains affiliate links. We receive a small compensation when you purchase through affiliate links. While clicking these links won't cost you a cent, it will help us keep the lights on and buy more wine. To find out more, click here.