If you've heard anything about Spanish wine, you've undoubtedly heard the term "Rioja." And if you're new to wine, you may even be guilty of nodding in agreement at a dinner party when someone says, blah, blah, blah, "Rioja", blah, blah, blah, as if you totally get what they're saying (and assume they totally know what they're saying!). But do you REALLY know what it means? Well, no need to ponder that question any longer because we're here to demystify the elusive "Rioja" and even provide a few suggestions on bottles to try out.
First off, let's make clear what Rioja is not. It's NOT a grape. It's NOT always red. And it's NOT a particular blend or way of making wine. "Rioja" simply refers to a wine region in Spain. But it is a very special one.
1. Rioja Is More Than Tempranillo
La Rioja is located in northern Spain just south of the Basque Country. It is famous for Tempranillo, a grape native to Spain. If you love the structure of Cabernet Sauvignon but crave the fruitiness of Grenache, then Tempranillo is perfect for you.
While Tempranillo dominates the region (making up about 75% of all vineyards), it's not the only grape produced. Other popular grapes include Granacha Tinta (a red grape which is often used to compliment Tempranillo with its aromas and freshness) and Vinura (the main white grape variety grown in Rioja which offers fruity wines with floral aromas and a great acidity). Some other minor red grapes in Rioja include: Graciano, Mazuelo, and Maturana Tinta. Some whites include: Malvasia, Garnacha Blanca, Temrpanillo Blanco, Maturana Blanca, Turruntes, Verdejo, Chardonnay, and Sauvignon Blanc.
2. Labels Matter
If you are looking to explore wines from Rioja, keep in mind that labels are VERY important. Rioja is arguably the most highly regulated wine region in all of Spain. Rioja has a wine control board, called the Consejo Regulador DOCa Rioja, who inspects the quality of all producers to ensure consistency. This is a benefit because wines from Rioja within a classification will have a similar taste profile. Moreover, the "DOCa" in the name is a badge of honor. Throughout Spain, wines are classified into three distinct categories – two unregulated categories vino de mesa (table wine) and vino de la tierra (regional wine) and one regulated category, vino de calidad (quality wine). Rioja is unique in that ALL wines in the region are regulated, vino de calidad.
Within the vino de calidad (quality wine) category, wines are further divided into Denominaciones de Origen (DO) or Denominaciones de Origen Calificada (DOCa). DO defines specific wine growing areas such as La Mancha, Ribera del Duero, and dozens of others. But DOCa are regions that have an extensive track record of consistently producing the highest quality of wines over time and, currently, only Rioja and Priorato hold that honor. Each of these classifications will typically be noted on the bottle. For Rioja, DOCa will always be noted.
3. Wine (Quality) Classified
Another item that will clearly be labeled on bottles from Rioja is the aging classification (often referred to as the "quality" classification).
There are four distinct quality levels of Rioja wine: Generico, Crianza, Reserva, and Gran Reserva. Each level increases the grape quality along with aging requirements. There is a newer fifth classification called Gran Añada, but that is limited to sparkling wines (Espumosos de Calidad de Rioja), which must be hand-picked and aged for at least 3 years "en tirage" (i.e, in the bottle undergoing secondary fermentation). For purposes of this blog, we're going to focus on the classifications for red still wine – what Rioja is best known for producing!
Generico: A wine that hasn't been aged (or aged very little) will be classified as Generico ("Generic") or Joven (meaning "young"). But, you won't typically see those terms on the bottle – they will instead be labelled "Cosechero". Easiest way to distinguish them is to look for the green label (see below). Depending on the producer, most of these wines are meant to be consumed very young – often within a year of release. They are also a great base for making Sangria!
Crianza: A wine labeled Crianza is a fresh, fruit-forward youthful red wine that is aged in oak for a minimum of one year and then spends another year aging in the bottle. Crianza has a reputation for being extremely food-friendly. This is an easygoing, everyday wine that will not disappoint and offers good, consistent value. So serve up a few tapas and pop a cork of Crianza!
Reserva: The Reserva kicks it up a notch in complexity and price. The Reserva typically has a commanding cherry flavor from the Tempranillo. The aging requirements for a Reserva is three years with a minimum of one year in the barrel and six months in the bottle. Reserva is a very versatile red wine that easily complements grilled dishes, fish, beef, lamb, or anything made for ham (jamón).
Gran Reserva: These wines are aged for five years, two years in oak and three years in the bottle. This is the ultimate Rioja, not only because of the length of aging but because it is only made in extraordinary vintages. The Gran Reserva boasts both depth and body and something to be treasured. These are the Riojas that make you go, "Wow!"
Here's a simple graphic to help you navigate each aging/quality category.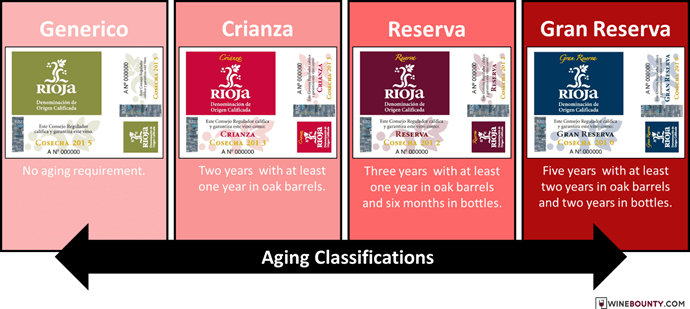 4. Wine (Origin) Classified
Bottles from Rioja will also include an origin classification. Like the Gran Añada classification for sparkling wine, the origin classification is another new addition for Rioja. Rioja wines have traditionally been a blend of multiple sites across Rioja but in 2018, the Consejo Regulador DOCa Rioja (Control Board), expanded the classification allowing producers to state on the label whether the wine comes from Rioja generally (as traditionally labeled) or provide specifics, such as a singular Zonas (Zone), Minicipios (Municipality), or Venedo Singular (Vineyard). This is a very exciting edition. Rioja has such contrasting soils and microclimates that the label can now tell you precisely which ones (or one!) is in play. Here's another handy chart to decipher the hierarchy.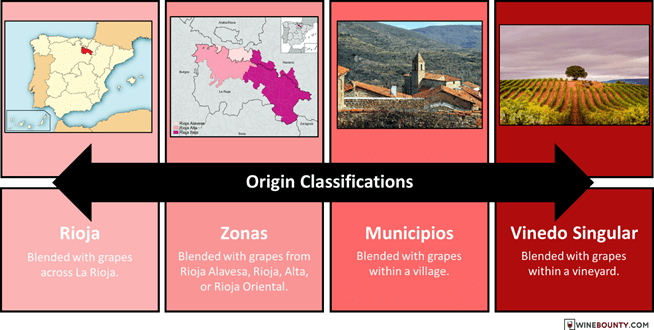 5. Vintage Ratings
As mentioned earlier, there are many benefits to having a Control Board for Rioja. One is to help ensure consistency, but another is the ability to provide a consistent, unified harvest rating system. Since the DOCa was created in 1925, Rioja has been rating each harvest year on a scale from "Normal" to "Excellent". The official rankings can be found here, but we've included a list of all "Excellent" vintages for ease of reference.

6. What to Try?
With so many wineries and so many classifications, the natural question is where to start? Here's a few of our "go to" wines for each quality classification:
Generico
Palacios Remondo La Montesa ($15)
Montebuena Cuvée KPF ($11)
Crianza
Hermanos Peciña Señorío de P. Peciña Crianza ($18)
Marqués de Cáceres Rioja Crianza ($13)
Reserva
R. López de Heredia Viña Tondonia Viña Tondonia Reserva ($45)
Muga Reserva ($28)
Marqués de Riscal Rioja Reserva ($19)
Gran Reserva (If you're not looking to break the bank!)
Muga Prado Enea Gran Reserva ($75)
La Rioja Alta Gran Reserva 904 ($60)
In short, Rioja produces some amazing wines, many of which you will find available on Wine Bounty. Hopefully this guide will help you cut through some of Rioja's verbiage so next time you're with a dinner patron chatting about Rioja, you can call their bluff! Happy Hunting!
Did you like this content? If you did, let us know and share it with your friends.
This page contains affiliate links. We receive a small compensation when you purchase through affiliate links. While clicking these links won't cost you a cent, it will help us keep the lights on and buy more wine. To find out more, click here.