Now that tasting rooms are opening, it is a great time to enjoy some fresh air and a glass of wine at the vineyards (social distanced, of course). But for those who can't venture out, there are still virtual tasting options available. While most are winery specific, a few kick-it-up-a-notch taking you on an interactive sensory journey across a region, varietal, or wine type. I recently stumbled on one of these trailblazers, LearnAboutWine.com.
LearnAboutWine.com is the brainchild of Ian Blackburn. Ian has 25+ years in wine education and maintains a retail business in Santa Monica, California called "Merchant of Wine." If that isn't enough, Ian is also the co-proprietor of the Zinfandel-focused "Beekeeper Cellars."
Among LearnAboutWine.com's many Zoom sessions is a "STARS of Wine" series, which is designed to be multi-day, multi-tasting, covering some of the world's best wine regions and types. The most recent offering, "STARS of Napa Valley," seemed intriguing and so I decided to give it a shot. The series lasted four evenings over two weeks, each including seven wines/wineries from across Napa Valley. Tastings ranged from whites like Chardonnay and Sauvignon Blanc to reds including Pinot Noir, Merlot, Cab, and Blends. We also traversed the entire appellation, covering Los Carneros to Calistoga and everything in between. While you could opt to receive full bottles of each wine (28 in total!) I opted for the 2 oz. pours, which was a bargain at $150 (giving me $500 worth of wine tastings alone!).
The tastings arrived the day of (or before) each session and were well packaged in small glass bottles labeled in the order of the tasting. I also received a Zoom link for each night and links to download tasting mats and brochures.
Hands down this was the best $150 I have ever spent on wine.  Not only did I get to taste some incredible juice from Napa elites and hidden gems, but we heard directly from proprietors/winemakers about each bottle and the history of the winery.  Best of all, the discussions were so intimate that you were encouraged to ask questions or share your thoughts directly with them and with each other.
While Ian aims for 90-minute sessions, be prepared to go overtime.  The first night ran 150 minutes and each session thereafter was easily 120 minutes.  But you know what, it's okay.  The discussions were so intriguing and insightful that we all lost track of time.  Jammed with learning opportunities, history, and Ian and his guest wineries reminiscing about the Valley, you felt as if you had been transported to the inner circle of Napa winemaking and offered a glass.  Indeed, some proprietors/winemakers shared their personal emails and phone numbers inviting us to come up for a tasting.  By the end of each night, wineries were dishing out promo codes to purchase more of your favorites.
Napa is a special place and the collegiality among the Napa wine community is bar none. Yes, they compete vigorously for our palates and our wallets, but they do it in such a respectable and friendly way. By the end of the fourth night, it was clear how much each presenter cared about the Valley, the longevity of their community, and their ability to continue producing world-class wine.
What was also clear is Ian's ability to bring inspiring talent to your computer screen and make you feel as if they were sitting in your home.  Ian is engaging, respectable, funny, and has achieved Jeopardy! status when it comes to wine.  He was able to make guests feel as if it was a private tasting, checking in continually to make sure folks were enjoying the evening.  Sidenote, if you want Ian to leave you alone, just turn off your camera.  He will respect your space and you can feel free to remain a fly on the wall.
I would highly encourage you to check out LearnAboutWine.com. Not only is it a great experience for wine enthusiasts at all levels, but there is a silent auction associated with each series and proceeds go to benefit Children's Cancer Research at Children's Hospital Los Angeles.
While Ian provides free delivery on all bottles/tasting kits in California, this is by no means limited to the Golden State. Attendees from all over the country were tuning in. Just keep in mind, the events typically begin at 7 p.m. (PT) so be prepared for a long night if you're not on the West Coast.
I've already signed up for the next event in April featuring the "STARS of Italy."  I hope to see you there.  Happy Hunting.
STARS of Napa Valley (Night 1)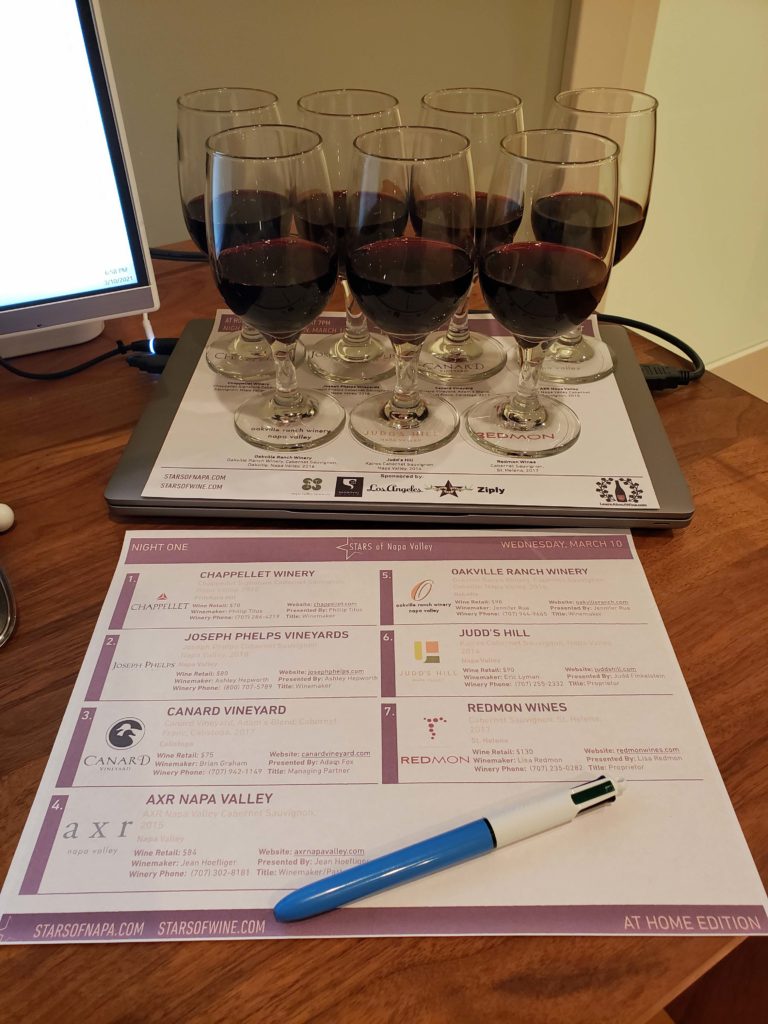 STARS of Napa Valley (Night 2)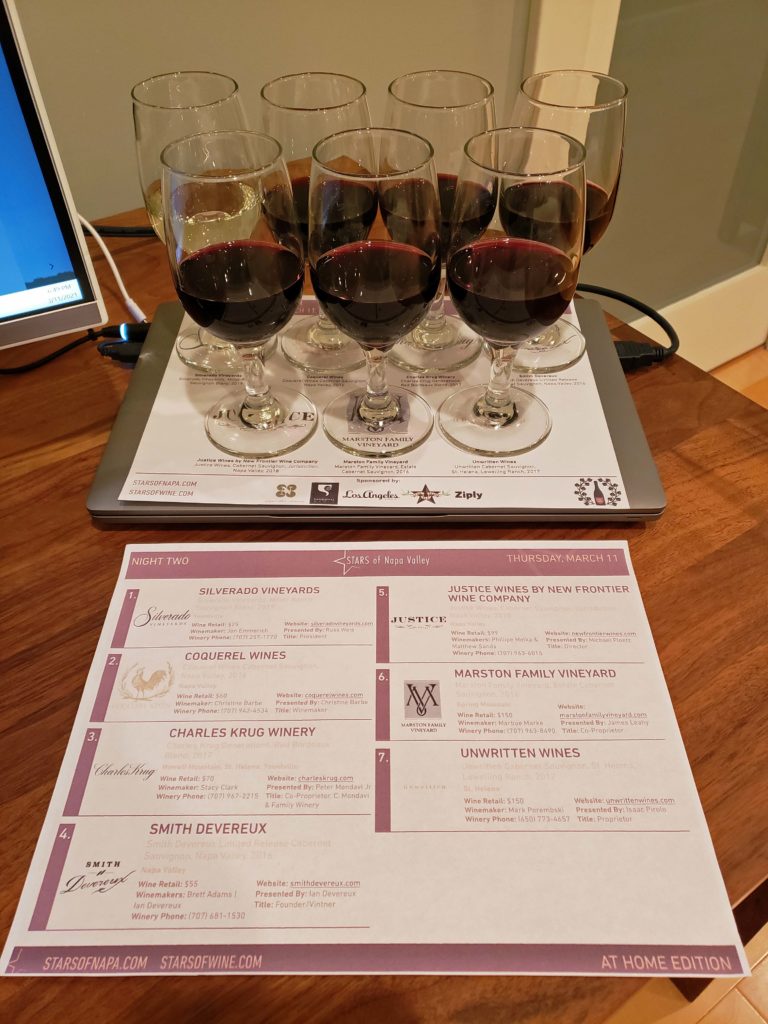 STARS of Napa Valley (Night 3)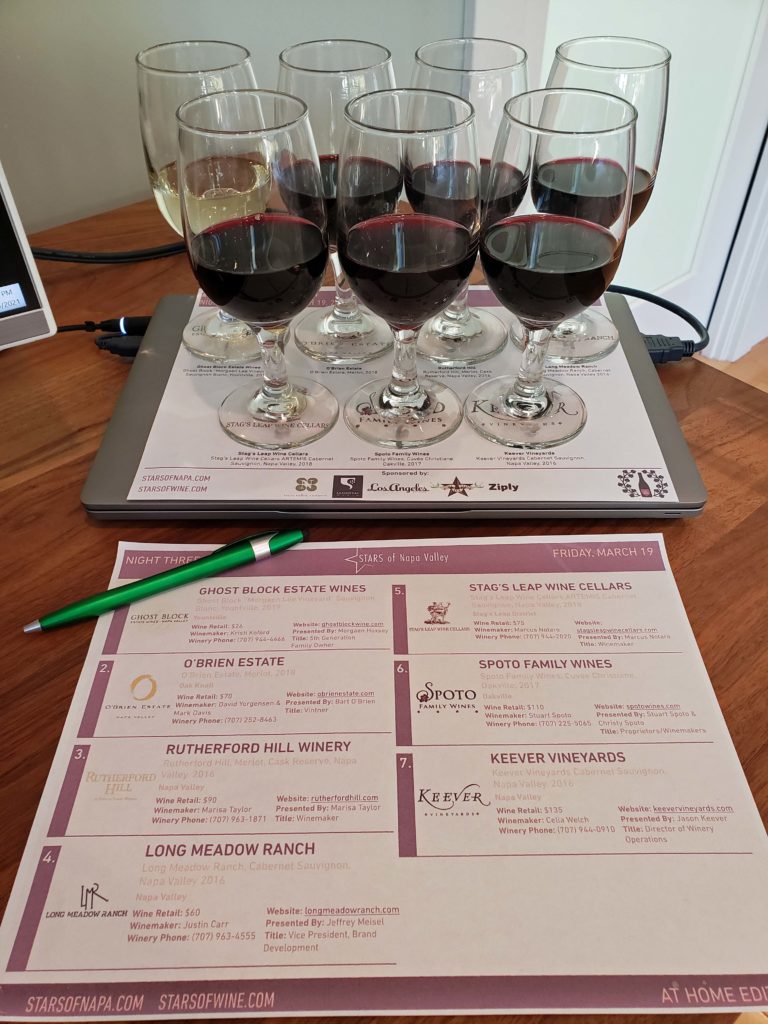 STARS of Napa Valley (Night 4)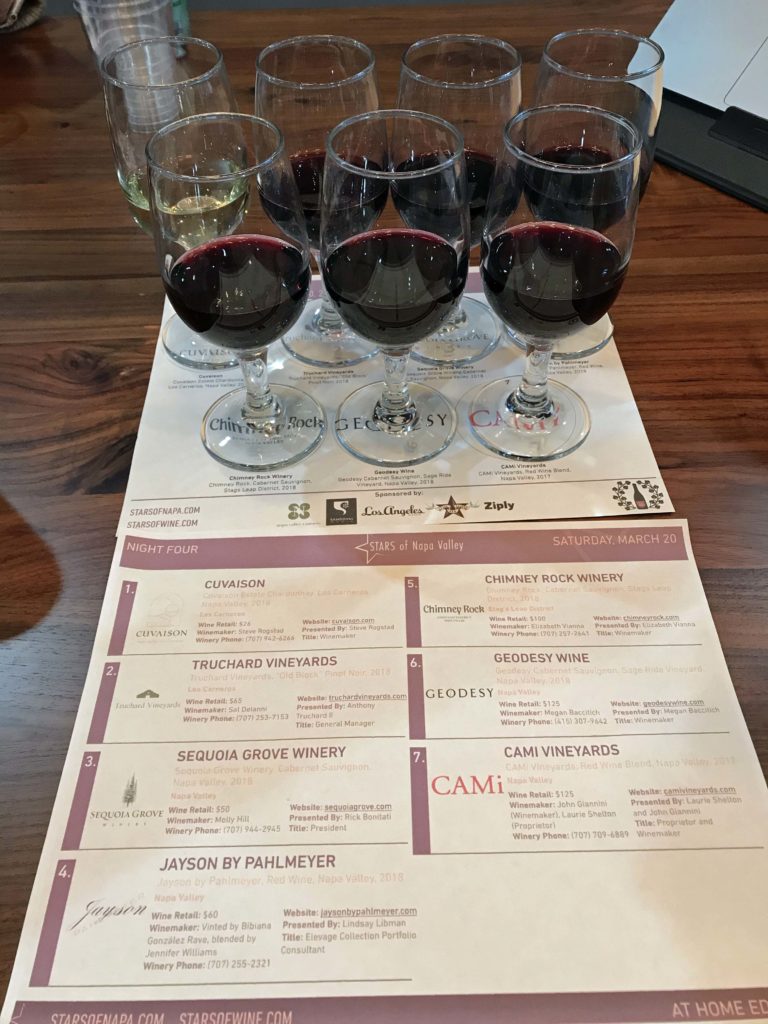 Did you like this content? If you did, let us know and share it with your friends.
This page contains affiliate links. We receive a small compensation when you purchase through affiliate links. While clicking these links won't cost you a cent, it will help us keep the lights on and buy more wine. To find out more, click here.