Nestled at the far end of Alamo Pintado Avenue, in the picturesque town of Los Olivos, sits Blair Fox Cellars. A few months ago I stopped by Blair Fox after a recommendation from a winemaker. It was the end of day and I had hangry children in tow, so the focus was more on dinner reservations than wine tasting. But, for the fleeting moment my children were distracted by a pint-sized dog in a blue sweater (yes, Blair Fox Cellars is dog-friendly), I had the chance to savor a few sips.
There was something special going on here and I knew I had to revisit Blair Fox Cellars and give it proper attention. That opportunity came a few weeks ago when I had the privilege of a guided tasting by Blair Fox himself. Yes, it's a person, not just a brand!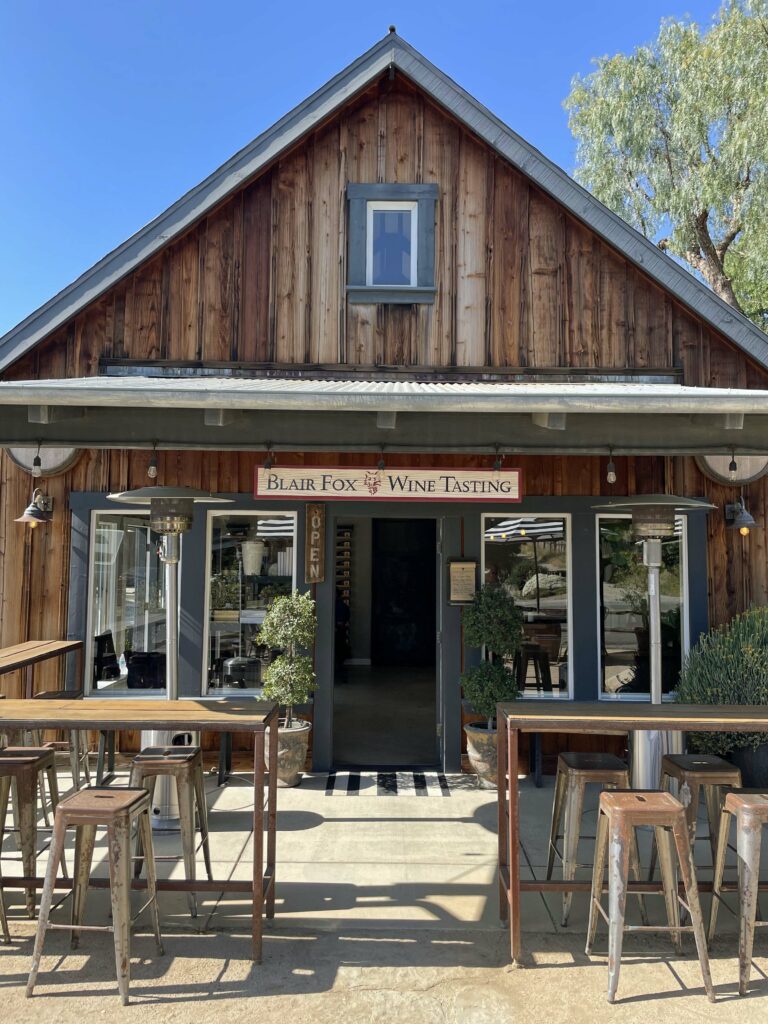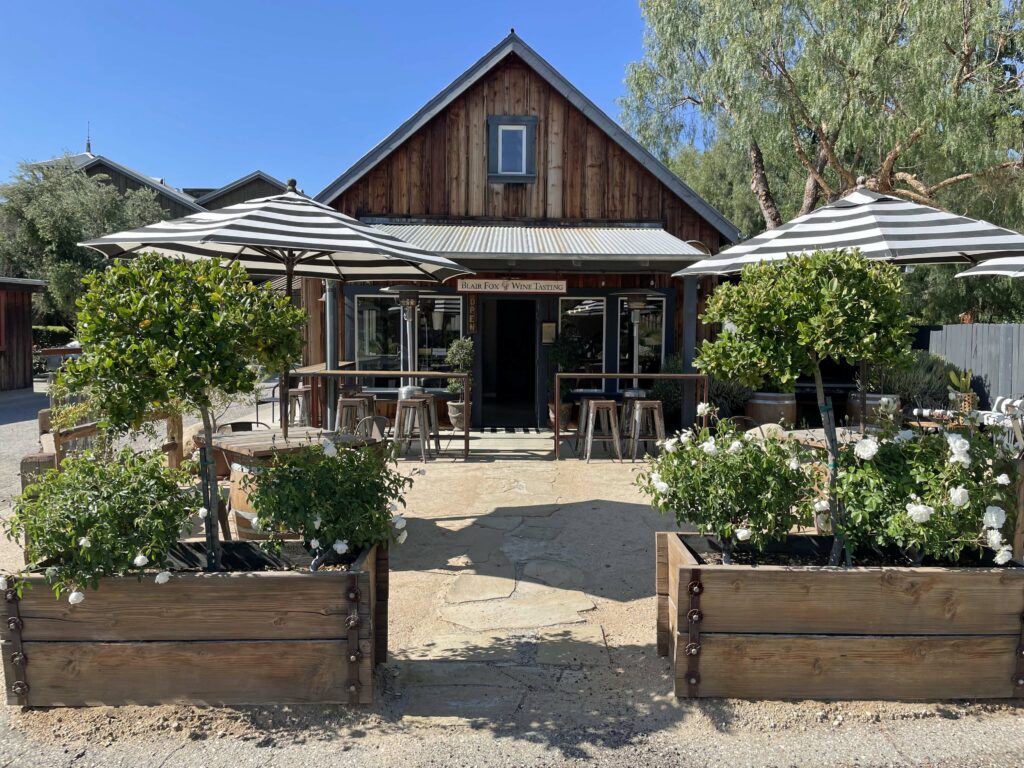 A Journey to Award-Winning Winemaking
Blair is a busy man. Not only does he manage his own ultra-boutique winery but he is Head Winemaker at the famed Fess Parker Winery and Epiphany and manages vineyards for some of his Club Members. Clearly a man whose dedication doesn't allow him to say "no," fortunately Blair has a supportive family who embodies his same dedication.
Blair's wife (and high school sweetheart), Sarah, along with their two daughters and Blair's parents have all been an integral part of this journey. Blair beamed with joy when reminiscing about walks through the Fox Family Vineyard with his father. From an early age, Blair's fascination with wine and winemaking was sparked by his father's wine collection and their shared experiences exploring vineyards and tasting wines together. This early exposure ignited a fire within Blair, setting him on a trajectory that would ultimately define his career.
Blair's formal wine education began at the University of California, Davis, where he studied enology and viticulture, immersing himself in the scientific and technical aspects of winemaking. Armed with knowledge, Blair embarked on a journey of exploration and discovery, working with esteemed wineries both in California and abroad, including stints in Australia's Barossa Valley and France's Rhône region.
These experiences shaped Blair's winemaking philosophy, emphasizing a hands-on approach that respects the unique character of each vineyard site. His commitment to sustainable farming practices and minimal intervention in the cellar allows the true essence of the grapes to shine through in his wines. As Blair says, "You can't make great wine from bad grapes." For Blair that means letting Mother Nature take center stage through terroir-driven wines and honoring what she produces by hand picking, hand sorting, hand punching, basket pressing, and organic farming.
Blair's meticulous attention to detail and unwavering pursuit of quality have not gone unnoticed. Blair's wines have received numerous accolades and recognition from wine publications and competitions worldwide. From high scores and rave reviews to prestigious awards — like being named "Winemaker of the Year" by Andre Tchelistcheff, the largest wine competition in the world. However, for Blair, the true measure of success lies not in the awards but in the shared experiences and connections forged with those who appreciate his wines. As he poured glass after glass, Blair was intent on knowing what we thought of the wine. His greatest joy from the experience seems to come from witnessing the delight on the faces of those who taste his creations and seeing them embark on their own journey of discovery and appreciation.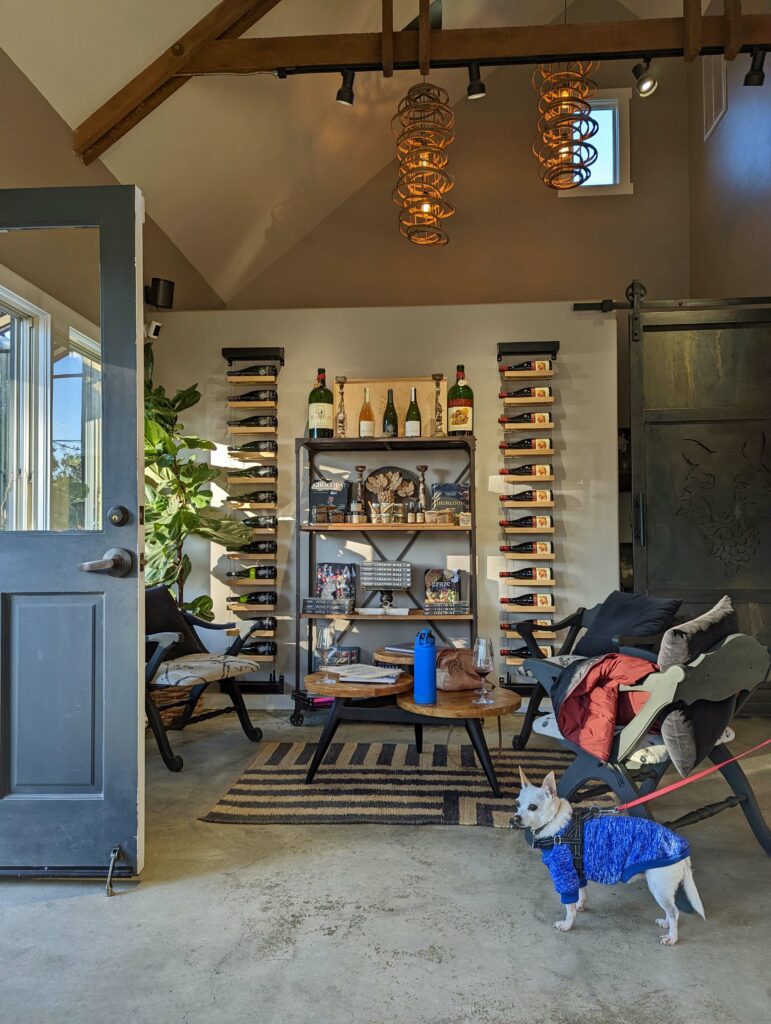 Family First . . .
Throughout our conversation, Blair regularly brought the discussion back to family. He laughed when sharing stories about his daughters and how they would dive in feet first on crushes once they could walk. He smiled with pride when discussing his eldest daughter, now in college, who has hinted at continuing her own journey with wine. And he pulled bottles off the shelf, pointing to graphics that were based on drawings from his children.
That same care and attention to family, is the same care and attention Blair brings to each bottle he produces.
. . . But Wine A Close Second
As Blair walked through each tasting, he shared stories about how they were crafted. From Rhône-style blends to elegant single-vineyard Syrahs showcasing the nuances of the vineyard, to the delightful Viognier with its vibrant aroma and balanced palate. Each wine is a harmonious blend of tradition, innovation, and distinctive character showcasing Blair's commitment to quality and his uncompromising passion.
Among the notable wines we tasted was a standout called "The Dare." This extraordinary wine was literally created from a dare his friend made to blend together the finest barrels of Syrah sourced from across all of the vineyards in his arsenal.
Inspired by his love for the Southern Rhône and an adventurous spirit, Blair set out to create a blend that pushed boundaries and challenged the status quo. The result is a captivating wine that brings together each of these bold, terroir-driven grapes in a harmonious union, creating a symphony of flavors and textures that dance across the palate.
While The Dare brought unity to the vineyards, the grapes from Fox Family Vineyards' Grenache showcased the depth, complexity, and versatility of a single vineyard. Here we started with the 2019 Foxy Bubbles, a brut-style sparkling Grenache Rosé that was light and fresh with beautiful aromas of freshly-made biscuits and flavors of bright red berries. We then shifted to the 2019 Grenache, sourced from the same grapes with the addition of 12% Fox Family Vineyard Syrah to add color, structure, and depth to the wine. The juice was left to age in 500L French oak puncheons to ensure slow oxidation and maximum freshness. The result? A deep, dark, and rich red berry wine with a long finish of white pepper and spices that stood in stark contrast to its sister bubbly.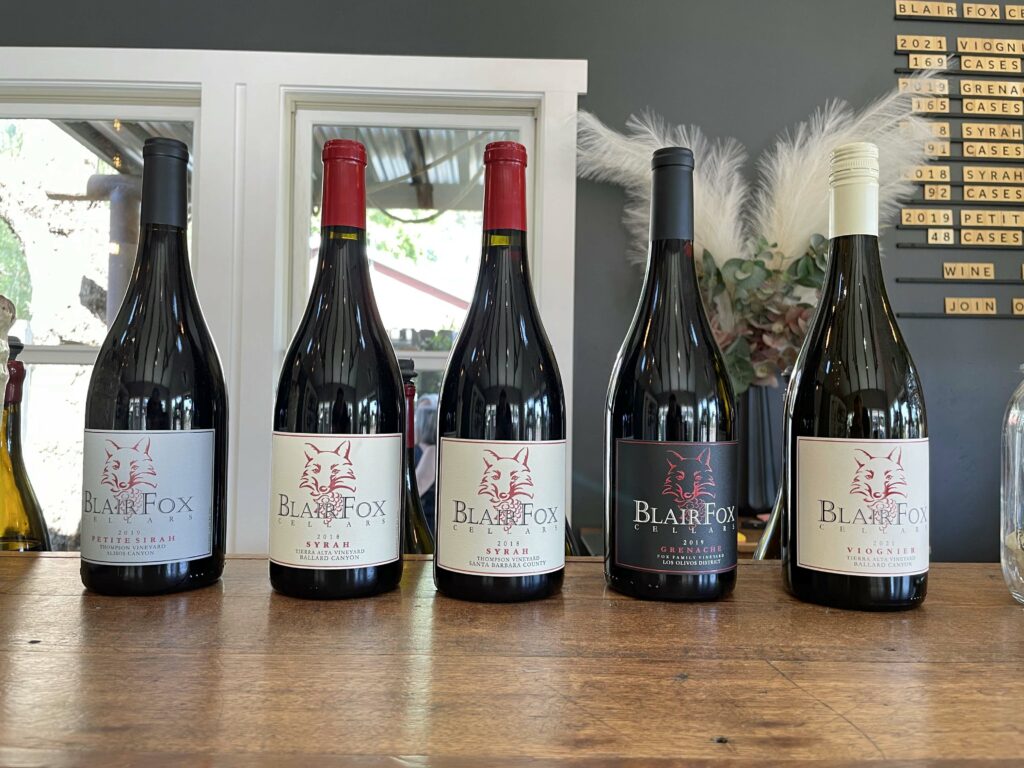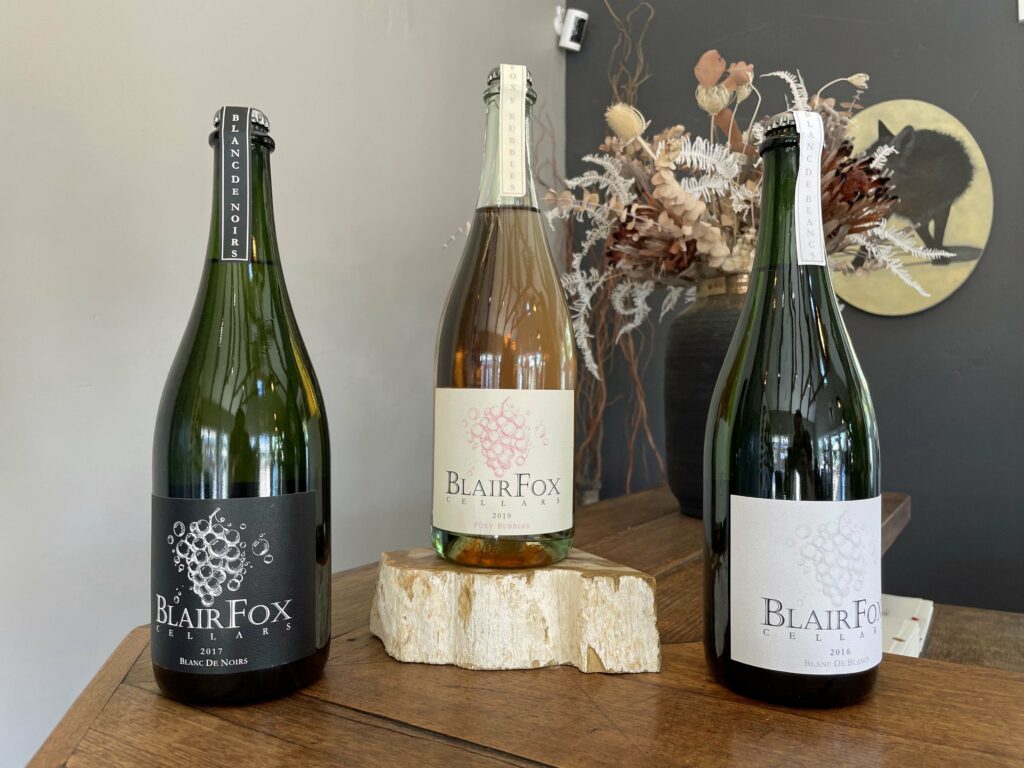 A Winemaker To Watch
Tasting after tasting, Blair's meticulous attention to detail was evident in every bottle. This is more than a winery; it is an artistic expression, a celebration of the land, and a testament to the passion and vision of its namesake winemaker. Through his wines, Blair invites visitors to embark on a sensory journey, where the terroir, the grapes, and his artistry converge to create an unforgettable experience in every glass.
By the end of our tasting, Blair smiled stating that it had been ages since he spent time in the tasting room, sitting down with guests to drink wine and share stories. It was a thought that seemed to linger on his face like a warm memory. When I asked Blair what the future holds for him, he said to continue making world-class Rhône varietals but the degree of division between winemaking and vineyard management will depend on the direction of his children. If his girls choose to follow the family business, the direction of their passion could become his passion. As a father of girls myself, those are words I can relate to.
So, next time you're in Los Olivos be sure to head over to Blair Fox Cellars. Who knows, you might even find Blair with a glass in hand. But what is for certain, Blair is making history and you don't want to miss it.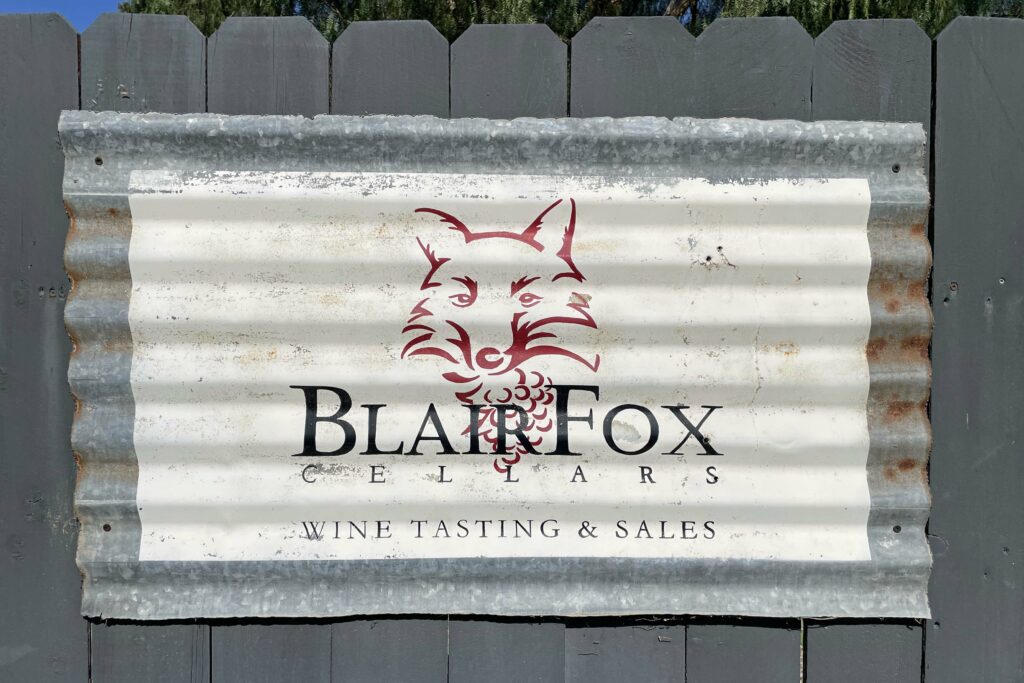 Did you like this content? If you did, let us know and share it with your friends.
This page contains affiliate links. We receive a small compensation when you purchase through affiliate links. While clicking these links won't cost you a cent, it will help us keep the lights on and buy more wine. To find out more, click here.