Last month Silicon Valley Bank ("SVB") put out its annual "State of the US Wine Industry" report which is a glimpse of the past year and predictions for what's to come.  It is written by Rob McMillan, EVP and Founder of SVB's Wine Division.  While this year's report contains a lot of information (71 pages worth!), we thought it was worth highlighting a few takeaways that provide insight into the US wine consumer and how preferences are trending.  So, yes, this blog entry is for all the data geeks out there (which happily includes me!).  All graphs were pulled directly from the report and we cite to the relevant "figure" number for ease of location in the report.
1. Smaller Is Better?
While still a fraction of the market share, smaller formats are gaining some traction over the traditional 750ml bottle of wine.  This is true of the larger 3L format as well; which occupies the growing premium "bag-in-a-box" offerings.  The trend could be the result of price conscious consumers, since both formats tend to be more economical.  Consumption habits could also be a factor.  Millennials and retirees now over index for single living and it's easier to consume half a bottle alone, or nurse a 3L airtight bag, over time.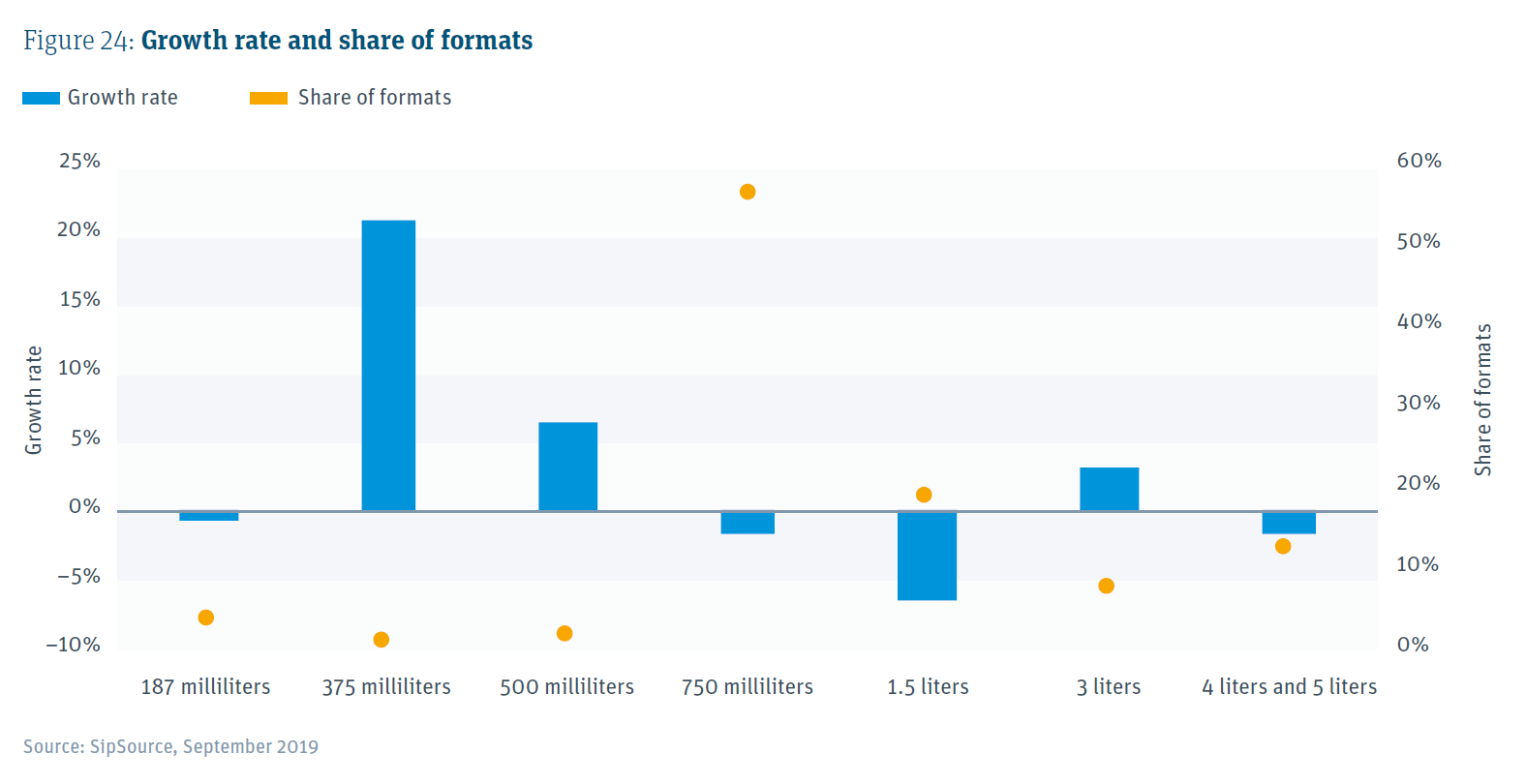 2. Sparkling Is Making A Move . . . But the Staples Still Dominate
Total sparkling, Sparkling-other, and Prosecco categories all saw a jump in growth rate in 2019.  Sparkling wines are an easy attraction.  They're traditionally associated with celebration, which is important to young consumers.  They also have lower alcohol than most still wines, which can be a driving factor for health-conscious consumers.  While sparkling wines can get pricey (think Champagne), there are plenty of entry-level brands that don't break the bank.  And, given that consumers like to serve bubbly in tall, slender, and sophisticated flutes, you can easily get more servings per bottle, which again weighs in favor of the cost-conscious consumer.
Rosé and Sauvignon Blanc saw a similar jump in 2019.   Both are premium wines that can be found below $20; again, an appealing factor for the cost-conscious.  The biggest game changer for Rosé though has to be marketing.  Rosés have become highly associated with summer fun (brunches, BBQs, and pool parties) and marketing happily fostered that association in 2018-2019.  Sauvignon Blanc likely road Rosé's coattail too, since Rosés can feel a little dainty for some and Sauvignon Blanc has a similar consistent flavor profile and freshness without Rosé's colorful charm.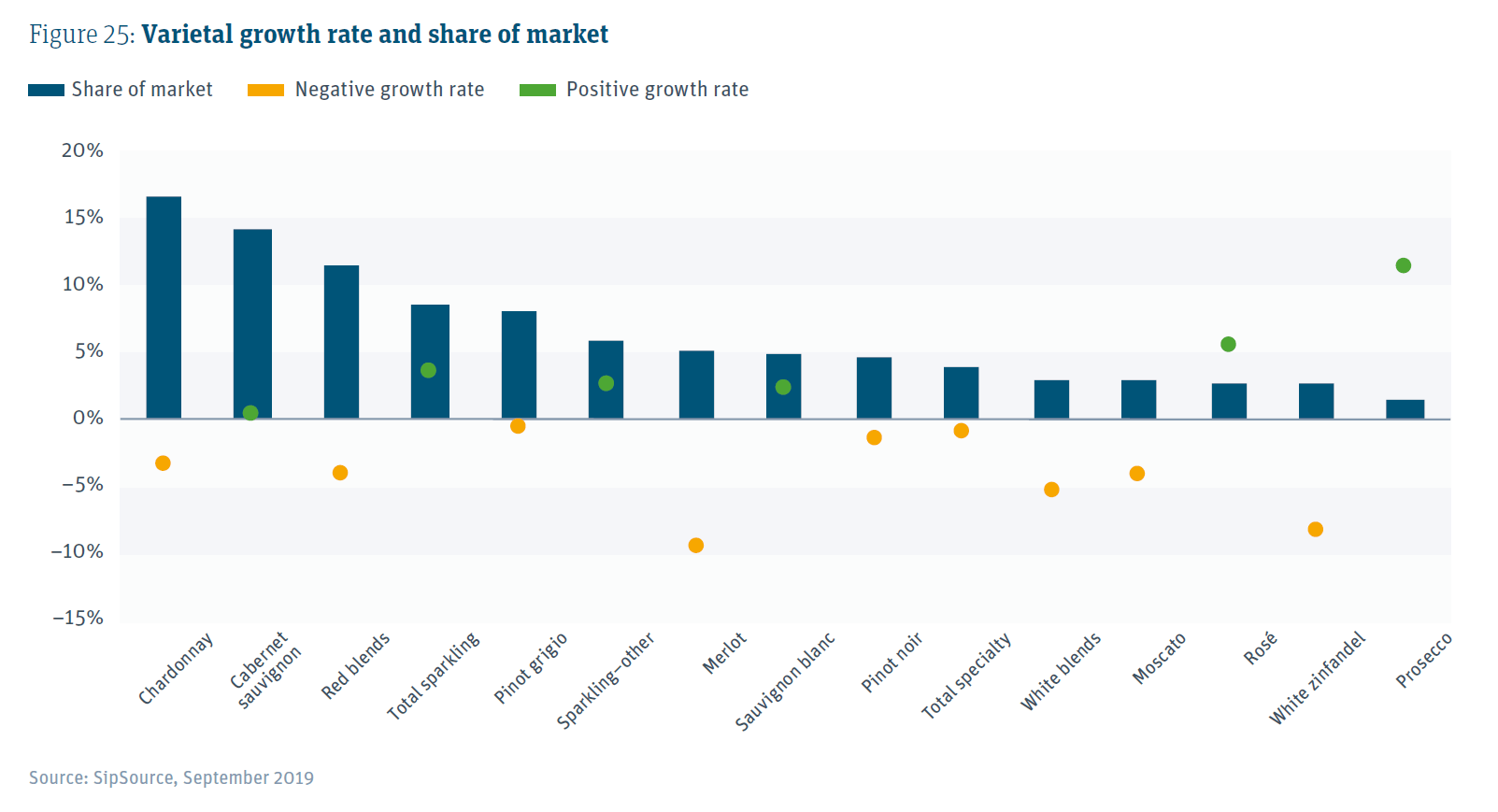 Jumping to the other end of the spectrum, staples like Chardonnay and red blends took a hit in growth but still maintain market shares above 10%.  The only mega-varietal to squeeze into positive growth in 2019 was Cabernet Sauvignon, which still hovers above 10%.  Merlot appears to be continuing its downward spiral with a significant reduction in growth rate at 5% market share.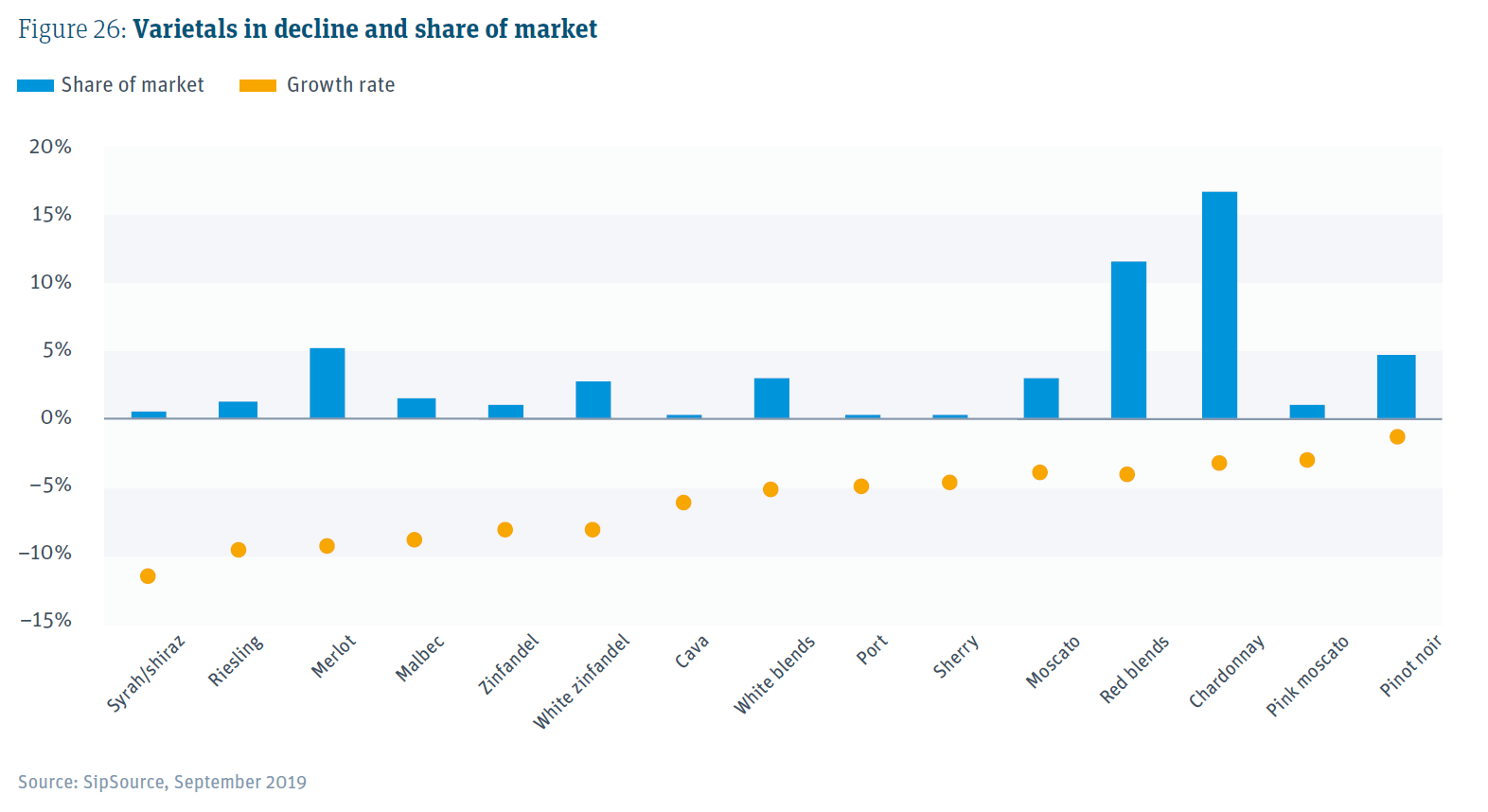 3. Consumers Have A Strong Preference to Mix-and-Match
As the Venn diagram below demonstrates, consumers are not wine exclusive.  Only 15% of the US drinking population are wine exclusive, making up only 4% of total US alcohol sales.  Whereas, wine drinkers who consume other alcoholic beverages make up 53% of the drinking population and are responsible for 79% of US alcohol sales.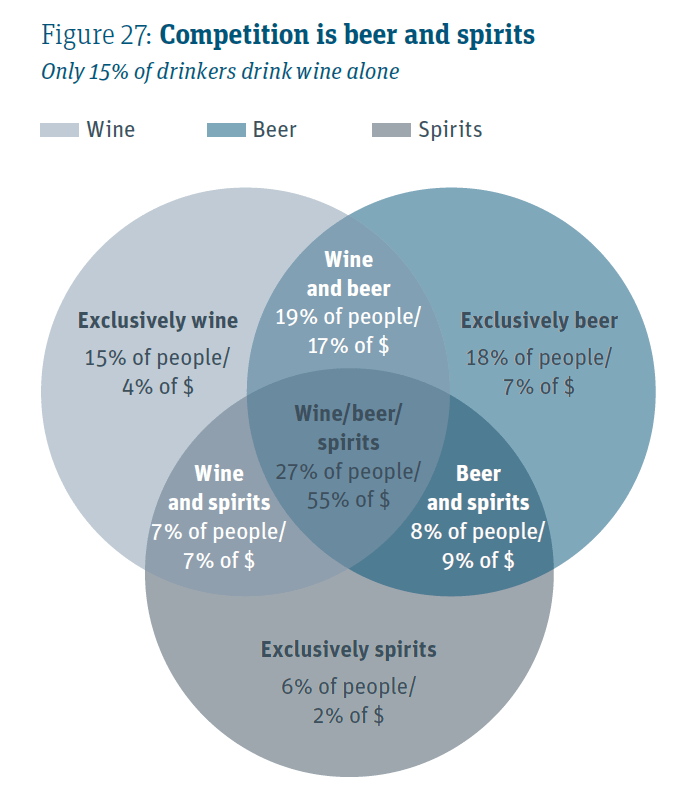 4. Hard Seltzer Is Booming
Similar to Rosé, hard seltzer is another example of great marketing.  Certain spirits have road the coattails of the flavored sparkling water movement.  More cans of hard seltzer were sold this past 4th of July weekend than bottles of craft beer and canned wine!  This comes as no surprise given that hard seltzer is prominently marketed as low in sugar and calories, gluten-free, refreshing, and available in many flavors.  And with catchy product designs reminiscent of energy drinks, it's easy to see why these might be popular with young consumers.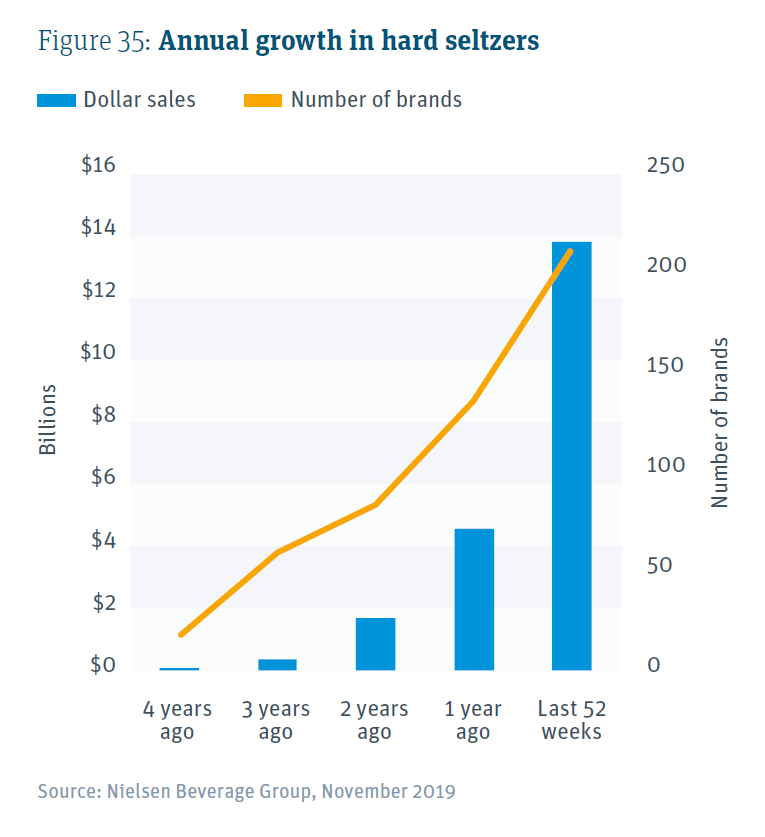 It'll be interesting to see if this trend continues.  Hard seltzers present a unique learning opportunity for the wine industry.  Wine has many health benefits too and the wine industry at-large needs to market those benefits better.  While licensing/permit requirements might put certain marketing restrictions on wine producers, there are many other industry players that can pick up the laboring oar.  There is a lot of misinformation and non-information about health benefits of wine and it's time to clear them up.
5. Wine Preference and Consumption Goes Up with Age . . . To A Point
As consumers age, their preference for wine goes up and their preferences for other alcohol and "recreational" products goes down.  This is not surprising since the average income increases with age among working adults and, on average and overtime, wine consumption tends to be more expensive than the alternatives.  However, the consumption of wine diminishes dramatically with consumers well into retirement age.  While their preference is still overwhelmingly wine, they are consuming far less than Boomers (age 55-73) or Gen Xers (age 39-54).  This might be the result of unrelated health concerns or having less expendable income in retirement.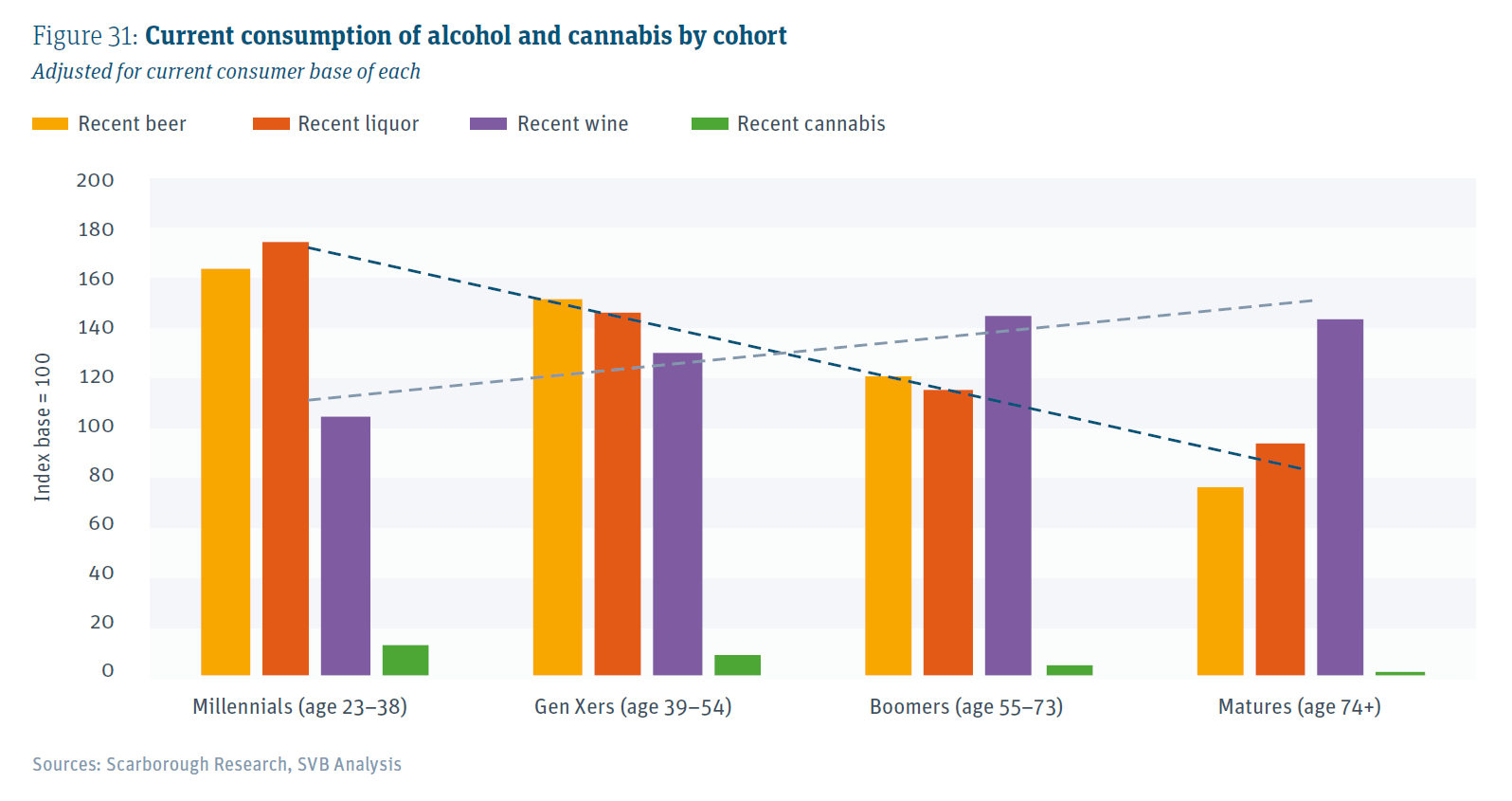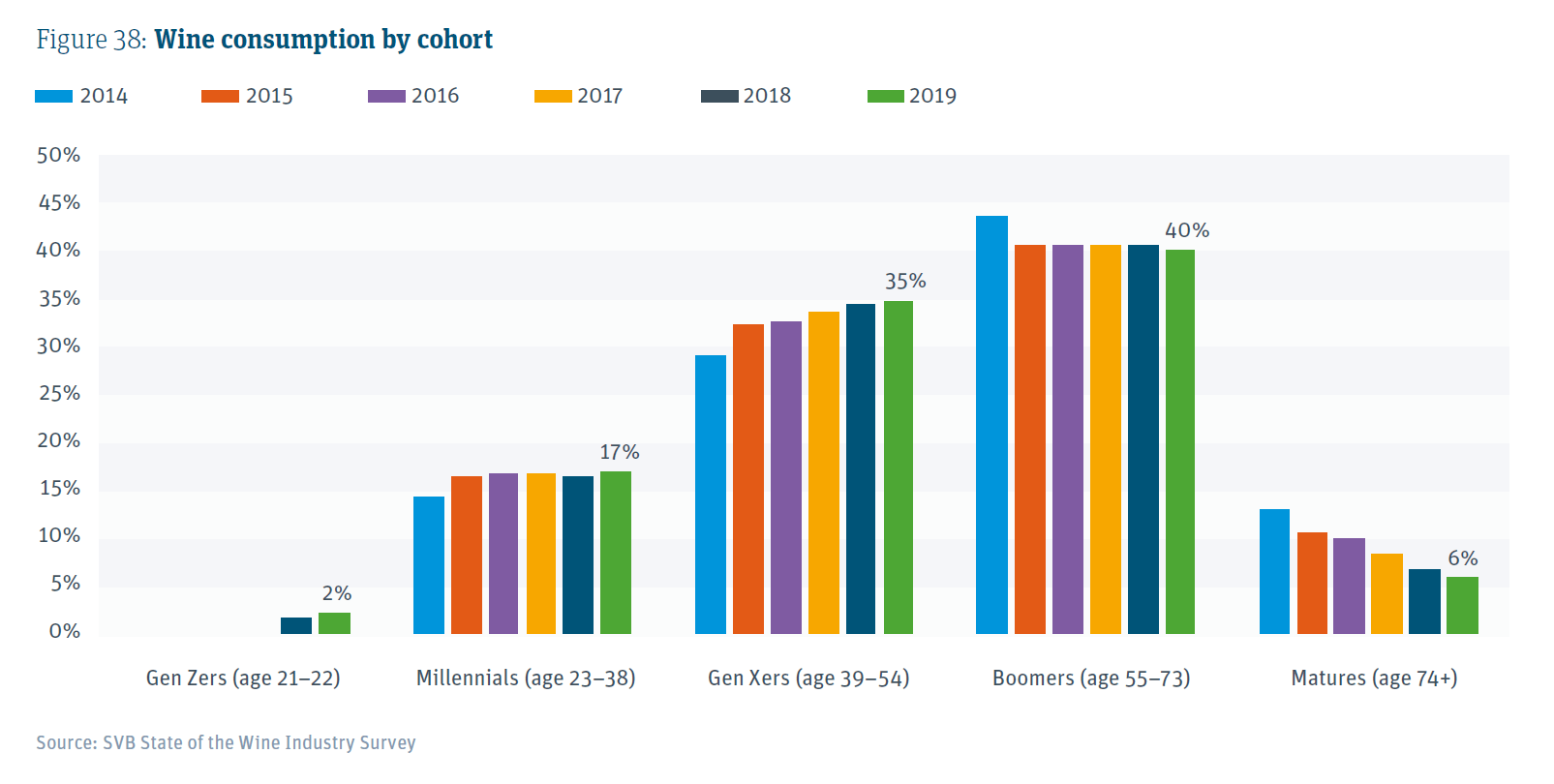 Outcome
SVB's annual report is a wealth of information about the US wine industry and predictions for the coming year.  Hopefully the few statistics we highlighted above have caught your interest and we encourage you to take a deeper dive into the report itself.  We'll be sure to bring you highlights from next year's report but till then, happy hunting!
Did you like this content? If you did, let us know and share it with your friends.
This page contains affiliate links. We receive a small compensation when you purchase through affiliate links. While clicking these links won't cost you a cent, it will help us keep the lights on and buy more wine. To find out more, click here.