Not all great wine is mass marketed. Indeed, much of the wine that makes my palate dance rarely graces the pages of magazines or a wine critic's rating scale. Instead, it's hand crafted in small batches by a winemaker willing to push boundaries to create something exciting. Enter Uco's Playground. I recently had the opportunity to taste two wines from this small vineyard, which is located in Los Chacayes in Mendoza's Uco Valley. Los Chacayes reaches for the sky (approximately 3,300 – 4,600 feet above sea level) and is one of the newest appellations in Argentina. While still in its infancy, Los Chacayes is a big place with a lot of potential (and a lot of rock to give those vines a workout!). The origin of the soil is largely alluvial, and the grapes take on a mineral component producing a fresh and fruity juice. The high altitude produces excellent temperature fluctuation between day and night – approximately 20˚F to 30˚F difference – producing particularly good color, tannin, and aroma.
Like many amazing ideas, Uco's Playground came about organically. It's proprietor, Michael Evans, took a vacation to Mendoza in 2004 and never left. He was consumed by the magic of the Valley and teamed up with a local winemaker, lawyer, and real estate developer, Pablo Gimenez Riili, to not only start a vineyard, but a movement.
The vision was to bring the communion of friendship, culture, and winemaking to people passionate about wine but with limited time or resources to manage the day-to-day of a full-fledged vineyard. From this The Vines of Mendoza was born, a private vineyard where people make their own wine professionally managed by Michael, Pablo, and their team (which includes some of the best winemakers Argentina has to offer). Members have as little or as much involvement in the process as they want – from planting and harvesting, to mixing, bottling, and labeling.
Since its founding, The Vines of Mendoza has exploded, adding a world-class Resort and Spa for those who just can't leave, and expanding their private vineyard concept to other regions, including Montalcino, Priorat, and The Mosel — again, all led by local world-class winemakers. A fuller article on The Vines can be found here, but back to what this article is really about, the wine!
Uco's Playground sits amongst The Vines of Mendoza and is really something special. Putting aside the vineyard's adorable namesake, Uco, who graces each label, the wine is refreshing in every sense. I tasted both the 2017 GSM and the 2015 Uco's Playground Blend. In the land where Malbec reigns supreme, it was exciting to try something different.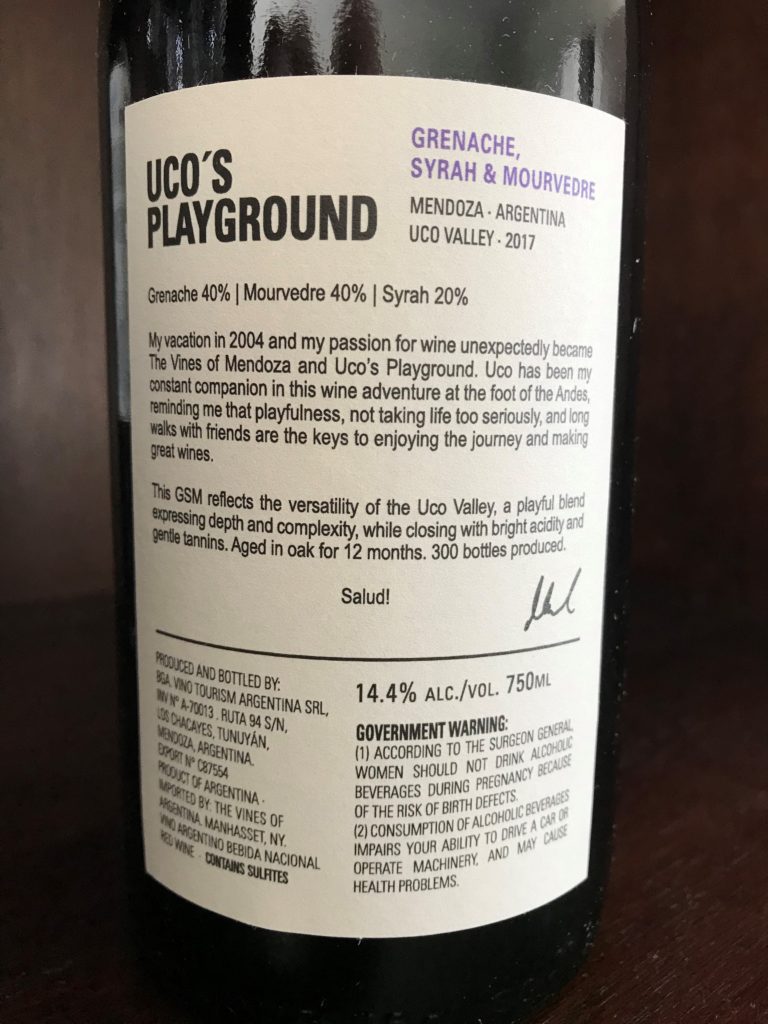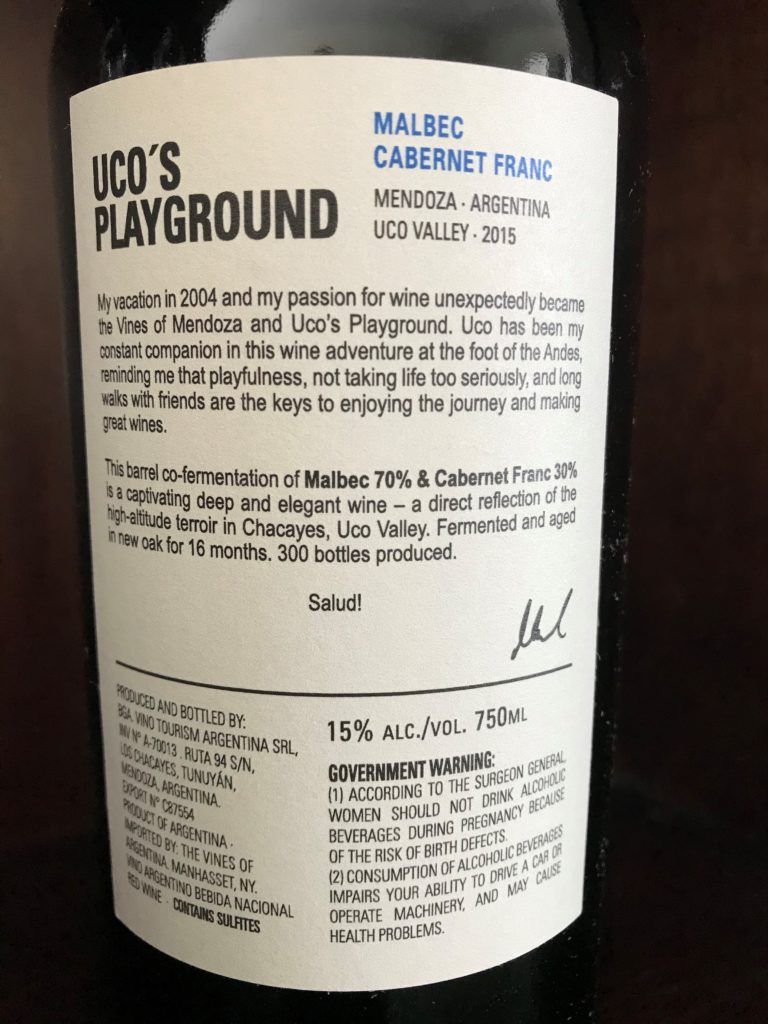 The 2017 Rhone-blend (Grenache, Syrah & Mourvedre) nicely displays the depth and complexity that Los Chacayes has to offer while the 2015 Uco's Playground, a blend of Malbec and Cab Franc, has the teeth you'd expect from an Argentine Malbec but slightly smoothed out by the Cab Franc. It would easily stand up to any big juicy steak without overpowering it. If you're looking to stretch your perception of Argentine wine, Uco's Playground is for you. In addition to the blends I tasted, Michael's team takes us on an expanded journey through Argentina's true versatility, exposing us to other blends like Teroldego/Syrah and Roussanne/Marsanne, and even Pinot Noir, Sangiovese, Carignan, Zinfandel, and Rose. You can find them all here. Just remember to keep an open mind and palate . . . and always, Happy Hunting!
Did you like this content? If you did, let us know and share it with your friends.
This page contains affiliate links. We receive a small compensation when you purchase through affiliate links. While clicking these links won't cost you a cent, it will help us keep the lights on and buy more wine. To find out more, click here.