Most casual wine lovers are familiar with the bountiful, high-quality reds California deliveries. Many are even aware of the rockin' Pinot Noirs out of Oregon. But what about Washington? While Washington whites have been a known commodity for some time (and very delish!), reds haven't made mainstream headlines in the same way. Well, that's until now. Over the last decade, the quality and caliber of Washington reds has exploded.
To help you zero in on your favorite varietal, we've included a handy chart by Washington AVA.  We've also included a few bottles to throw in the cart next time you're looking for something new.  The selections below provide a good cross section (by pricing tier) of what Washington reds have to offer.  And here's a hot tip:  If you find a 2012, definitely snag it.  It's a great year for Washington.  Happy Hunting!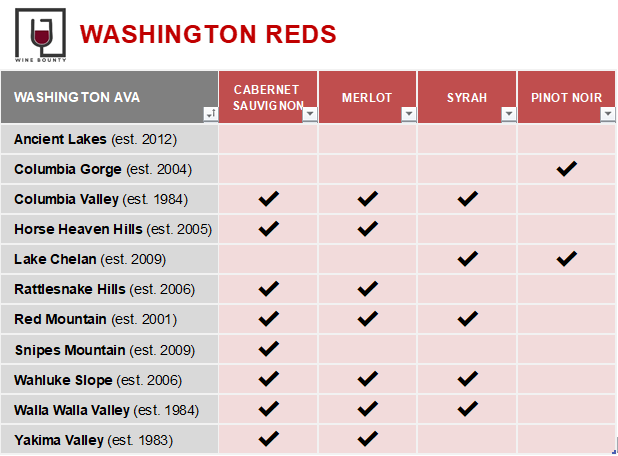 Premium
Premium Without Breaking the Bank
Budget-Friendly Options
Did you like this content? If you did, let us know and share it with your friends.
This page contains affiliate links. We receive a small compensation when you purchase through affiliate links. While clicking these links won't cost you a cent, it will help us keep the lights on and buy more wine. To find out more, click here.