Wine clubs are plentiful nowadays, but as both wine and food lovers, nothing has tickled our taste buds more than the new wine box subscription offered by Wine Access and the Michelin Guide.
Wine Access and Michelin Guide have partnered to bring a new subscription service with wines curated from some of the most elite sommeliers from Michelin-starred restaurants across the US. The subscription, which costs between $160 and $200 per shipment, offers four bottles, five times a year (Spring, Summer, Autumn, Holiday and Winter). What makes this particular subscription stand out is the promise of tasting rare and unexpected bottles from unique wine makers that would usually only be available at top Michelin starred restaurants. 
Getting to taste the wine selection from some of the best restaurants in the world — such as Jônt, Californios or Thomas Keller's three-star Per Se at home? Needless to say, we couldn't wait to receive and open our first box.
? Packaging
Our box came extremely well packed. The 4 bottles were well protected in a separate plastic film, and the box included an ice pack ensuring temperatures would not damage the wine during shipping.
Besides the bottles, the box also included 4 info sheets, one for each wine, highlighting the story behind the wine as well as flavor profile, pairing recommendation, aging potential, decanting time (if any) and serving temperature. On the back was space to record the tasting experience and to rate the wine. Wine Access even provides a bottle label for each wine in case you're not ready to drink up the moment you get it your shipment.
An additional insert provides some background on the restaurant and the sommelier in charge of selecting the wines for the box. In our case, Temporis, an exclusive 20-seat modern haute cuisine restaurant in Chicago run by Chef Troy Jorge and sommelier Don Coen. The back of that insert offers an explanation on why these 4 wines were chosen by Don Coen and which dish Temporis usually pairs each with at the restaurant.
? The Wines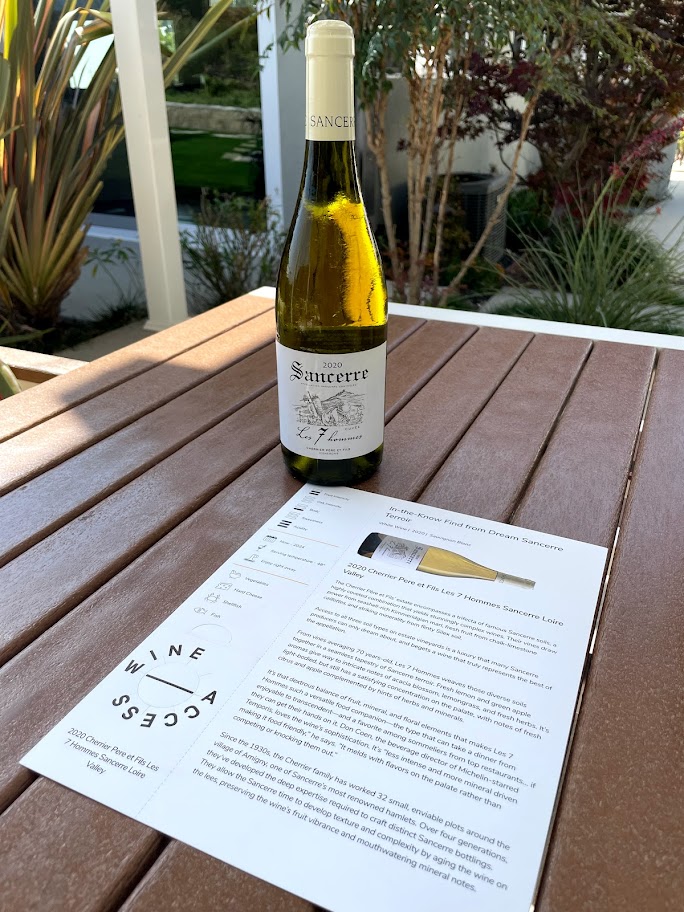 This summer box featured a very diverse and intriguing selection of French wines curated by sommelier Don Coen: 2013 Brugnon Brut Champagne, Cherrier Les 7 Hommes Sancerre, Jean-Luc Colombo Terres Brûlées Cornas and Château Coutet Sauternes-Barsac. Not sure if this was done purposefully to get brownie points since one of us is French; but it totally worked!
? Tasting
We tried all four bottles in one setting (why not?), with a large cheese platter, starting with the Champagne, then the Sancerre, the Cornas and finally a little glass of Barsac.

The 2013 M. Brugnon Millisime Brut Champagne (65% chardonnay and 35% pinot) was excellent as an aperitif. A nice aroma of brioche, pear and apple with similar flavors. Good acidity and complexity. All around excellent champagne.
Sommelier Don Coen pairs it with caviar with egg yolk brioche custard.
The 2020 Cherrier Père et Fils Les 7 Hommes Sancerre Loire Valley (100% Sauvignon Blanc) is from a very small winery. Dry and crisp with tons of citrus, hay and grass. Good acidity and extremely well balanced on the palate. A versatile food companion, which in our case married superbly with a piece of gruyere.
At Temporis, Coen pairs it with Holland white asparagus with asparagus velouté and rhubarb ribbons.
We were really excited to taste the 2011 Jean Luc Colombo Terres Brûlées Cornas (100% syrah). We're big fans of Rhône Shiraz, but even more importantly, Jean Luc Colombo is a legend and one of the most influential (and controversial) winemakers in Northern Rhône. After decanting this wine did not disappoint. It aged superbly, a deep and dark wine but still filled with life. Lots of blackberries and violets with some earthy notes as well. Superb palate, very smooth and long on the finish. We loved it and would pair perfectly with a gamey meat. 
Coen pairs it with a slow-roasted venison loin with blackberry gastrique, morel mushrooms, and fiddlehead ferns.
And last but not least, we finished the evening with a glass of 2009 Château Coutet Sauternes-Barsac (75% Sémillon, 23% SB, 2% Muscadelle). Château Coutet, is a jewel of the Barsac-Sauternes appellation. 1st Classified Growth in 1855. James Suckling called this particular vintage "a triumph" and said it "could be the best Coutet ever." And it delivered indeed. A beautiful deep gold color with a touch of amber. All the aromas you'd expect in a Barsac of that age, featuring apricot with aged honey, peach and some pineapple, a slight touch of earth as well. Flavors of citrus, toast, vanilla and a long complex and beautiful finish. A fine Barsac which has potential to build even more complexity in the next couple of decades.
Coen pairs this with a white chocolate cremeux with passion fruit and guava purée.
? Value
The Wine Access/Michelin box is a fantastic experience. A very different approach to wine subscriptions than we've tasted in the past. No questionnaire, no customization, no picking white only, or pinot, or Napas… you let go and rely on the expert guidance of a top sommelier from a top restaurant. 
You can, of course, follow the sommelier's pairing recommendation but honestly, these are great wines that are able to stand on their own if you're not into cooking.
So is it worth it?
Absolutely. While the price point may not be for everyone, if you want that elevated experience of unique, amazing, and hard-to-find wines hand-selected by a Michelin-starred restaurant, we find this subscription hard to pass up.
You can subscribe here.
? PROS
Excellent and intriguing selection of hard-to-find wines
Shipping is free
Easy to cancel (email or phone)
Members will have access to tasting videos, special events, and other exclusive content
If for some reason you dislike one of the wines you receive, WineAccess will credit that bottle with no questions asked.
? CONS
Did you like this content? If you did, let us know and share it with your friends.
This page contains affiliate links. We receive a small compensation when you purchase through affiliate links. While clicking these links won't cost you a cent, it will help us keep the lights on and buy more wine. To find out more, click here.