Nestled in the captivating town of Los Olivos, California is the tasting room of Holus Bolus and The Joy Fantastic Vineyard. If you are interested in tasting memorable low alcohol, high acidity wines and taking a deep dive into wine education at the same time, this is the place for you.
A Warm Welcome
As you step into the tasting room, you're not only greeted by the inviting ambiance but also by the charismatic Amy Christine, co-owner and winemaker. Amy is a Master of Wine with an adventurous spirit, that transcends her winemaking style. A visit here is far from the norm; it is an enriching journey filled with insightful conversations, personal anecdotes, and, of course, exquisite wines. You may even find Joey Coco, the "Vineyard Security" dog, cozily nestled beside you, adding a touch of charm and warmth to your unforgettable visit.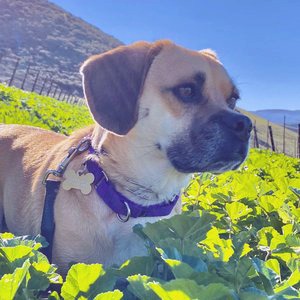 Meet the Master: Amy Christine
Bartending at a Michigan restaurant after college, Amy encountered a lead sommelier preparing for the Master Sommelier exam. Through this relationship, Amy discovered the profound beauty of winemaking, where infinite decisions shape great wines. In 2013, Amy decided to go all in and achieved an impressive feat, becoming a Master of Wine (MW) and joining a select group at the time of only 13 female MWs in the United States.
Amy's contributions to the wine community extend beyond her expertise and winemaking. She is dedicated to sharing her knowledge by teaching Wine & Spirit Education Trust courses in Los Angeles and actively participating in the Santa Barbara Vintners' Association, promoting the wines and wine culture of Santa Barbara County. Her hands-on and humble approach is evident, as she effortlessly assumed multiple roles during a recent Vintners Association event we attended, from photographer to hors d'oeuvres server!
If you are fortunate enough to engage in a conversation with Amy, you are embarking on a journey with an exceptional woman who embodies the essence of wine's allure, sharing her expertise and passion with unparalleled enthusiasm and authenticity.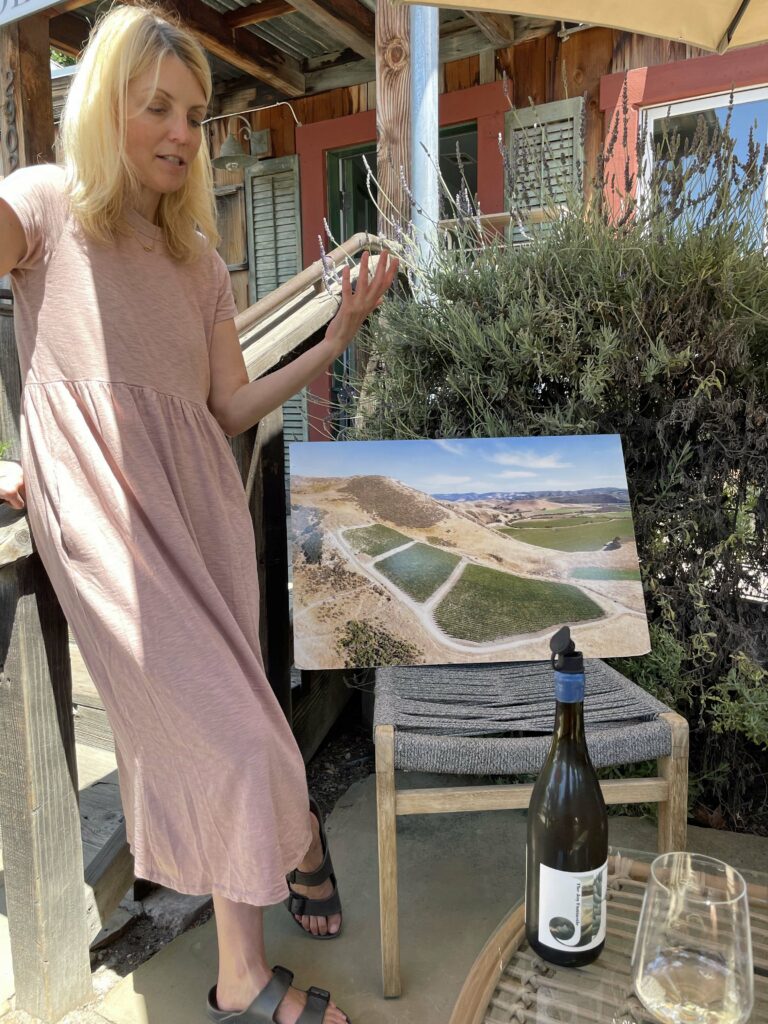 Balancing Passion and Precision: The Extraordinary Wines of Holus Bolus and The Joy Fantastic Vineyard
In 2005, Amy and her husband, Peter Hunken, embarked on a journey to create Holus Bolus (meaning "all at once; entirely; without modification"), releasing small batches of refined, artisanal wines. In 2014, they established The Joy Fantastic Vineyard (a name given in tribute to Amy's love for the artist Prince), a 5-acre hillside located in the esteemed Sta. Rita Hills of Santa Barbara County, where the treasured plot benefits from cool breezes and layered ancient marine soils. With expert craftsmanship by Amy and her husband, the vineyard yields wines that exude vibrant hues, captivating depth, and undeniable vitality.
Reflecting Amy's commitment to low-alcohol, high-acidity winemaking, the wines of Holus Bolus and The Joy Fantastic Vineyard exemplify balance and finesse. Holus Bolus focuses on Rhône varietals, crafted using minimal intervention techniques. The result is intensely flavorful wines that are impeccably poised, structured, and terroir driven.
Notable among their offerings is the 2021 The Joy Fantastic Pinot Noir, which garnered an impressive 96 points from Wine Enthusiast. This wine exhibits freshness and natural acidity, epitomizing the quality and value Holus Bolus delivers.
Equally notable is the 2020 The Joy Fantastic Syrah, which received an impressive 97 points from Wine Enthusiast. Hailing from one of the westernmost and coolest plantings of Syrah in Sta. Rita Hills, this wine offers exceptional quality and versatility, making it a delightful companion for a wide range of occasions throughout the year. With its dark, mineral fruit profile, good acidity, and balanced texture, this cool-climate Syrah exemplifies another remarkable offering from Amy.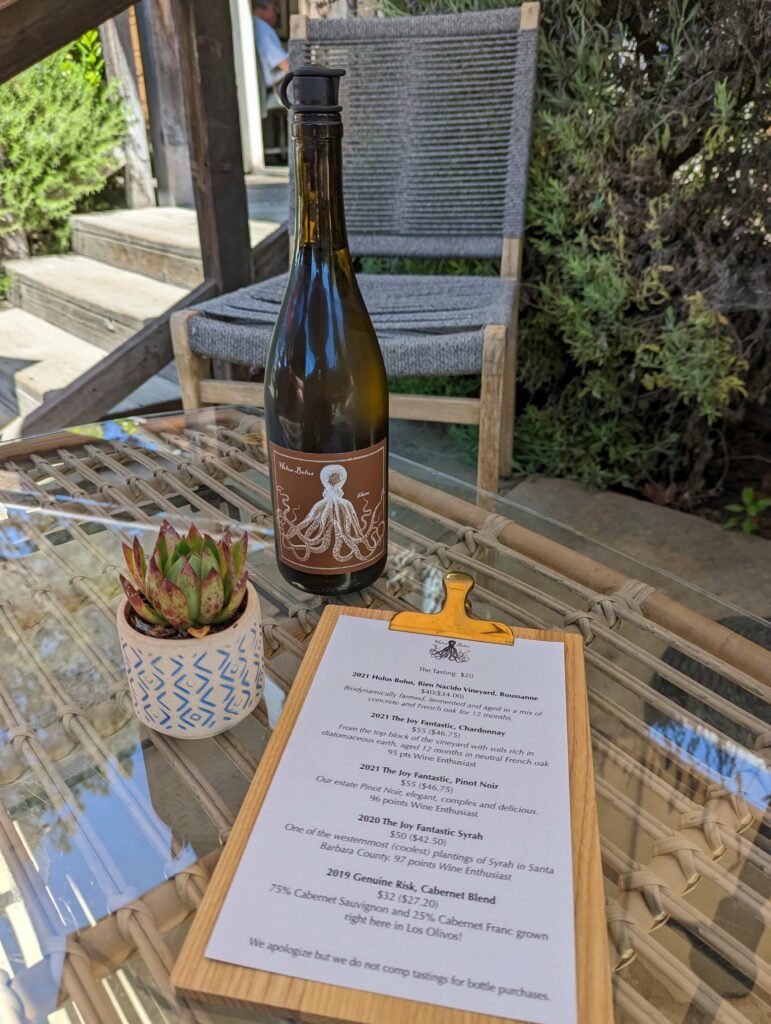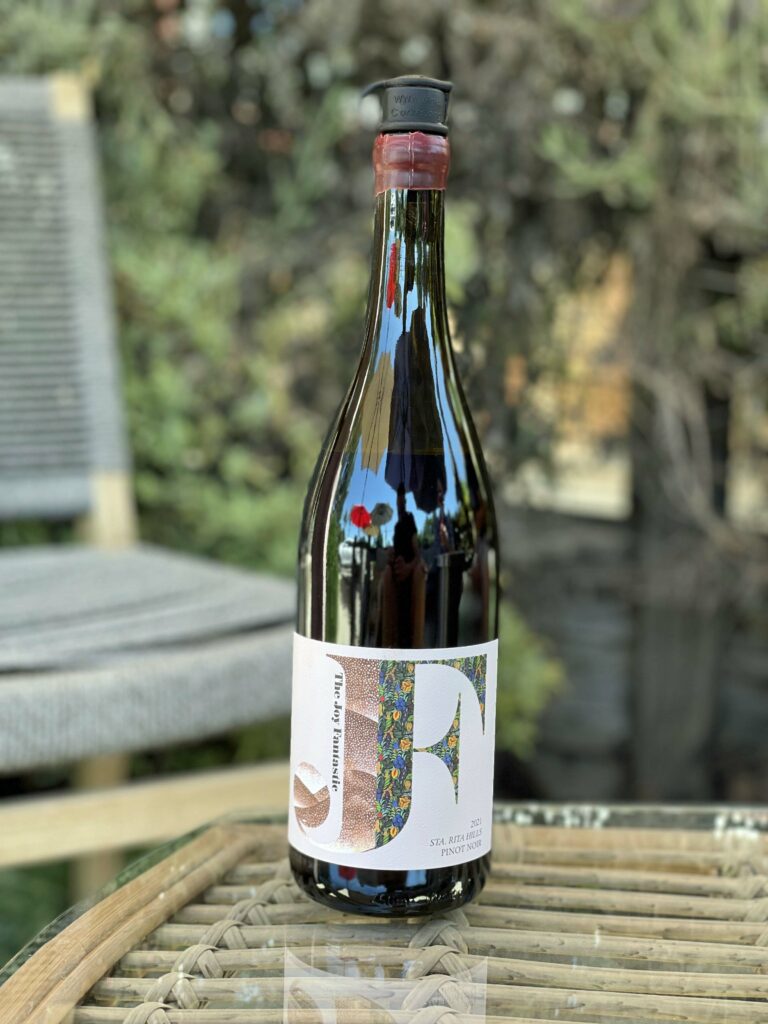 The Essence of Santa Ynez Valley
Embarking on a journey to Holus Bolus' tasting room is far more than a mere exploration of exceptional wines; it is an immersive experience that leaves a lasting imprint. A quote, beautifully expressed on the Holus Bolus website, resonates deeply: "We aren't trendy — that's not what we do. We work with time-honored noble varieties and strive to produce wines that are elegant, restrained, and provide a sense of refreshment."
Under Amy's expert guidance, every sip becomes an exhilarating adventure, each bottle unveils a captivating story, and each visit to her tasting room unfolds into an indelible and cherished wine journey. This experience encapsulates the very essence of Santa Ynez Valley, where passion, knowledge, and an unwavering commitment to crafting exceptional wines converge.
Did you like this content? If you did, let us know and share it with your friends.
This page contains affiliate links. We receive a small compensation when you purchase through affiliate links. While clicking these links won't cost you a cent, it will help us keep the lights on and buy more wine. To find out more, click here.