Skyrocketing wine sales have become mainstream media. Indeed, some version of the below graphic may be adding to the frenzy.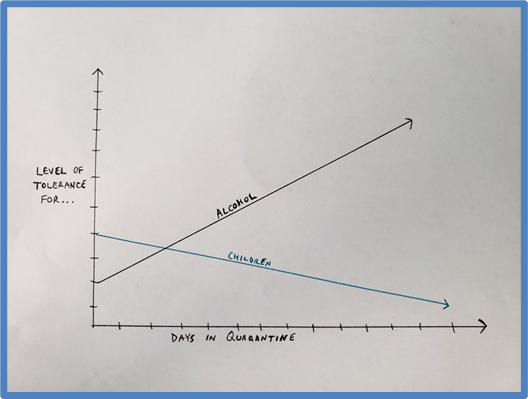 Looking at the numbers, Nielsen found online wine sales for the week ending March 21st to be up 66% from the prior week and a whopping 243% from the same week last year. Time for the wine industry to pop the cork? Well, that depends on your perspective. If you are a major retailer with delivery services or otherwise have a huge online presence, it's raining cash. If you are a restaurant or bar owner, the story is quite different.
In contrast to "off-premise" sales, "on-premise" sales have plummeted, with 85%-95% of bars and 80% of sit-down restaurants closing. Wine stores with the lights still on are also feeling the pain. A sizeable portion of their revenue is event driven – weddings, parties, receptions, etc. – none of which is happening. Purchases of high-end wine gifts have also disappeared.
Another unfortunate casualty of the pandemic – and one that should be raising alarm bells – are the wineries. A significant portion of their revenues are driven by direct-to-consumer sales, like tasting rooms and club orders. While it may represent only 25%-35% of volume, it can represent over 50% of revenue since margins are better selling direct than through a distributor. For boutique wineries, the hit is even more pronounced; "on-premise" restaurants make up as much as 60%-75% of their distribution sales! All of this creates a real sense of urgency for our wineries. In contrast to Nielsen's glowing statistics for online sales, a survey recently published by Wine America, the national association of American wineries, shows winery sales are down an average of 63%!
This presents a serious call-to-action for wine lovers. If wineries do not have the means to produce, we're not drinking and that's a BIG PROBLEM (particularly for the parents homeschooling – see the previously-noted graph). Fortunately, while the tasting rooms are closed, wineries are finding ways to reach consumers directly through their websites, email, and the phone. Wineries are even taking a hit on free shipping to get your business and are offering great deals to boot – including bottles that traditionally are available only at the winery. They are also getting creative and including "virtual tastings" with orders.
So, if you have a favorite winery, call them up or send an email and buy a bottle (or a case!). And if you don't know where to start, here are a few links to West Coast wine associations tracking winery direct deals in their region. So, spread the word and if you have a favorite winery not included below that's offering a "shelter in place" deal, shoot us an email and we'll be sure to add them here. Happy Hunting!
CALIFORNIA WINERIES
Mount Veeder – Listing promos for Napa wineries in Mount Veeder.
Calistoga Winegrowers – Listing promos for Calistoga AVA wineries at the northern end of Napa Valley.
Napa Valley – Napa Valley Vintners have created two master lists: One of wineries doing home deliveries in Napa and another of wineries hosting virtual tastings.
San Luis Obispo Wine Collective – List of SLO Coastal wineries with deals. Covers winery members in Edna Valley, Arroyo Grande, Avila Beach, San Luis Obispo, Morro Bay, Cambria and points North.
Santa Barbara – Listing promos for Santa Barbara wineries.
Lodi – Listing promos for Lodi wineries taking part in the "Lodi Wine To Go" program.
Sonoma Wine Road Wineries – List of 65+ wineries in Sonoma County offering $5 flat-rate shipping on all case orders. Promocode "sipsonoma."
More Sonoma Wineries – Listing promos for 100+ wineries in Sonoma County.
Santa Lucia Highlands – Listing promos for the Santa Lucia Highlands wineries.
Paso Robles Wineries – Listing promos for Paso Robles wineries to enjoy a little "Paso at Home."
Santa Cruz Mountains Wineries – Listing promos for Santa Cruz Mountain wineries.
Wineries of San Diego – Listing promos for San Diego area wineries.
OREGON WINERIES
Willamette Valley Wineries – Listing promos for Willamette Valley wineries.
WASHINGTON STATE WINERIES
Walla Walla Wines – Listing promos for Walla Walla Valley wineries.
Woodinville – Listing promos for Woodinville wineries.
Yakima Valley – Listing promos for Yakima Valley wineries.
Did you like this content? If you did, let us know and share it with your friends.
This page contains affiliate links. We receive a small compensation when you purchase through affiliate links. While clicking these links won't cost you a cent, it will help us keep the lights on and buy more wine. To find out more, click here.