Last night I had the privilege of sharing a meal with two good friends I haven't seen for nearly two years. We've known each other for decades; starting as colleagues and quickly embracing friendship as we found common themes weaving through our lives. One of those themes is our passion for wine.
As the night progressed, pour after pour, our laughter got a little louder, our conversation got a little deeper, and our memories of the many occasions we shared came bursting to life. From current affairs to travel, from family to careers, from food to wine, it was as if the distance between our last visit and that moment simply folded in half bringing the events together as one. No matter how much time lapses between our gatherings, it's never insurmountable, it's never awkward, and it's always authentic.
The wine last night was amazing, but sharing it with friends . . . priceless.
2006 Dom Pérignon Brut Champagne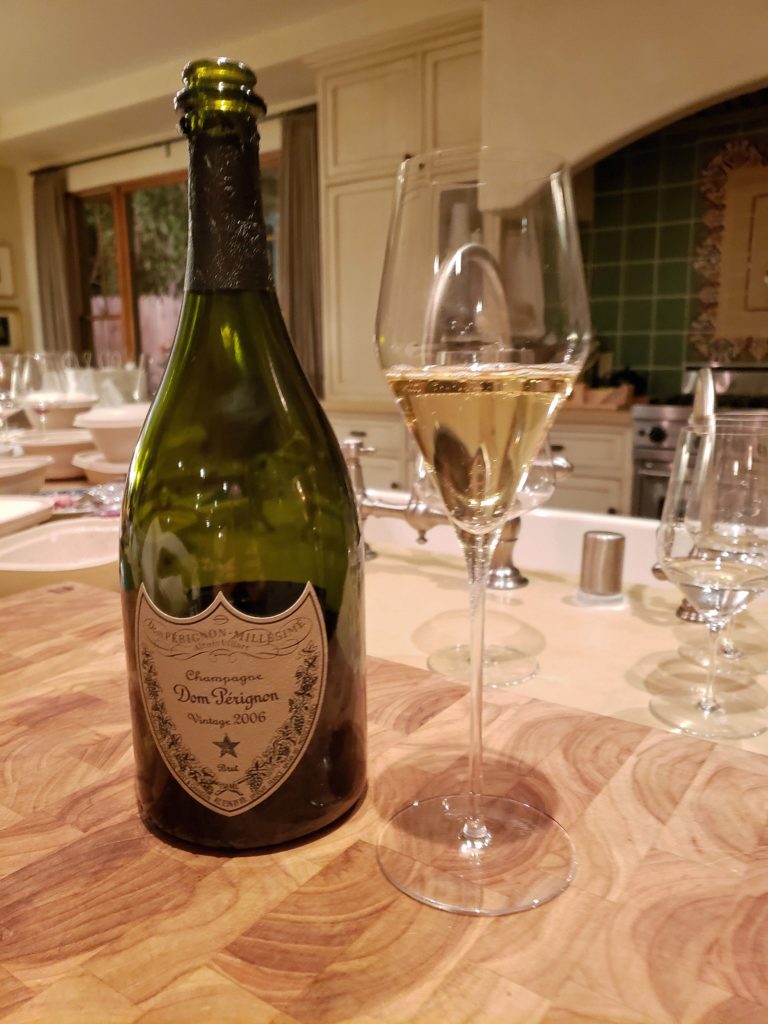 97 points James Suckling
This is very lively and vibrant with a dense and rich center palate. Lots of complexity and balance with pastry, sliced lemon and light dried mango. Full yet racy and intense. A beautiful center palate. Linear. Shows potential for aging but so good right now.
96+ points Jeb Dunnuck
A wine that surpasses the 2000, the 2006 Dom Perignon offers beautiful stone fruits, toasted hazelnuts, citrus blossom, and brioche. It shows the richer side of the 2006 vintage with plenty of richness, yet it has bright acidity, a tight, reserved style, and a great finish, it just needs time.
96 points Robert Parker's Wine Advocate
The 2006 Dom Pérignon comes from a very rich vintage with an early ripeness that brought a lot of aromatic maturity. The white-golden prestige cuvée contains a bit more Chardonnay than Pinot Noir and opens with a deep and seductive, pretty accessible nose with intense yet fresh fruit aromas of pineapples, with peaches and tangerines. Lively and elegant on the palate, this is a full-bodied, unusually aromatic and fruity DP with a long and tension-filled expression.
96 points Vinous
Powerful, dense and tightly wound, the 2006 Dom Pérignon is fabulous today. To be sure, the 2006 is a broad, virile Champagne, but I find it compelling because of its phenolic depth and overall intensity. Chef de Caves Richard Geoffroy adds that August was quite cold and wet, and that ripening only happened at the very end of the growing season. Although numbers alone can never explain a wine, I find it interesting that the 2006 has more phenolics than the 2003. Readers will have to be patient, as the 2006 is easily the most reticent Dom Pérignon in the years spanning 2002 and 2009. I am confident the 2006 will have its day, but in its youth, it is not especially charming or easy to drink.
95 points Wine Spectator
A graceful, minerally version, featuring rich notes of smoke, mandarin orange peel and chalk that lead to subtle accents of crème de cassis, toasted almond, espresso and star anise on the fine, creamy mousse. Seamlessly knit, with citrusy acidity leaving a mouthwatering impression on the finish. Collectibles
18.5/20 points Jancis Robinson
Some evolution on the nose with real interest. Smells so much older than either the 2008 or the 2009. Flirtatious. Clean and fresh. Very zesty in flavour but with a lovely creamy texture.
2006 Alvaro Palacios, Priorat Finca Dofi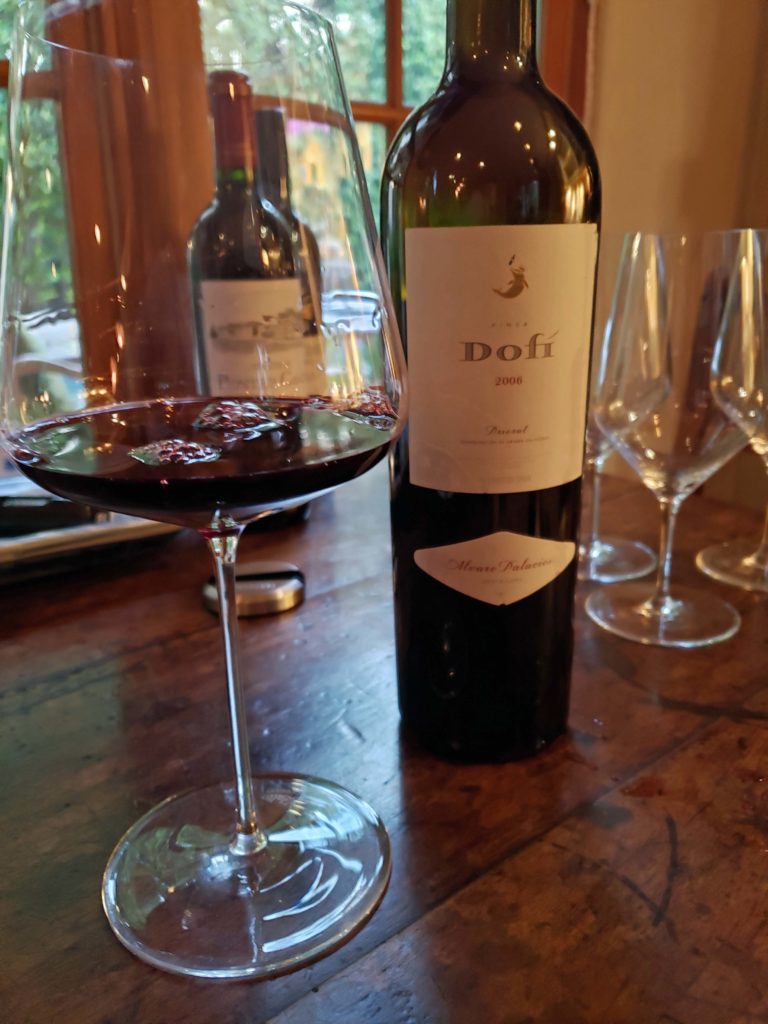 93 points Wine Advocate
The 2006 Finca Dofi is 55% Garnacha and 45% Carinena from estate vines ranging in age from 16 to 23 years. It was aged for 9 months in 80% new French oak. It offers up a more complex bouquet of toasty new oak, lavender, leather, mineral, truffle, black cherry, and blueberry. Layered on the palate with a plush texture, it has excellent depth, succulent flavor, and excellent balance. Surprisingly forward, it will evolve for 2-3 years but can be enjoyed now and over the next decade.
93 points Vinous
Ruby-red. Raspberry and cherry aromas are complicated by graphite, tobacco and anise. Sweet red and dark berry flavors possess liqueur-like depth but are lithe and incisive, with impressive mineral lift on the back end. Juicy, finely etched red fruits dominate the long, sappy finish. A smoky quality arrived with air, adding further dimension and depth.
2003 Pontet Canet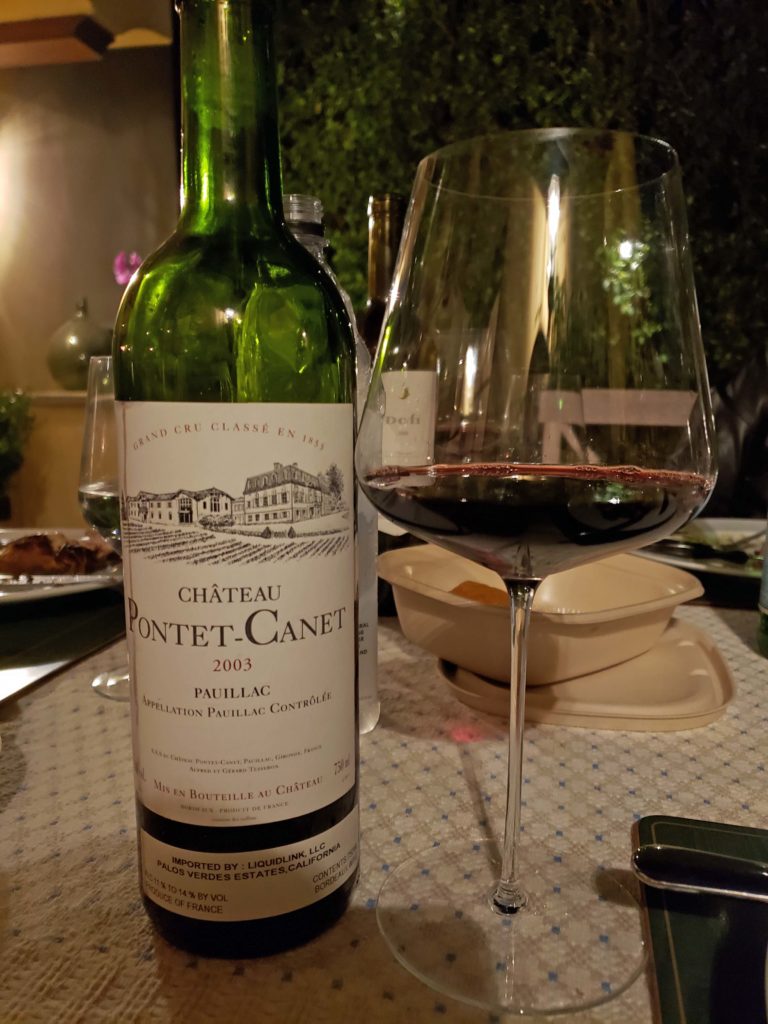 95+ points Robert Parker's Wine Advocate
The spectacular 2003 Pontet Canet is still incredibly young and vigorous. This full-bodied classic boasts a dense purple color as well as a superb nose of graphite, creme de cassis, forest floor, licorice and a hint of truffles, low acidity, and extravagant richness. Most of the tannins have been resolved in this superstar of the vintage. It should continue to drink well for 10-15+ years.
93 points James Suckling
Pure ripe fruit on the nose with raspberries and blueberries. Full bodied, with round and silky tannins and a pretty polish to this ripe and fruit forward wine.
93 points Vinous
Ruby-red. Roasted blackberry, coffee and mocha on the nose, along with a grapey quality. Fat, super ripe and sweet; wonderfully full, sexy and broad. Just this side of exotic, but sound natural acidity gives shape to the thick, mellow dark berry and chocolate flavors. Finishes with substantial tannins and resounding length. This will be drinkable several years earlier than the 2005.
93 points Wine Spectator
Dark plum, fig and blackberry fruit shows a hint of torréfaction but stay fairly juicy and defined, while singed cedar, smoldering tobacco and charcoal notes score the finish. Cedar and dried currant fruit wind up together at the every end. Very Pauillac, and though a touch short on refinement, this shows good stuffing and energy for the vintage.
2007 Fontodi "Flaccianello della Pieve" Toscana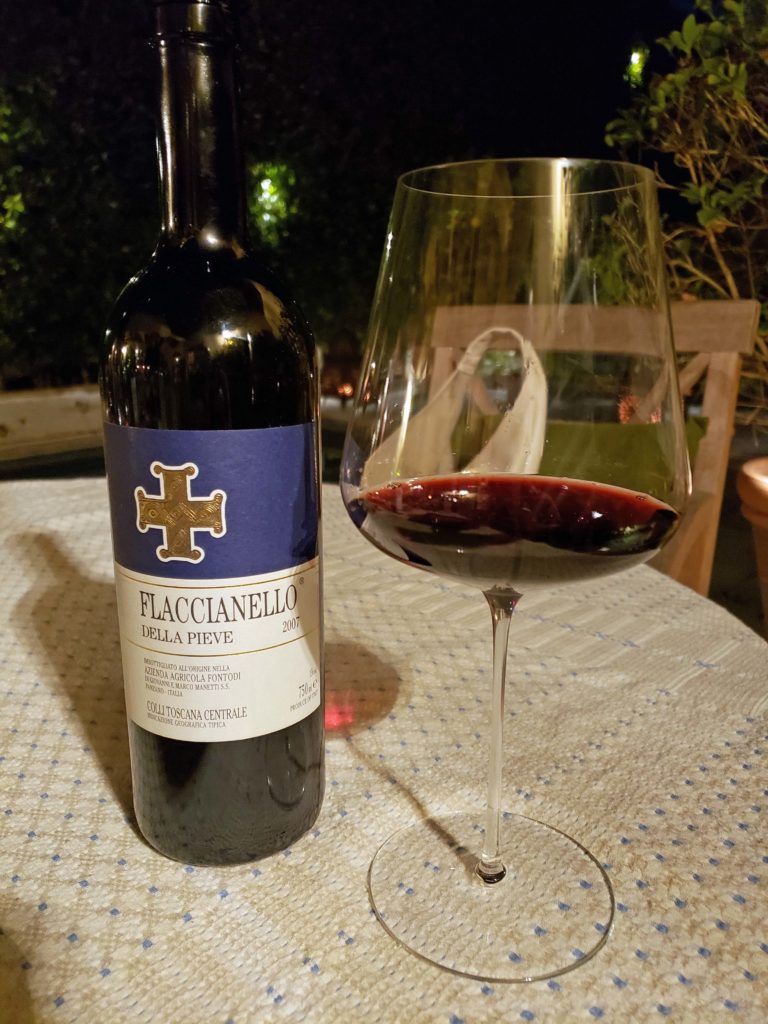 95 points James Suckling
Lots of ripe fruit with a smoky, meaty, bacon, and cherry character – even dried mango and other fruits. Full and round tannins with bright acidity and an intense finish. Loads going on here. New wood is a little overpowering now but will come around wonderfully. Give it three to four years of bottle age still.
95+ points Vinous
The 2007 Flaccianello della Pieve captures the essence of this great Tuscan vintage. It is a decidedly sexy, opulent wine bursting at the seams with rich red berries, mint and spices. The tannins are present but virtually undetectable under layer after layer of fruit. There is no question the 2007 is seamless, opulent and full-bodied. Readers who prefer more structured wines will gravitate to vintages such as 2001 and 2004. I find the 2007 utterly irresistible. It will also drink better earlier than some of the most classic vintages.
95 points Wine Spectator
Fading to reddish brown at edge, this displays a bouquet of eucalyptus, medicinal herbs, licorice and leather. Rich, powerful, it's just coming out of it's shell, with muscular tannins on finish and a long aftertaste of leather, underbrush and mineral.
Did you like this content? If you did, let us know and share it with your friends.
This page contains affiliate links. We receive a small compensation when you purchase through affiliate links. While clicking these links won't cost you a cent, it will help us keep the lights on and buy more wine. To find out more, click here.