Wine Bounty features several noteworthy wine retailers, some of which you may be meeting for the first time. To make a proper introduction, we decided to start a decoded series showcasing each retailer and some of the reasons we think they're worth a visit. The obvious reason, of course, being great deals on great wine!
Who is WTSO?
Wines 'Til Sold Out ("WTSO") was founded in 2006 by Joe Arking and his late brother, Elliot, and is headquartered in Pennsauken, New Jersey. They've been in the alcohol beverage industry for over 35 years but stumbled on WTSO.
The brothers owned restaurants, bars, and liquor stores when they got the idea to start a big-box art-and-crafts chain. Unfortunately, it didn't work out and by 2000 they were forced to sell off everything but the liquor stores. As part of the liquor stores, they built a close-out wine department that was proving successful. At the same time, one of their competitors, The Wine Library (more on them another day!), had started to build a significant direct-to-consumer Internet business.
One day, Joe's son, Edward, told them about a successful electronics website WOOT.com that, at the time, was putting electronics on at 12 o'clock, and when it was sold out, the site just shutdown. The brothers liked the concept and modeled their wine Internet business along the same line, a one-wine-featured-at-a-time model. Yes, WTSO was the OG Flash Sale website! To draw in customers they also offered free shipping and a money back guarantee, no matter the reason, on every bottle (a practice that costs them over $750k a year!). Joe's sister in-law, Cris, spread the word among her clients and friends in the lucrative New York bond trading world and the rest was history. In their first year, they grossed over a million dollars and now, 15 years later, they've sold over 45 million bottles and are going strong.
While WTSO started as just a flash sale site, they have expanded their offerings into a few other categories. Below is an overview of their offerings.
One Bottle at A Time
This is WTSO's bread-and-butter and what Wine Bounty features on its home and flash deals pages. Here you can find killer deals on some really amazing wines, but they can go fast. For example, how about a bottle of 97-point Kay Brothers Block 6 McLaren Vale Shiraz 2016 for under $60!? FYI, it has over 4.3 stars on Vivino and is going for well over $120.
The format for their flash sale offerings is below and each offering clearly lists how many bottles you need to purchase to get free shipping. The amount is adjusted based on the bottle price. Generally, cheaper bottles (like below), require 4 bottles and the count goes down as the bottle price goes up. Indeed, most of their premium offerings allow free shipping on the first bottle.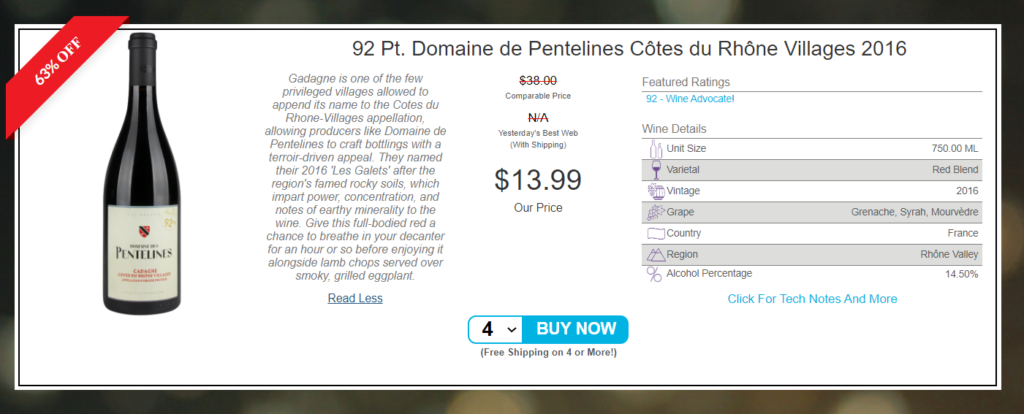 Another great feature is WTSO will hold any order for up to 12 months. At checkout, you select the date you want WTSO to ship. This is a great option if you are planning to be out-of-town, approaching a particularly hot or cold season, or you plan to purchase a number of bottles over a period of time and want them to ship at once.
You just might want to hold on shipping because their options are constantly evolving. About once a month, the WTSO team curates a new selection of wines based on certain themes or ideas. There is no limit to the varieties of wine they feature. One month, they might overindex on New World reds. The next, it might be crisp whites. WTSO's offers span the full spectrum of wine types, tastes, and regions which makes stocking up quite easy.
We've been tracking WTSO's flash sale offerings since the end of 2019. If you want to check out past WTSO deals to see what you missed (or better yet, what might be coming down the pipeline again), you can go here. WTSO is notorious for relisting bottles and we track each bottle relisted.
Marathon Sales
Occasionally, WTSO will run flash sale marathon days, where they typically sell over 70 wines in one day (many selling out in 15 minutes or less). Each marathon features various types of high-end wine and will carry a theme, such as their ever-popular Magnum Marathon. Marathons include free shipping and WTSO will aggregate your purchases over the day for shipping, so you're not overloaded with deliveries.
WTSO handles marathons in two ways, either bottle by bottle (like their standard process) or, more recently, they've listed 10-15 bottles at a time and then switch them every hour. WTSO is always looking for ways to innovate, so this could be a new trend for future marathons.
Last Chance Wines
Besides flash sales, WTSO has a few additional features, including "Last Chance Wines". Here, WTSO lists 15 wines available for purchase at any given time. The wines are usually very reasonably priced and include overstock from flash sales or new bottles that do not rise to the level of a flash sale (due to volume or other factors). WTSO allows you to mix/match the wines you like with free shipping and no minimum purchase required.
Premium Selection
WTSO's "Premium Selection Wines" offer 15 higher end wines at a time. These are perfect for that special dinner or as a gift. A Premium Selection Wine requires no minimum purchase and shipping is free.
Weekly Wine Tasting
The Weekly Tasting is the newest way to experience WTSO and to learn about wine in the comfort of your own home. Alternating each week, WTSO wine experts present a selection of wine with a common theme. Some past themes include: (1) Châteauneuf-du-Pape: Red and White; (2) Malbec: France vs. Argentina; (3) Spanish Red Varieties; and (4) Piedmont vs. Tuscany: 4 Italian Favorites.
With each pack, you gain access to a tasting video that helps you better understand your likes and dislikes of each wine. Weekly Tasting is not a club, so you get to pick and choose which packs you want when you want them. WTSO's stated goal is not for you to fall in love with every bottle but to provide you with tools to understand and expand your wine palate. Weekly Tasting packs typically include 2-4 bottles and range from $40-$100. Of course, shipping is free.
Overall
WTSO is the flash sale site that started it all. We've personally been shopping with them for nearly a decade and have had nothing but great customer service and fantastic wine. Two thumbs up and worth a try. Happy hunting!
Did you like this content? If you did, let us know and share it with your friends.
This page contains affiliate links. We receive a small compensation when you purchase through affiliate links. While clicking these links won't cost you a cent, it will help us keep the lights on and buy more wine. To find out more, click here.