Napa Valley produces some spectacular wines. But with the average price of Cabernet Sauvignon heading north of $100/bottle, it's out of reach for many. Enter Smith Devereux, the Napa winery who is leading the charge in bringing great Napa wine at a price point that won't break the bank.
I stumbled on Smith Devereux at a recent 4-night virtual wine tasting of Napa Stars. The lineup was some of the best of the best and on Night 2 I had the privilege of tasting Smith Devereux's 2016 Limited Release Cabernet Sauvignon. To be honest, I wasn't expecting much. I had not heard of Smith Devereux and when I saw the retail price point ($55) was well below every other Napa Cab tasted, I thought, "well, you get what you pay for."
I ate my words that night and happily washed them down sip after sip. This was some serious juice! As Ian Deveruex White – musician, turned wine journalist, turned winery owner – introduced his offering, I couldn't focus. How could I? I was floored that I was drinking a Napa Cab that could dance circles around bottles three times its price. Powerful and rich, yet tamed and smooth. I was handling a beast that wanted to be pet. Black fruit, dark chocolate, cedar, tobacco, and a hint of earth and graphite enticed me, while well-structured and fine-grained tannins set me free to ride a long finish culminating with a hint of tangy cherries.
When I finally picked myself up off the floor, I caught Ian describing Smith Devereux's focus: Producing delicious, sustainably farmed, world-class wines at killer prices, while never sacrificing quality. These were wines made to drink and share . . . now. It was as if I had found Wine Bounty's doppelganger and I had to learn (and taste!) more.
I got my hands on three more bottles of Smith Devereux's offerings:
2018 Smith Devereux SB White Blend ($18)
2017 Smith Devereux No. 3 California Red Blend ($20)
And, yes, the 2016 Smith Devereux Limited Release Cabernet Sauvignon ($55) (I had to try it again. Maybe my palate was off that night or, more likely, my alcohol tolerance. I was throwing back tasting-after-tasting without a spittoon. It was one of those days.)
On a lazy, beautiful Sunday afternoon, I invited the neighbors over and we popped the corks (or unscrewed, in the case of the SB White Blend). Again, Smith Devereux did not disappoint.
The SB White Blend was like biting into a chilled, freshly plucked green apple wrapped in a whiff of tropical flavors. Refreshing, bright, and crisp. While the SB Blend is proprietary, you feel the dominance of Sauvignon Blanc. The No. 3 Red Blend was equally engaging. Bringing my nose to the glass was like approaching a huge basket of ripe red fruit basking on a freshly cut green lawn. The palate was balanced harmoniously between Syrah, Zinfandel, and Cabernet Franc (hence, the No. 3) filling my taste buds with that red fruit, which has now evolved with a slight smokiness, dark chocolate, and a hint of vanilla. Last, but not least, was the Cabernet Sauvignon. The wine that put me on this journey. It was as if I had met an old friend, as perfect as I remembered. Maybe even better because this time I was sharing it with friends and stories and laughter instead of a computer screen.
If you ever get the opportunity to taste Smith Devereux, do not pass it up. Not because their wines have received numerous accolades, not because you can do a jam session in their tasting room (I refer you to Ian's background above), and not because it is the story of three friends (Steve Smith, Ian White, and John Truchard) who wanted to produce amazing Napa wines and make them accessible to the masses. Yes, all those points are awesome, but the bottom line is . . . it's just damn good wine.
Check them out here.  And if you're reading this article anytime near posting, you can take an additional 15% off your order using code "WB15OFF".  Happy Hunting!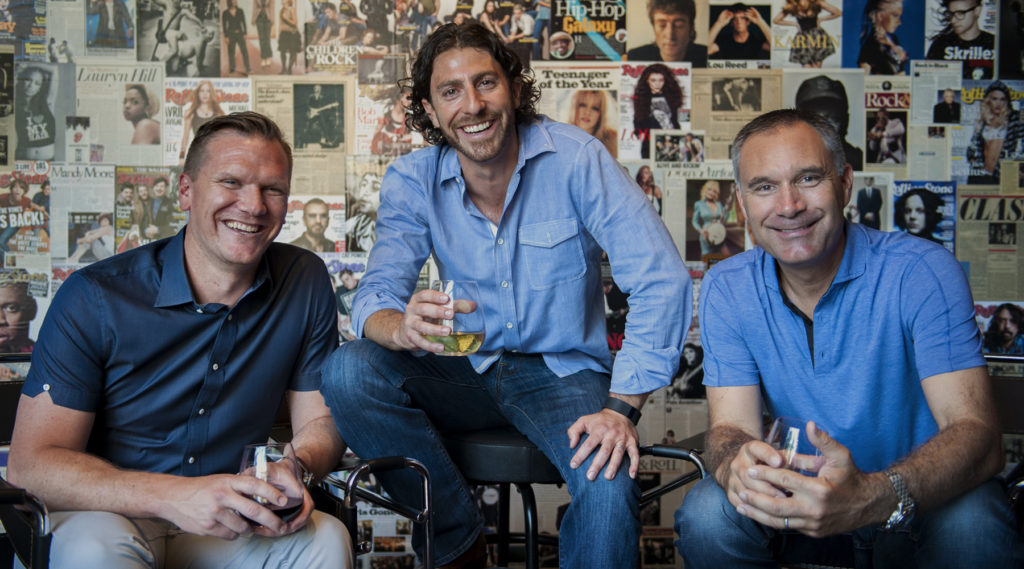 Did you like this content? If you did, let us know and share it with your friends.
This page contains affiliate links. We receive a small compensation when you purchase through affiliate links. While clicking these links won't cost you a cent, it will help us keep the lights on and buy more wine. To find out more, click here.