Happy New Year Everyone!  Now that the ball has dropped (hopefully on the head of 2020!), we can look forward to a new year with renewed hope and a continuing thirst for amazing wine. 
You were busy in December. We loaded over 850+ new bottles and over 11K of you stopped by once, twice, or more! We raise our glass to you. With a new year comes new and exciting developments. Please let us know if we're heading in the right direction. We love feedback and would love to know if there is anything we can be doing better (a new retailer, a new or improved feature, a great product for the Shop, or a great story you would like us to tell in the Blog). Drop us a note and we'll be sure to get back.
Here's our monthly roundup highlighting key figures and bottles from December.  Check out the stats below or feel free to download our handout and share with friends!  Also, don't forget to sign up here for the Wine Bounty Alert System.  The Alert System will let you decide which deals are most important to you and will send you an email when it becomes available.  As always, Happy Hunting!
December 2020 Recap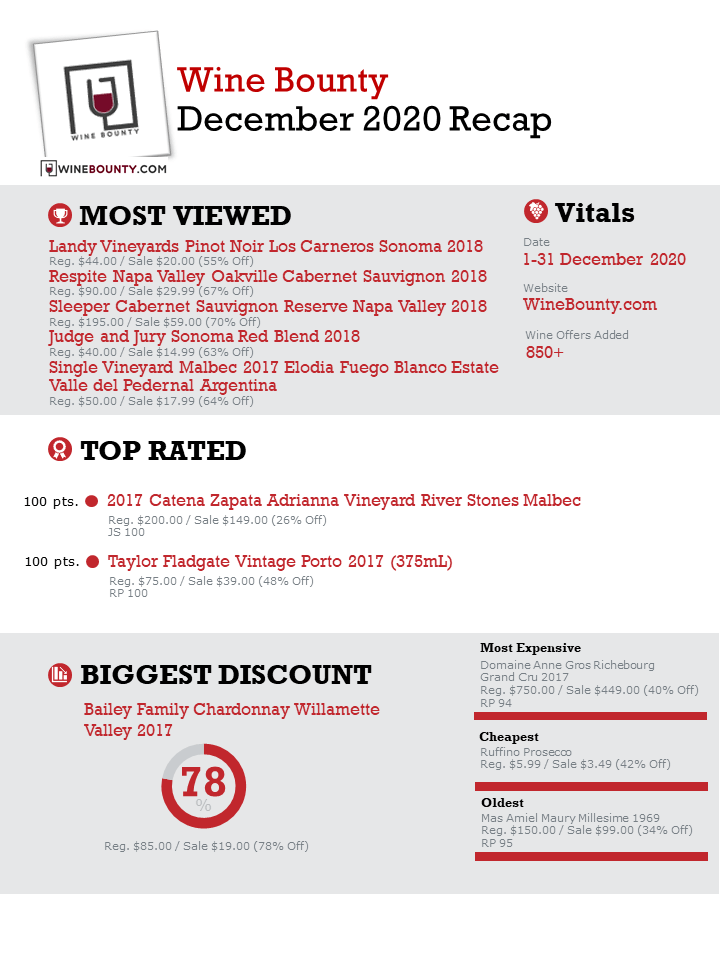 Vitals
850+ Bottles Added
Top 10 Most Viewed Bottles
Reg. $44.00 / Sale $20.00 (55% Off)
Reg. $90.00 / Sale $29.99 (67% Off)
Reg. $195.00 / Sale $59.00 (70% Off)
Reg. $40.00 / Sale $14.99 (63% Off)
Reg. $50.00 / Sale $17.99 (64% Off)
Reg. $90.00 / Sale $29.99 (67% Off)
Reg. $150.00 / Sale $79.00 (47% Off)
Reg. $85.00 / Sale $28.00 (67% Off)
Reg. $50.00 / Sale $19.99 (60% Off)
Reg. $110.00 / Sale $32.99 (70% Off)
Perfect Scoring Bottle
2017 Catena Zapata Adrianna Vineyard River Stones Malbec
Reg. $200.00 / Sale $149.00 (26% Off)
JS 100
Taylor Fladgate Vintage Porto 2017 (375mL)
Reg. $75.00 / Sale $39.00 (48% Off)
RP 100
Biggest Discount
Bailey Family Chardonnay Willamette Valley 2017
Reg. $85.00 / Sale $19.00 (78% Off)
Most Expensive
Domaine Anne Gros Richebourg Grand Cru 2017
Reg. $750.00 / Sale $449.00 (40% Off)
RP 94
Cheapest
Reg. $5.99 / Sale $3.49 (42% Off)
Oldest
Mas Amiel Maury Millesime 1969
Reg. $150.00 / Sale $99.00 (34% Off)
RP 95
Did you like this content? If you did, let us know and share it with your friends.
This page contains affiliate links. We receive a small compensation when you purchase through affiliate links. While clicking these links won't cost you a cent, it will help us keep the lights on and buy more wine. To find out more, click here.