Happy November Everyone!  The air is getting a little crisper and we're starting our nosedive into the holiday season.  But don't worry, we'll have your wine needs covered including an upcoming article on the best wines for Thanksgiving.  Till then, we're happy to report that October already came bearing gifts.  Last month we made Feedspot's list of Top 100 Wine Blogs in the world!  Not too shabby for less than a year.  We also launched a new Vivino section in our Daily Deals.  We saw how much you love Vivino's deals in Wine Bounty Picks so we thought it was only fitting.  Thank you all for your continued support in spreading the word about Wine Bounty. 
As usual, here's our monthly roundup highlighting key figures and bottles from October. WTSO's run on Respite Wines stole the show taking 3 of the Top 10 spots! Check out the stats below or feel free to download our handout and share with friends! Also, don't forget to sign up here for the Wine Bounty Alert System. The Alert System will let you decide which deals are most important to you and will send you an email when it becomes available. We hope you continue enjoying Wine Bounty as much as we love bringing it to you. As always, Happy Hunting!
October 2020 Recap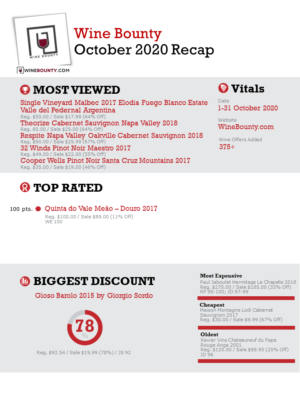 Vitals
375+ Bottles Added
Top 10 Most Viewed Bottles
Reg. $50.00 / Sale $17.99 (64% Off)
Reg. 80.00 / Sale $29.00 (64% Off)
Reg. $90.00 / Sale $29.99 (67% Off)
Reg. $49.00 / Sale $22.00 (55% Off)
Reg. $35.00 / Sale $19.00 (46% Off)
Reg. $60.00 / Sale $29.00 (52% Off)
Reg. $80.00 / Sale $26.99 (66% Off)
Reg. $50.00 / Reg. $17.99 (64% Off)
Reg. $65.00 / Sale $22.99 (65% Off)
Reg. $40.00 / Sale $20.00 (50% Off)
100 Point Bottles
Quinta do Vale Meão – Douro 2017
Reg. $100.00 / Sale $89.00 (11% Off)
WE 100
Biggest Discount
Gioso Barolo 2015 by Giorgio Sordo
Reg. $92.54 / Sale $19.99 (78%)
JS 92
Most Expensive
Paul Jaboulet Hermitage La Chapelle 2018
Reg. $275.00 / Sale $185.00 (33% Off)
RP 98-100; JD 97-99
Cheapest
Reg. $30.00 / Sale $9.99 (67% Off)
Reg. $14.52 / Sale $9.99 (31% Off)
JS 90
Oldest
Xavier Vins Chateauneuf du Pape Rouge Ange 2001
Reg. $120.00 / Sale $89.95 (25% Off)
JD 96
Did you like this content? If you did, let us know and share it with your friends.
This page contains affiliate links. We receive a small compensation when you purchase through affiliate links. While clicking these links won't cost you a cent, it will help us keep the lights on and buy more wine. To find out more, click here.