Wine Bounty features several noteworthy wine retailers, some of which you may be meeting for the first time. To make a proper introduction we started a decoded series showcasing each retailer and some of the reasons we think they're worth a visit. The first on our list was the original flash sale site, WTSO, and now we'd like to introduce you to a powerhouse wine retailer with its hands in virtually every retail cookie jar. We're talking about Wine Library and its sister flash sale site, Cinderella Wine.
What is Wine Library and Cinderella Wine?
Like most online retailers, Wine Library started as simple brick and mortar store. In 1996, the owner's son, Gary Vaynerchek (yep that GaryVee!), decided to take its offerings online. To give you some perspective on how this screamed early adopter, in 1996:
Google.com didn't exist.
There were only 100K websites worldwide, compared to 1.74B today.
The web browser of choice was Netscape.
And your Internet connection was dial up at whopping speeds of 28.8Kbps. (Forget about streaming, a 5-10 minute clip would take 45 minutes to download . . . and that's assuming you didn't get kicked off!)
Initially, Wine Library took time to gain momentum. From 1996-1999, most of the sales were still being hustled at the storefront. But around 2000-2002, the website's momentum kicked in and the use of search marketing from 2002-2004 accelerated that momentum. In 2006, Gary decided to jump into social media and launched Wine Library TV, which was a game changer. Gary's no holds barred approach to rating wine won fans over and the popularity of the channel grew – and so did sales. But, more importantly, Wine Library was able to cut its marketing costs significantly, so margins grew as well. What better way to get the word out than through free advertising?
In 2009, Cinderella Wine was added to the Wine Library family which introduced a flash sale component. One wine a day at bargain basement prices. When it was sold out, it was done.
Here's a deeper dive on each of the components of Wine Library and Cinderella Wine that we believe makes them a great option for great deals.
Top Picks
Wine Library is a full service, one-stop shop for much of your wine purchasing needs. As of writing this blog they had 2,250+ bottles offered for sale. Of course, Wine Bounty can't list all of those (nor would we want to!). Our goal is to provide you with top picks which represent great value for amazing wine. So, we select about 6-12 bottles a day and include them on our Daily Deals page. Occasionally, smoking deals will be highlighted on our Wine Bounty Picks section too.
Wine Library offers a user-friendly filter to help you narrow down exactly what you're looking for – even uncommon categories like kosher wines and helpfully separating out organic from biodynamic. Because, yes, they are not always one in the same.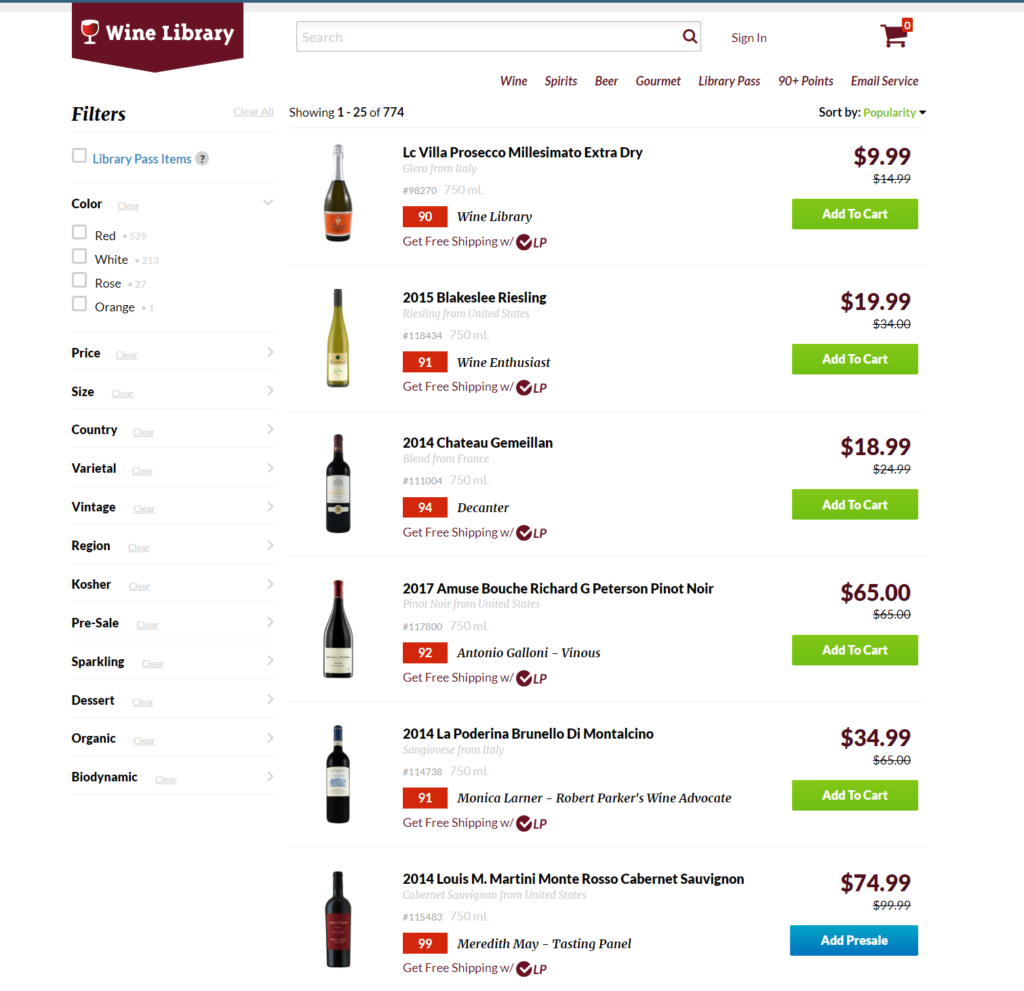 There are even pre-selected filter categories to choose from and once filtered you can sort the results in a number of helpful ways (price, rating, name, vintage, etc.), even on popularity (in case you're curious what others are purchasing on Wine Library).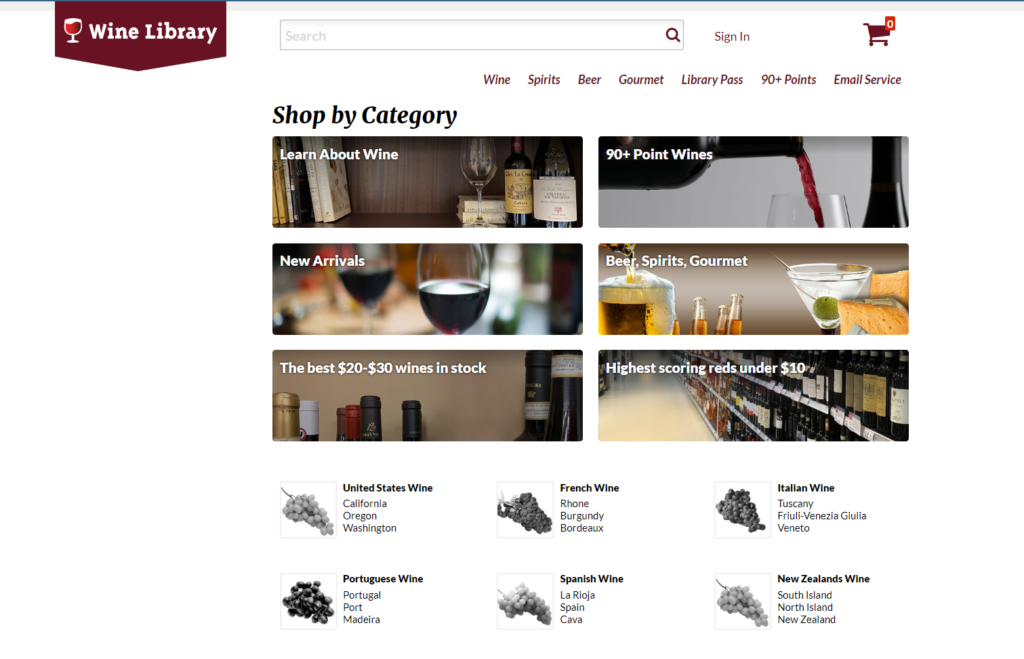 WineText.com
If buying wine online wasn't easy enough, Wine Library upped the ante and created WineText.com. The idea is simple: Fill out a form with your contact details and billing/shipping information and you will receive a daily text with an incredible deal. Here's an example of a past offer.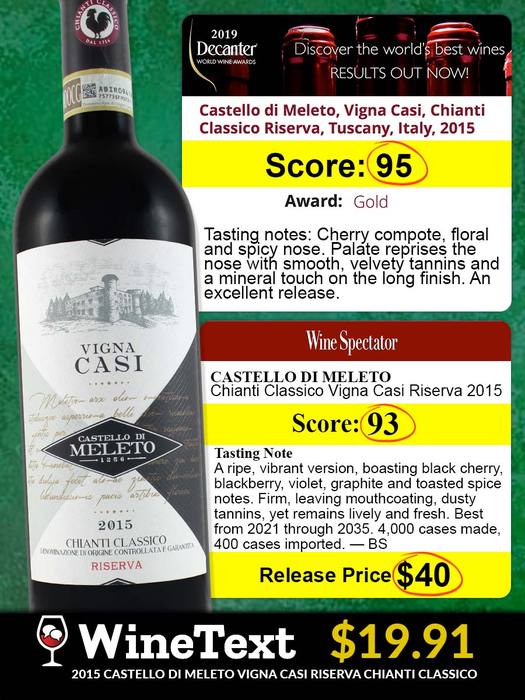 Simply respond to the text with the number of bottles you want and that's it. The system will automatically send you a confirming text, charge your credit card, and email you a receipt. Free shipping is usually on 6 or 12 bottles (depending on the offer) and anything less is a flat $6 rate.
CellarText.com
If great deals on collectible wine is your thing, Wine Library also has you covered. CellarText.com functions like WineText.com but focuses on highly rated, rare wines such as Tignanello, Caymus, Dominus, Opus One, Sassicaia, Beaucastel, Clos des Papes, Almaviva, etc. Below is an example of a recent deal.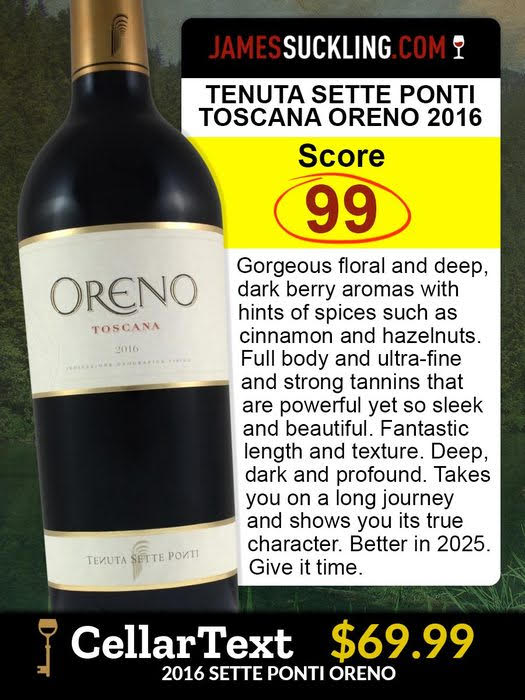 Library Pass
If you're like me, you hate paying the dreaded shipping fee. Often I'll see a bottle I want but when I factor in shipping costs, the deal just isn't worth it. Or, I'll find a really cheap wine where the shipping costs alone are more than the bottle. This is where Library Pass can help. As mentioned in a previous blog, Wine Library started a membership program where you pay $100/year and any bottle you purchase (even a single bottle) will be free shipping for the entire year. The best part is Library Pass not only works on purchases directly from Wine Library but also purchases through WineText.com and CellarText.com.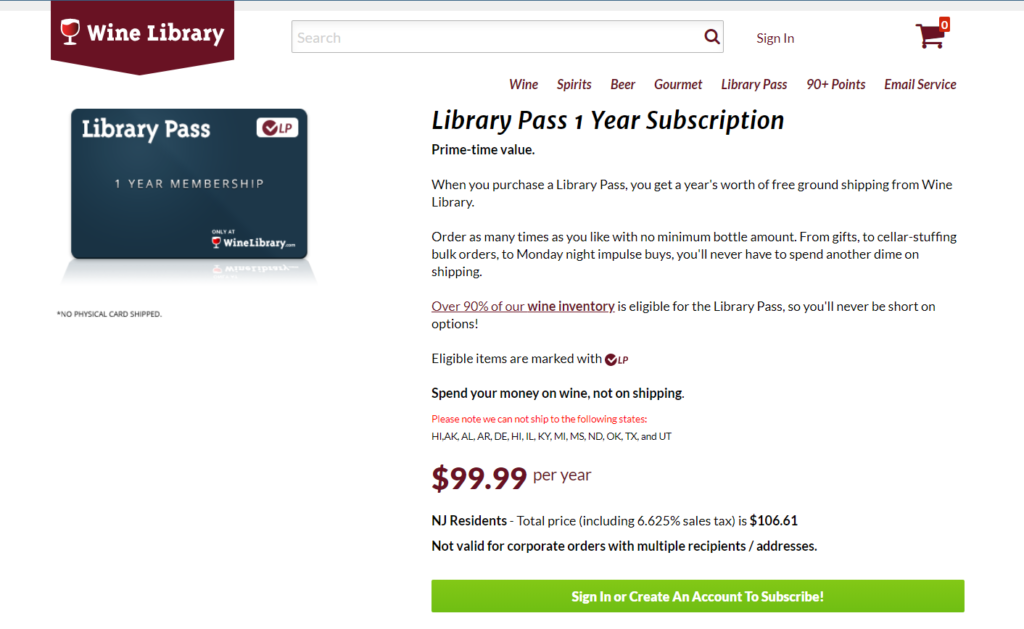 So, if you're the type who selectively acquires small amounts over a long period of time, this is the right subscription for you. I am a Library Pass member and can safely say I've recouped my investment many multiples over this year alone.
Cinderella Wine
Last, but not least, is Cinderella Wine which Wine Bounty highlights in its Flash Sale section and on its homepage. Cinderella Wine functions like other Flash Sale sites: One bottle at a time and a certain number of bottles to get free shipping. When the deal is gone, it's gone. The only exception is that Cinderella Wine lists one bottle per day (unlike sites like WTSO which list multiple bottles). Occasionally you'll see a marathon sale with a specific theme (like Top 50 bottles of 2019), but they are fewer in between. But this doesn't mean the deals are any less. Here's an example of a recent great deal.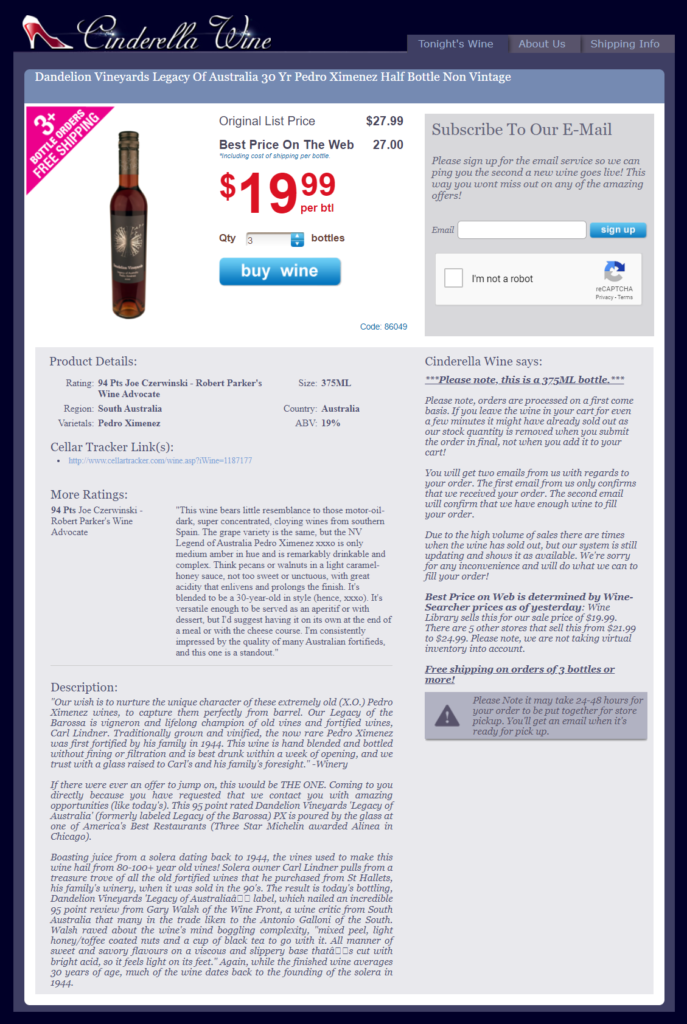 Overall
Those of us who are avid online wine shoppers have Wine Library to thank for it. It was their early out-of-the-box thinking that moved wine from the storefront to our computer screens. Being stuck at home these last few months, I have come to REALLY appreciate the ability to order my wine at the click of a button. Without it, there is a particularly good chance I would no longer have children. So, not only do I thank Wine Library, but my children do as well. Happy hunting!
Did you like this content? If you did, let us know and share it with your friends.
This page contains affiliate links. We receive a small compensation when you purchase through affiliate links. While clicking these links won't cost you a cent, it will help us keep the lights on and buy more wine. To find out more, click here.