If you're a regular to Wine Bounty, you know we're big fans of Wines 'Til Sold Out (WTSO), one of the OGs of wine flash sale sites. Recently folks at WTSO announced that they were adding a wine subscription club to their long list of offerings. Lucky for us, WTSO asked if we'd be willing to sneak their first box and tell you what we think.
According to their press release, the monthly subscription is designed to highlight rare, premium wines from around the world and their stories — all at a discount price. Each set is available for $99.99 per month (plus tax). Included in the subscription is a live virtual class, where you can hob nob with wine professionals and other subscribers as you taste and learn about the wines offered. On top of that, there's expected to be more exclusive events as the program matures. Here's the list of perks currently available to subscribers:
The Goods: Auto-shipment of 2-3 premium bottles of wine monthly
Virtual Events: Unlimited access to WTSO community
Free Invites: Share virtual tastings with non-members
Exclusive Discounts: 20% off private tastings + more
Tasting Notes: Follow the story of the wines
Online Cellar: Rate, share, and track your wines
Free Shipping: No additional fees
Flexibility: No long-term commitment required
This last bullet point is particularly important and makes trying a box that much easier. And if you're looking to try any box, their inaugural shipment is the one to do! Not only will you get two great wines at a great price, but it's loaded with one time only swag that pushes the value proposition much higher.
According to the website, the first subscription box is shipping out Monday, August 29th so you better hurry and order yours before they're all gone. You can use this link to sign up and click on "Premium Wine Club".
Okay, without any further ado, let's get on with the unboxing!
The box comes securely wrapped and tracking information is provided.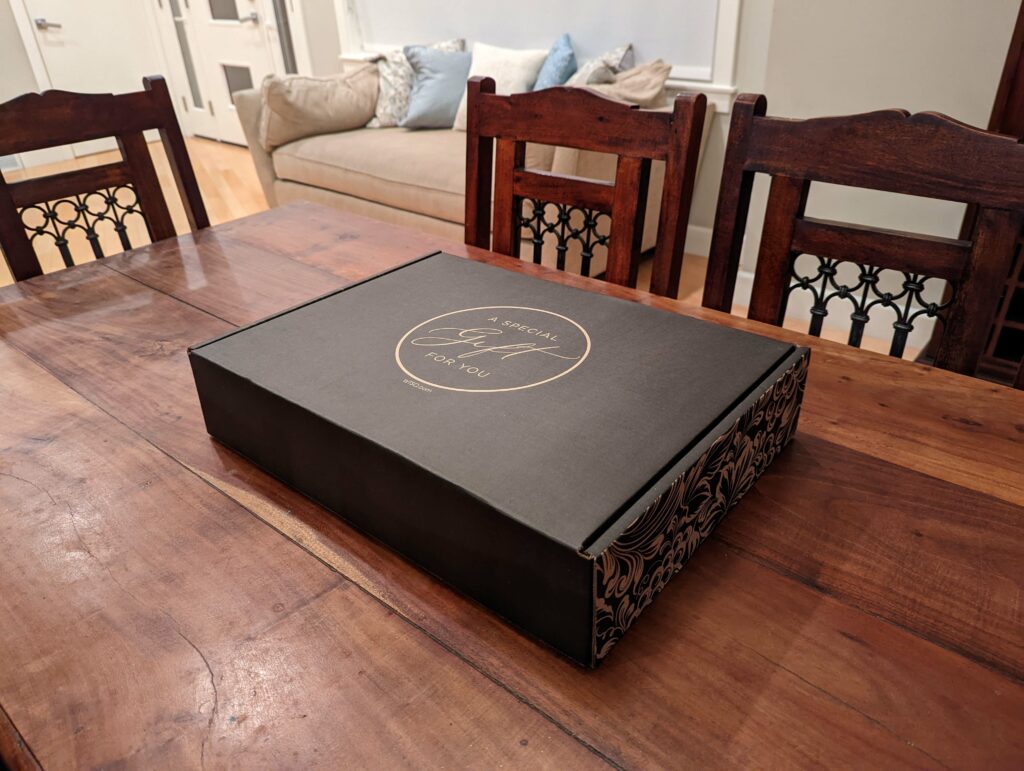 The gift box itself is elegant, classy, and well made. When I pulled the box out I didn't here anything rattling inside, which is always a good sign! The logo "A special gift for you" makes this an easy way to gift to someone special. Yes, you can order multiple boxes and designate separate free shipping locations.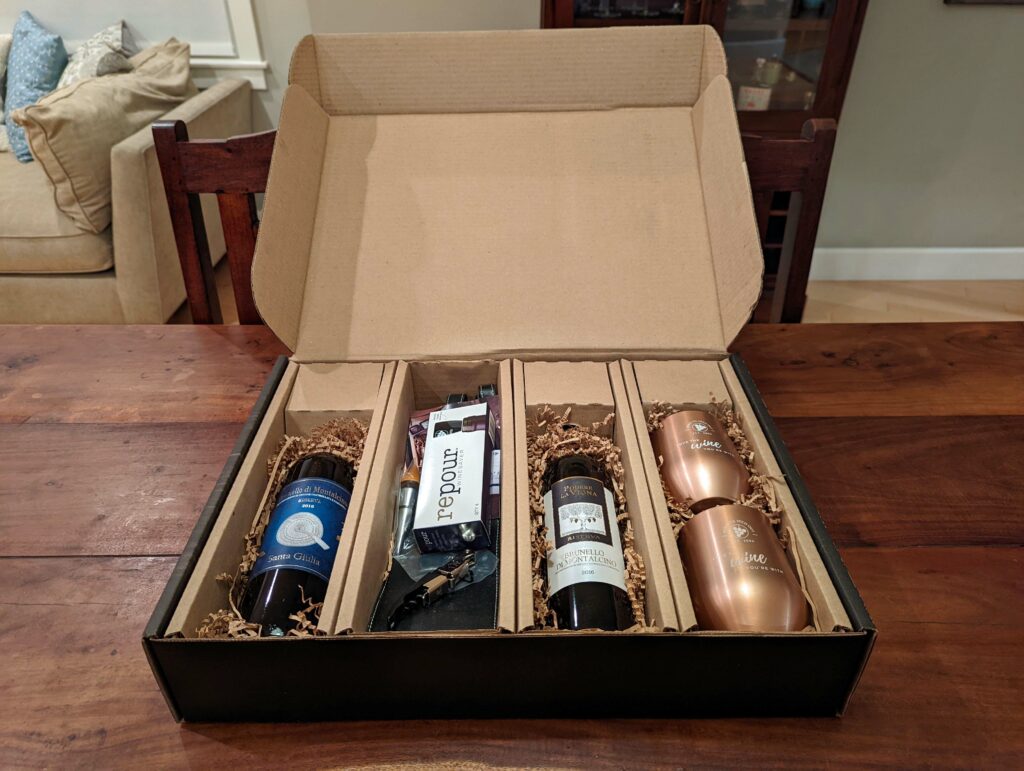 Once I lifted the flap, I could see why there was no rattling, the box is packed tightly with crinkle cut shredded paper. There are individual sections, presumably to allow them to scale to the number of bottles available each month. Curious what they will do with the unused sections going forward? Maybe they have smaller boxes when swag isn't available? Guess we'll have to wait to find out on future shipments.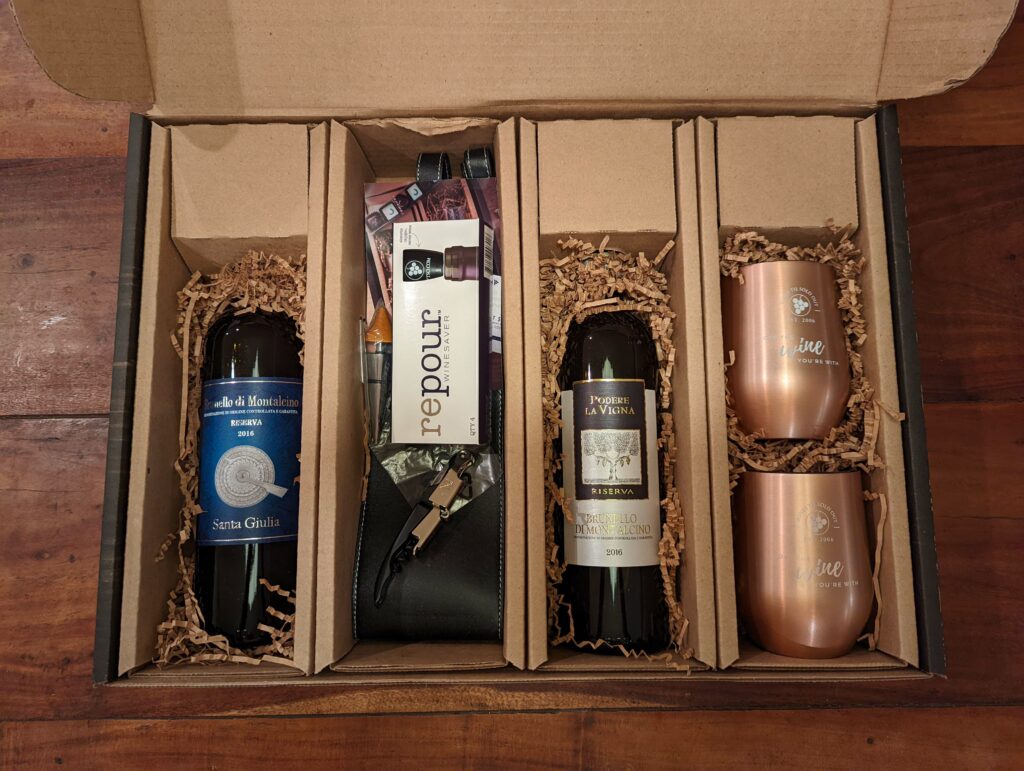 Nothing was damaged in the shipment. Bottles were in pristine condition and all other items were nicely laid out. Thought definitely went into this packaging. With that said, we didn't see an obvious location for including ice packs for warm weather shipments. But, this shipped to me in the middle of August in Southern California and arrived in perfect condition . . . and quickly. So no major complaints, but definitely worth inquiring with WTSO upon ordering if you're temperature sensitive. I'm sure they have options available.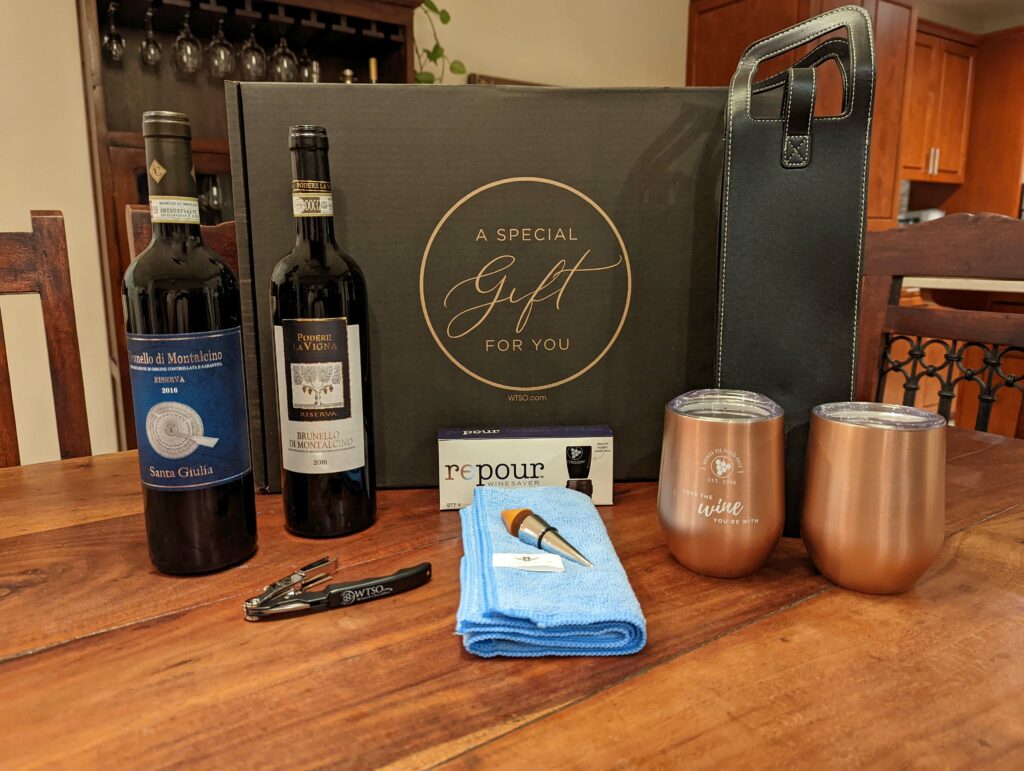 Before we get to the wine itself, let's talk about what else was included in the shipment. The leather wine tote is nice and thick with a button clasp. Very sturdy. You get two stainless steel wine tumblers with lids, a wood & steel wine stopper, a set of Repour Wine Savers, a WTSO waiter corkscrew, and a Gabriel Glas microfiber towel. You also get two coupons, one for 10% of your next tasting fee (yes, WTSO offers private, curated tasting events or you can join a scheduled tasting event) and a coupon for $10 off your next purchase of $50. Sorry, I blocked out the codes below. Don't be a free loader! All of this and we haven't even talked about the wine!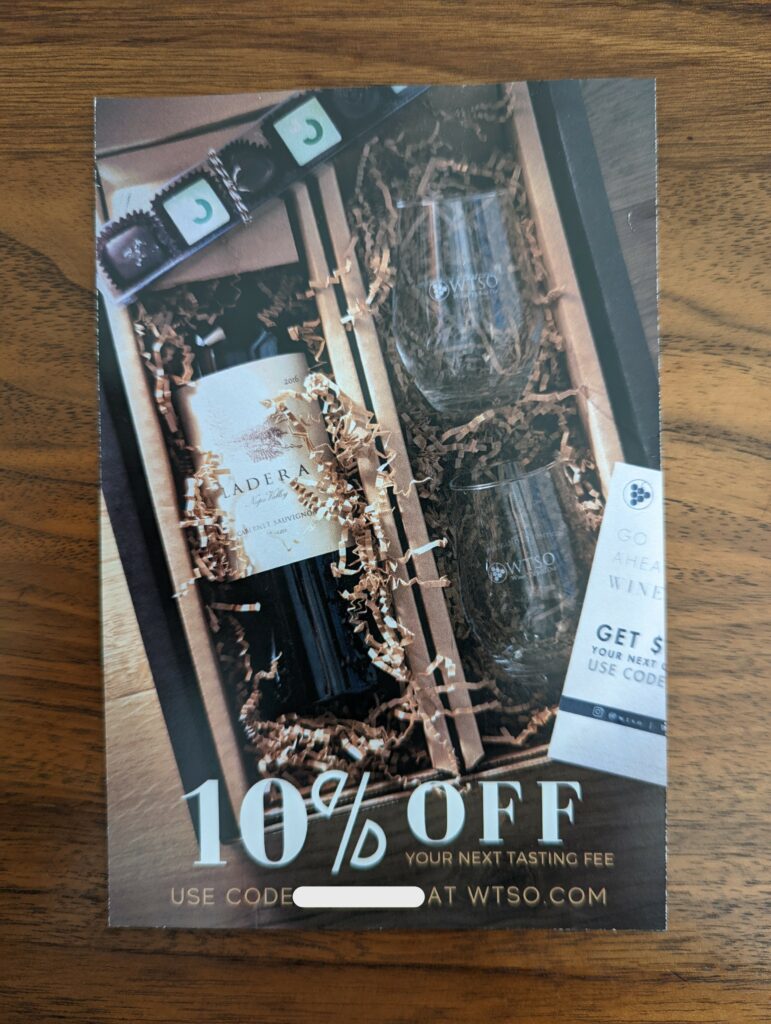 Brunello Anyone?
WTSO choose a very classic and BIG red for its first subscription offering, Brunello di Montalcino. Located in the famed Tuscany wine region (70 miles south of Florence), the Montalcino appellation is named after the town of the same name. Brunello di Montalcino DOCG – which both bottles hail from – must be 100% Sangiovese and requires extended aging (but worth the wait!). The two bottles contained in the shipment are "Riserva", meaning they must age at least 6 years after harvest with 2 years minimum in oak and 6 months in bottle. This is the highest standard designated for the DOCG.
Generally speaking, Brunello di Montalcino is bold, rich, and full-bodied with intense, ripe red and black fruit aromas. Fortunately, the area benefits from the cool evening Mediterranean breeze, helping to preserve acidity. When you layer on Brunello's typical velvety tannins, you have a recipe for wine that can age, which is ideal for collectors.
The two wines selected demonstrate perfectly the diversity of the region and the importance of soil, vegetation, and microclimates to a wine. While both are of the same 2016 vintage, both Riservas, and both 100% Sangiovese, they have completely different noses and palates.
I encourage you to open both side-by-side with some friends to experience what we're talking about. But be sure to decant for at least an hour before drinking to enjoy their full complexity.
And if you're thinking of opening them over food, both will pair well with big protein dishes or tapas of salted cheeses and cured meats.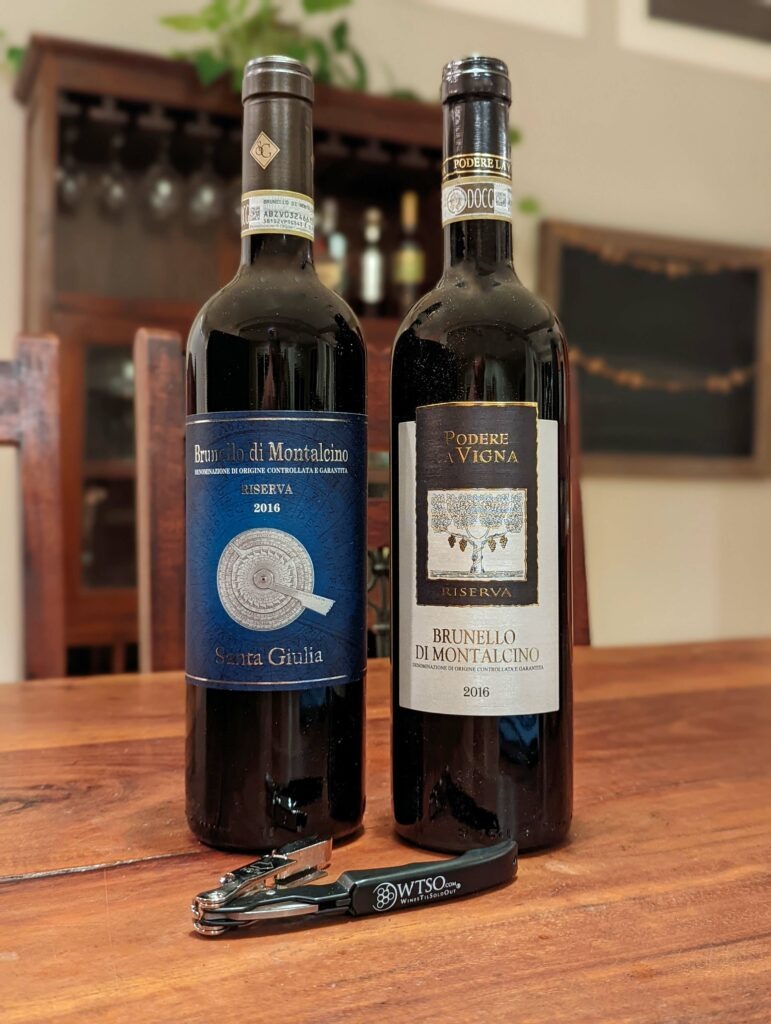 Santa Giulia Brunello di Montalcino Riserva 2016
The Santa Giulia farm, owned by the Terzuoli family, covers an area of ​​18 hectares in the northeast of Montalcino. This Santa Guilia was smooth. Very smooth, almost like a cross between velvet and silk on the tongue, but the weight of this full-bodied wine was still very present. Aromas of baked plum swirled with floral notes. On the palate, decadent prunes, black cherries, and espresso. The 2016 Santa Giulia Riserva has just reached drinking age and can be enjoyed over the next decade. But why wait at this price point? With an average rating of 4.5 Vivino stars across all vintages and a 4.3 on the 2016, this is a steal.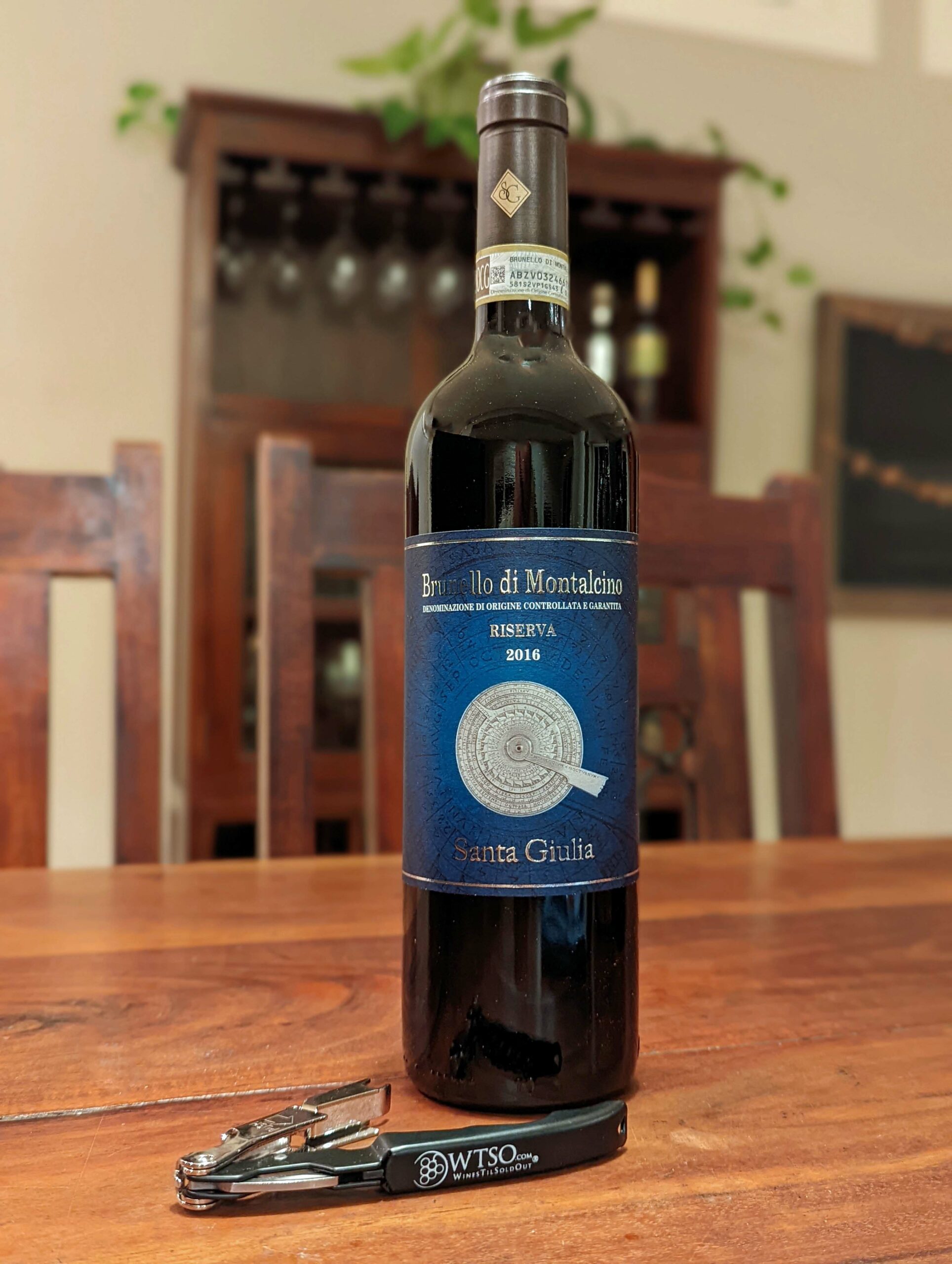 Podere La Vigna Brunello di Montalcino Riserva 2016
Where the Santa Guila showed smooth elegance, the Podere La Vigna packs a punch.
Also located in the northeast of Montalcino, Podere La Vigna is owned and farmed by the Rubegni family on only 4 hectares of vineyards. Aromas of mocha, spice, and crushed stone lead the way. This Brunello shows a damp earthiness compared to the fruit-forward notes of the Santa Guila. On the palate, macerated black cherries and plums with hints of chocolate and tobacco. The tannins are gripping and the finish goes on for days. The 2016 Podere La Vigna Riserva has also entered its drinking window and will be good for a decade or more. The Riserva has an average Vivino rating of 4.4 stars across all vintages.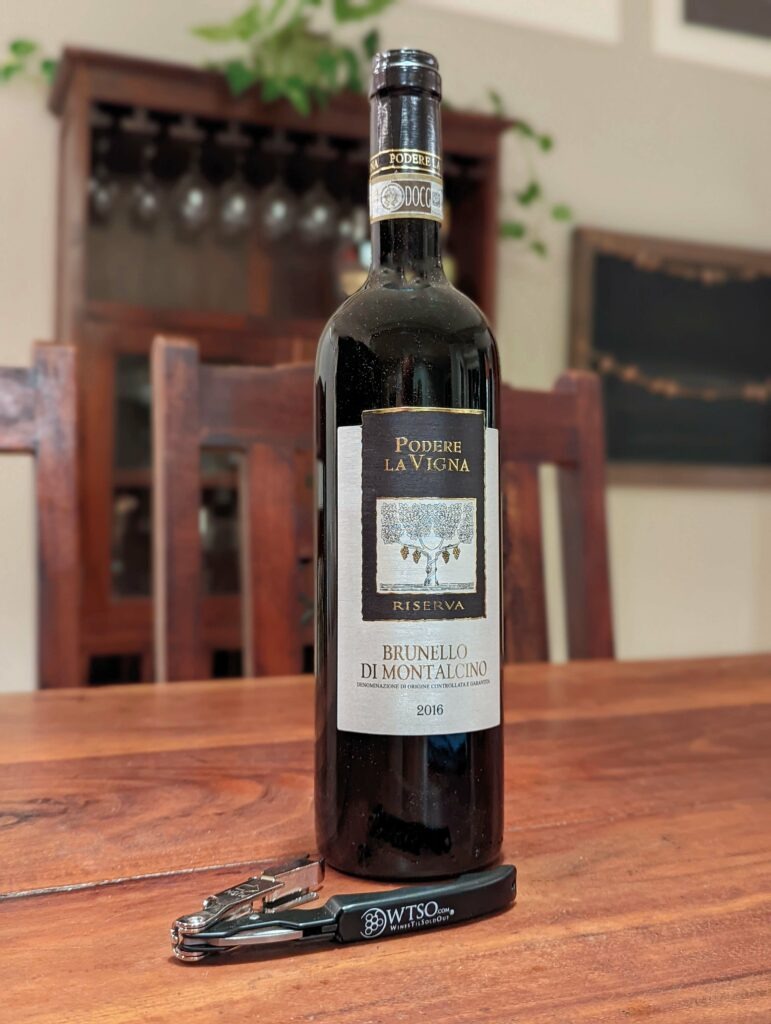 Conclusion
Overall, if these Brunellos are a true example of what's to come from WTSO's new premium wine subscription, it gets two thumbs up. At a minimum, everyone should jump on this first box. When taking into account the wines AND the swag, it presents tremendous value. Happy Hunting!
Pros
Great Quality-Price-Ratio (QPR) for Hard to Find Wines. Both wines combined over index the $99.99 price range. But even more interesting, these wines are not easily accessible in the United States. Sourcing from small, family-owned farms producing high-quality wine is a treat and WTSO is delivering it in spades on this shipment.
Easy to Cancel or Pause Subscription. Accessible in your online account, but be sure to do so 14 days before the next shipment date (first Monday of each calendar month).
Lots of Value Add-Ons. You don't just get wine, you get an experience (and discounts, of course!). And if you jump on this first shipment, you get lots of swag to boot!
Great for Gift Giving. You can add on as many boxes as you want (while supplies last) and have them shipped out as gifts. The packaging is perfect for a gift and coupled with the tasting notes and videos, it offers something for everyone at every level of their wine journey.
Cons
Blind Purchasing. While you'll know the region or varietal in advance (and possibly some hints about the wines offered), you won't know the bottles for certain. But this might not be a con for everyone. Surprises can be fun!
Warm Weather Shipping. It remains to be seen how WTSO will navigate shipments during warm months. Our shipment did not include an ice pack but that may change in the future. Definitely worth inquiring if you are in a high heat location.
Did you like this content? If you did, let us know and share it with your friends.
This page contains affiliate links. We receive a small compensation when you purchase through affiliate links. While clicking these links won't cost you a cent, it will help us keep the lights on and buy more wine. To find out more, click here.