Happy July Everyone!  Here's our monthly roundup highlighting key figures and bottles from June.  It's clear that you all love a great deal.  Wines with 50%+ off kill it on the site.  Consistently they make up the vast majority of the Top 10 most popular wines each month, including this month where they represented 9 out of 10 (and the one straggler was 47% off!).  Retailers take note, this is the sweet spot for driving traffic. 
We finally hit the road again in June and visited the Santa Ynez Valley. Full write up can be found here and we are extremely excited to announce a new featured winery in the coming month.  Stay tuned!
As always, don't forget to sign up here for the Wine Bounty Alert System.  The Alert System will let you decide which deals are most important to you and will send you an email when it becomes available.  We love your feedback so please keep sending us your tips on great wine, wineries, retailers, or partnership opportunities and we'll be sure to get back to you. Happy Hunting!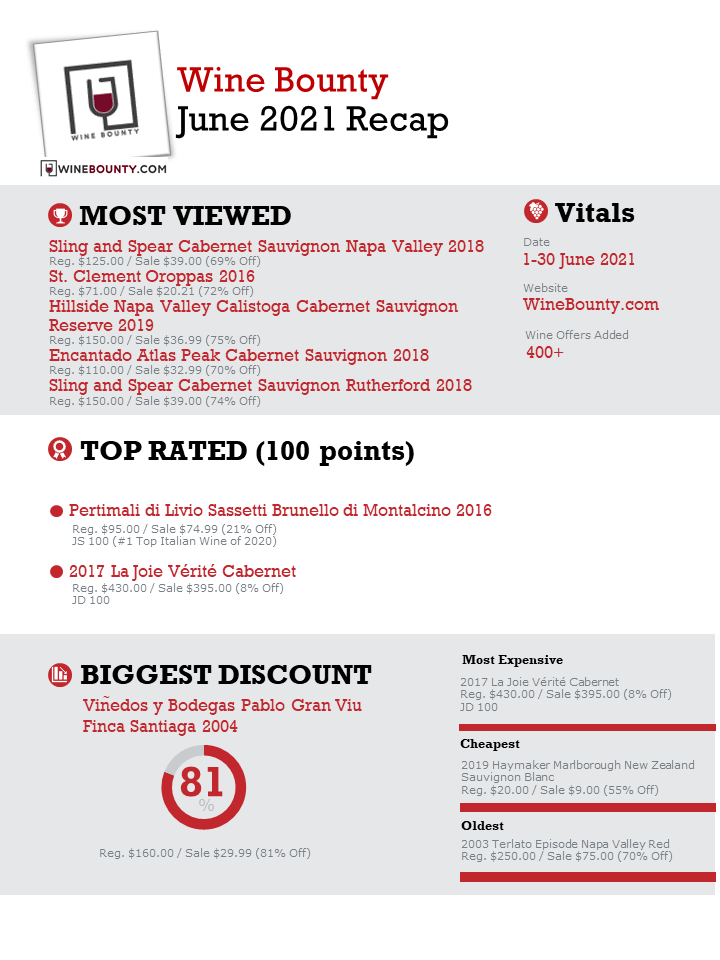 June 2021 Recap
Vitals
400+ Bottles Added
Top 10 Most Viewed Bottles
Reg. $125.00 / Sale $39.00 (69% Off)
Reg. $71.00 / Sale $20.21 (72% Off)
Reg. $150.00 / Sale $36.99 (75% Off)
Reg. $110.00 / Sale $32.99 (70% Off)
Reg. $150.00 / Sale $39.00 (74% Off)
Reg. $35.00 / Sale $$17.00 (51% Off)
Reg. $110.00 / Sale $29.99 (73% Off)
Reg. $165.00 / $39.99 (76% Off)
Reg. $85.00 / Sale $30.00 (65% Off)
Reg. $150.00 / Sale $79.00 (47% Off)
Perfect Scoring Bottle
Reg. $95.00 / Sale $74.99 (21% Off)
JS 100 (#1 Top Italian Wine of 2020)
Reg. $430.00 / Sale $395.00 (8% Off)
JD 100
Biggest Discount
Viñedos y Bodegas Pablo Gran Viu Finca Santiaga 2004
Reg. $160.00 / Sale $29.99 (81% Off)
Most Expensive
Reg. $430.00 / Sale $395.00 (8% Off)
JD 100
Cheapest
2019 Haymaker Marlborough New Zealand Sauv Blanc
Reg. $20.00 / Sale $9.00 (55% Off)
Oldest
2003 Terlato Episode Napa Valley Red
Reg. $250.00 / Sale $75.00 (70% Off)
Did you like this content? If you did, let us know and share it with your friends.
This page contains affiliate links. We receive a small compensation when you purchase through affiliate links. While clicking these links won't cost you a cent, it will help us keep the lights on and buy more wine. To find out more, click here.